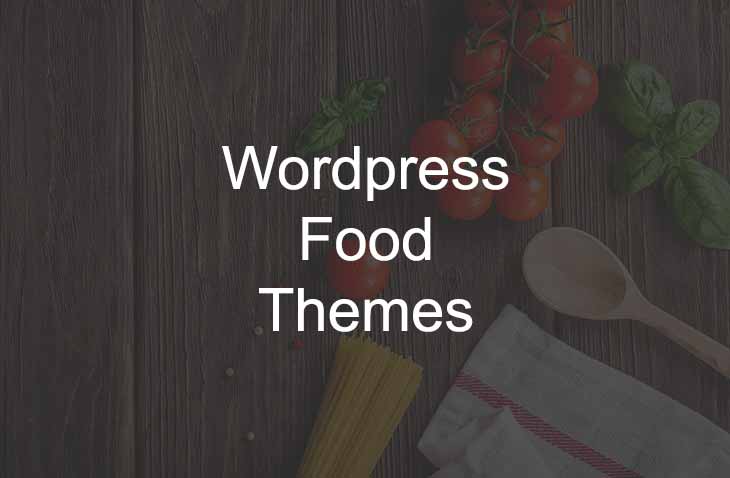 33 WordPress Food Blog Themes Compared - 2023
Last modified: July 19, 2021
Food is one of the biggest industries in the global economy. Just to give you an idea of just how big it is the industry is valued at about 8 trillion usd and the agriculture industry employs about 11% of the US population. But the food industry is no longer only relevant for the farmers, chefs and restaurant owners of the world. Thanks to so many television shows circulating around food, everyone now wants to be a part of this massive industry. And now, any person who takes part in social media can show their love of food to the world, and maybe even cash in on it by using a WordPress food blog theme.
Food Blog Themes in This Era
Today in our social media heavy environment, food has definitely stolen the show. People are constantly posting on Instagram or sending to their friends on Snapchat images of food they're eating or of food they see. It's clear to see why food has become the center of our social world, it is because everyone loves it; it's what keeps us going in life. If you are sad, eat some chocolate, if it's your birthday then have some cake, food is an integral part of our global culture and people love to: see it, eat it and talk about it. Since we've been able to build connections with food is has created its own space in the world of social media. Whether it's an unusual dish you ordered in a restaurant, something of your own creation or a snack that just looks too tasty to keep to yourself, food in all forms is a big part of our foodie social media culture.
A great way to show your love of food is through a blog. It doesn't matter if you're a restaurateur, chef, stay at home parent or someone that just loves a nicely plated dish, anyone with an appreciation for food can create a blog to personally show off their unique taste. Blogging can be a great way to show your creativity and personality. So how do you express your admiration and affection of food to the world through the art of blogging? Let's check out some WordPress food blog themes to help you showcase your culinary style.
WordPress Food Blog Themes – Find Out Why You Need One
After all there, are probably other options to explore that will let you make your ideas a reality. While this is true, none of them can really compare to WordPress themes. WordPress has so many themes to choose from that can help your blog become one-of-a-kind. Every WordPress theme is jam packed with awesome features that will not only help you achieve your goals, but maybe it can make your blog even better than you imagined. Since the internet is such a crowded space and food is one of the most popular topics out there, having as many tools as you can will make you stand out from the crowd. But before you grab your whisk and camera and get ready to shoot, let's take a look at some options for you to choose from to decide which WordPress theme is exactly what you're looking for.
| # | Name | Image | |
| --- | --- | --- | --- |
| 1 | Auberge - Restaurant Theme | | More Info |
| 2 | Barletta - a Wordpress Food Theme | | More Info |
| 3 | Brasserie - Just for Food | | More Info |
| 4 | Canapé - the Food Theme | | More Info |
| 5 | Danny's Restaurant - Another Food Blog Theme | | More Info |
| 6 | Dyad - a Stylish Food Theme | | More Info |
| 7 | Gillion - Multipurpose Food Theme | | More Info |
| 8 | Interactive - Not Only Food | | Not Available |
| 9 | Jannah - Multipurpose Your Food Blog | | More Info |
| 10 | Kouki - Minimalistic Food Blog Theme | | More Info |
| 11 | Lily - Give Your Food Images a Home | | More Info |
| 12 | MagPlus | | More Info |
| 13 | Mallow - Great for Culinary Display | | More Info |
| 14 | Meridian Recipes - Showcase Your Food & Recipes | | More Info |
| 15 | Morning Time Lite | | More Info |
| 16 | Neptune - Create Your Recipes | | More Info |
| 17 | Newspaper | | More Info |
| 18 | Paperio - A Dedicated Food Blog Theme | | More Info |
| 19 | RecipePress - Yet Another Food Theme | | More Info |
| 20 | Sage - For Food and Life | | More Info |
| 21 | Soledad | | More Info |
| 22 | Sprout and Spoon | | More Info |
| 23 | Suevafree | | More Info |
| 24 | The Kitchen Table - a Food & Recipe Theme | | More Info |
| 25 | The Voux | | More Info |
| 26 | Tulip - Showcase Your Food Blog Theme with Elegance | | More Info |
| 27 | Veggie Lite - Present Your Vegetables but Not Only | | More Info |
| 28 | Wonderwall - Magazine & Food Blog Theme | | More Info |
| 29 | Astra | | More Info |
| 30 | Divi | | More Info |
| 31 | Foodie Diary | | More Info |
| 32 | Icook - a Food Blog Theme - (No Longer Exists) | | Not Available |
| 33 | Grain and Knot - for your Food Blog - (No Longer Exists) | | Not Available |
Show More
* This button will show the rest of the post and open up an offer from a vendor
Save 4 Later
Email liked links to yourself