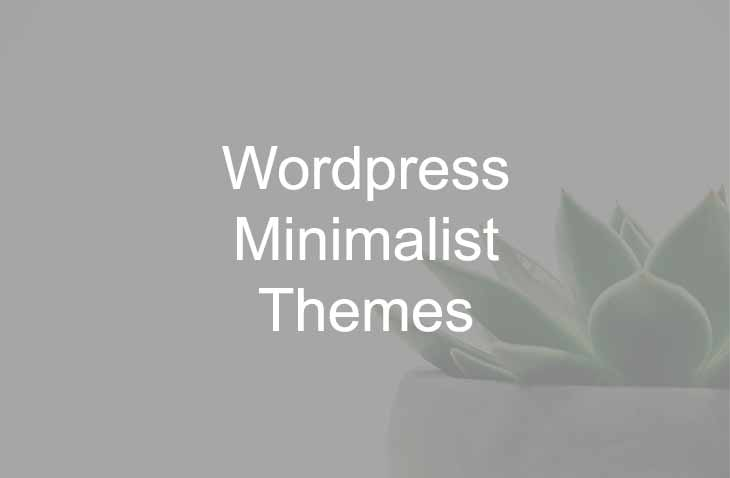 17 Best Minimalist WordPress Themes Compared - 2022
Last modified: July 19, 2021
Minimalist WordPress themes are one of the latest trends that businesses, developers and other website professionals are using. There are numerous advantages to incorporating a minimalist design into your WordPress website.
Minimalist WordPress Themes – What Are The Advantages?
There are several reasons why you might want to use one of the many minimalist WordPress themes available. To begin with, they're easy and quick to maintain as there's less code for you or your website management team to update. Therefore, if there's an error on your site, its often quick to find.
Because of the lightweight code, there's less chance of errors being made. So repairs to your website will be fewer and less frequent. This all leads to more of your time being spent on doing what earns you money and what you do best: servicing your customers.
In addition, a minimalist design helps to focus your content. White space is good for directing the attention of your audience to the content you really want them to look at. This can help improve conversions on your website which lead to considerable improvements in revenues and profits.
In addition, a minimalist website is great for visitors. Not only are they easier to make responsive and quick to load; they can be great for navigation. A great user experience will increase conversions and increase the average spend per customer. This can be really important as costs per acquisition can be really high in some industries and you need to increase order value to maximize profits.
Interestingly, in addition to the ease of using your website, minimalist websites also improve the perception of your website. Some research has shown that a lot of white space makes people think of your business as bigger and more trustworthy.
In contrast, a cluttered website looks more like you're unprofessional or small.
What To Look For When Buying One Of The Many Minimalist WordPress Themes?
There are several things you need to look for when buying a minimalist WordPress theme. In the first place, you want to ensure you have a theme that can be used to deliver you a design that matches your brand's personality. An alignment between website and brand personality reduces confusion and cart abandonment.
You're also looking for a theme that will display well on any device. The chance of this will be high as minimalist websites are by nature very easy to convert into responsive websites. However, there might be a few which aren't, so always check with the developer if you aren't sure.
Ultimately, you're going to look at what you need from your website. WordPress is a fantastic system for your website, but this is partly because the software is lightweight. You add functions to your website through plugins.
So the first thing you need to do is decide what functions are important for the website. From this list, choose a selection of WordPress plugins that will perform those functions. Then check your theme shortlist and whether they are compatible with the list of plugins collected earlier.
Don't Ruin Any Minimalist WordPress Themes With Too Many Plugins
A word of warning is necessary here. While plugins help to improve the functionality of your website, they also make it more complex, slow it down and make it harder to load. Too many plugins can therefore be more harmful to your website than beneficial.
So if you can improve your business' website with just a few plugins and a theme that has some functions, you'll be better off.
Some of the themes listed below have some excellent features. For instance, Divi has great split testing functionality and can host videos with ease. Others may have great SEO elements or page builders built into the code.
These can save you time and money and give a better end result.
So what are the best minimalist WordPress themes for you to choose from? Here's our list. Some are free, others are not. You can filter out premium ones easily if you're just looking at the free themes.
| # | Name | Image | |
| --- | --- | --- | --- |
| 1 | MinimalistBlogger - Minimalist Wordpress Blog | | More Info |
| 2 | Minimalisticky - Clean & Minimalistic Design | | More Info |
| 3 | Minimalist Portfolio - Simple and Clean | | More Info |
| 4 | Altar - A Minimalist Blogging Wordpress Theme | | More Info |
| 5 | Divi - Multipurpose Wordpress Theme | | More Info |
| 6 | Kalium - Creative, Clean and Minimalistic | | More Info |
| 7 | Aurum - Minimalist Shopping Wordpress Theme | | More Info |
| 8 | Jevelin - Creative and Multipurpose | | More Info |
| 9 | Soledad | | More Info |
| 10 | Gillion - Minimalist Blog WP Theme | | More Info |
| 11 | Oshine - Best Selling Minimalism | | More Info |
| 12 | Mavra | | Not Available |
| 13 | Arnold - Creative and Minimalist WP Theme | | More Info |
| 14 | Best Minimalist | | More Info |
| 15 | Massive Dynamic | | More Info |
| 16 | Spaces | | Not Available |
| 17 | Better - Classic and Minimalist | | Not Available |
Show More
* This button will show the rest of the post and open up an offer from a vendor
Save 4 Later
Email liked links to yourself