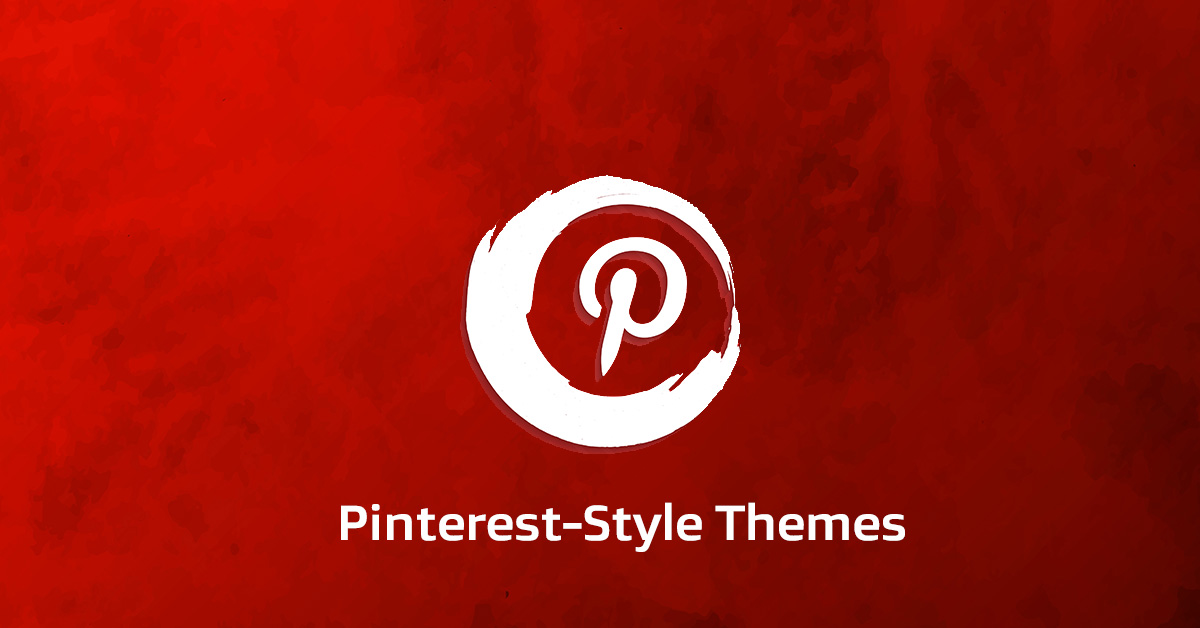 The Top 11 Pinterest WordPress Themes Compared - 2023
Last modified: May 28, 2023
Pinterest is one of the most popular social media platforms. There are 250 million unique users every month of Pinterest and according to surveys, 83% of women in the US aged between 23 and 50 use Pinterest. Also, those who use Pinterest are more likely to have high levels of disposable income. This makes it a very valuable outreach channel for those in many industries and why you might need to consider using one of the best Pinterest WordPress Themes.
Why Use One Of The Pinterest WordPress Themes?
When building a website you want it to have the features necessary for success. If you're selling products that are very visual, like fashion, luxuries and furniture, then you might need to use a lot of images. This is where Pinterest can become an essential tool. But you don't want people to just use Pinterest for your brand. Instead, you want to use those same images on your website.
By using one of the Pinterest WordPress themes you can use the same images that are published on the social media platform on your website. This saves you work and can also ensure that you have a consistent brand image. Something that will help you attract and keep audiences over the long term.
At the same time, it can help you market your products better. With so many high earners using Pinterest, a share on the platform is worth a lot to your company. In addition, because you're using the social media platform as well as your website, you can attract new people to your brand through SEO and social media. Therefore, you can grow your audience and brand quickly.
What To Look For In The Pinterest WordPress Themes?
There are many elements that you need to look out for in the Pinterest WordPress themes. The first is speed. The average internet user is impatient. If a site takes longer than four seconds to load, 25% of visitors will exit the site. Plus, you will lose about 7% of your revenue for every second it takes for your site to load. This is important for your Pinterest website, as images are often memory intensive, therefore they can slow websites down.
In addition, you need to look for something that has strong WooCommerce (or another eCommerce) features. There is limited point in you attracting audiences to your website if you can't sell them anything.
Finally, you need to find something that will help you market your pins in the best light. There are lots of styles and ways that you can highlights your social media updates, so picking the right style can be hard. However, it is necessary. The way you display pins on your site will say a lot about your brand.
So, what are the top Pinterest WordPress themes we've come across? Here are the top ones we think you should consider.
| # | Name | Image | |
| --- | --- | --- | --- |
| 1 | Astra | | More Info |
| 2 | Divi | | More Info |
| 3 | Jevelin | | More Info |
| 4 | Soledad | | More Info |
| 5 | Blogrid | | More Info |
| 6 | Belfast | | More Info |
| 7 | Pin = Pinterest Style / Personal Masonry Blog / Front-end Submission | | More Info |
| 8 | Tamashi - Portfolio WordPress Theme | | More Info |
| 9 | WooStroid | | More Info |
| 10 | Monstroid2 | | More Info |
| 11 | Uncode | | More Info |
Show More
* This button will show the rest of the post and open up an offer from a vendor
Filter between free and paid
Astra
This versatile theme has a lot to offer most website owners and it has a wealth of features that make it one of the best Pinterest WordPress themes. Astra is a fast, lightweight theme that allows audiences to download pages in seconds, even when using mobile devices. Plus it has lots of ways to turn those visiting your site for the first time into lifelong fans of your brand.
Even if you don't have much experience working with WordPress or website design in general, you'll find that this theme is easy to use to build and maintain a site. To start building your site, there are lots of demo sites that can be utilized quickly. Just a few clicks and a fully functional website is ready for you. All you need to do is to add your own text and connect Pinterest. Any editing is done through the excellent editor, which eliminates the need to know code.
The theme also includes everything you need to connect your Pinterest account to your website. No need for a third party plugin.
Astra Highlights:
Monetize your website with the help of WooCommerce.
Lots of demo sites to help you start your website project.
Astra uses Vanilla JavaScript that prevents render blocking jQuery, improving website performance.
Lots of ways to connect your social media profiles to your website.
Divi
One of the best premium WordPress themes available, Divi has a lot of high profile users across the world. It is a theme with one of the best set of features you can have. To start with there are lots of demo sites that can be installed with just one or two clicks. Customizing these demo sites is easy with the Divi Builder, a drag and drop website builder. The best thing about the page builder is that it eliminates the need to know any website code.
To help you make the most out of the Divi theme, there is a great community that can help sort out problems. There is also lots of supporting material online. To help you build a social following on Pinterest, there is the excellent Monarch Social media plugin. This can offer you lots of social media functionality on your website to direct visitors to your channels, subscribe them and showcase your content on your website.
Divi is also fully compatible with numerous other premium plugins, including WooCommerce. So making your website monetized is easy. You can add pricing tables, call-to-actions and even test them with split testing functionality to ensure you're maximizing revenue from your website.
Divi Highlights:
Light-weight coding to make your website very fast.
A responsive theme that will display your website on any device perfectly.
Optimized for search engines, so you attract new visitors through Google and others easily.
Lots of ways to connect and showcase Pinterest accounts on your site.
Jevelin
This is a great WordPress theme for many industries and is perfect for those that want to monetize their website through WooCommerce and showcase products through Pinterest. There are lots of excellent demo sites that allow you to start your website's design in moment and then customize easily with the included page builder. This makes building a website quick and easy. Even beginners to website design can easily use this theme and no coding is necessary.
To add social media elements to your website, you can use lots of elements that can be simply added to a page design through the use of shortcodes. These can be added to the main page or a sidebar.
In addition, Jevelin has Slider revolution that allows you to showcase more images and information on your front page.
Jevelin Highlights:
Optimized for search engines, so your website can be found on Google and other search engines.
The code is clean and optimized to minimize loading time.
Can be translated into many different languages, and support RTL languages.
Use some of the amazing demos to get your website started.
Soledad
Soledad is a great multipurpose theme that has so many demos (over 2000) that you're bound to find the perfect design for your business' niche. It has the visual composer page builder plugin included with the theme that allows you to customize the demo in seconds. No coding knowledge is needed to get your website up and ready.
Soledad is designed for speed. Many sites can automatically see Google Page Speed scores of 85 or more. This can help with ranking on search engines and help improve website performance and visitor retention. You can further improve your rankings on Google with compatible SEO plugins.
Soledad's magazine style allows you to easily incorporate the pins of your Pinterest account. You can also advertise your social media accounts in numerous locations across your website. This will help you to connect your visitors to your audience and build a strong social presence.
Soledad Highlights:
More than 2000 demo sites to choose from to help you get started. Each is easy to customize.
Lots of great social media features to help you grow a strong following.
Fully responsive, so will look great on any device.
Optimized for search engines, so you can be sure your site can rank well.
Blogrid
Grid Blogger is a great theme for those who are looking to create a Pinterest look on their website. The elegant and simple design is perfect for attracting the attention of the reader to specific points on the website.
Grid Blogger is technically a Child Theme of Fino. This means it is a more specialized version of that great free theme. Therefore, you can expect the same bootstrap design elements to be included. You'll also a great retina-ready blog layout and responsive design.
You can customize Grid Blogger using the WordPress customizer, so you can see the changes and how that will affect the look of your site live. The theme is also compatible with all major plugins. This theme is also Gutenberg ready.
Grid Blogger Highlights:
A free theme which is great for those on a tight budget.
A Pinterest style design to perfectly match the platform while also incorporating your branding.
Optimized for viewing on mobile, but will look great for desktop users.
Easy setup and customization.
"

... and Scan WP's recommended web hosting company is... Cloudways (Click for special deal)

"
Belfast
This simple, minimalist WordPress theme bases it design on Pinterest. Therefore, it is great for those looking to re-create that environment on their own site. You can easily connect the platform to your website and showcase your pins and other information on your site.
The look is light, but so is the coding, so you can easily get your website's speed to be fast. This will help with ranking and audience retention.
Belfast Highlights:
A free theme, so great for those who are on a budget.
Looks great on all devices thanks to the excellent responsive design.
Simple design, making it easy to customize.
Pinterest style for your website.
Pin = Pinterest Style / Personal Masonry Blog / Front-end Submission
This WordPress is one of the best WordPress themes that perfectly mimics the Pinterest style. It is stylish and responsive, and thanks to the latest HTML5 and CSS3 techniques, you can be sure that whatever device your users are on, that they will get a great experience.
The theme has a lot of great features. To create the Pinterest style, you have Masonry, Grid and Pinterest styles to choose from. You can have Full Width pages as well in your design, should you need it on product pages or other pages. On mobile and tablets, you can help users with their navigation with a fly-out navigational aid. You can also add unlimited sidebars to help with navigation and helping visitors get to key content.
To help with interaction, there is a thumbs rating and review system. You can also add links and buttons via excerpt. This is really helpful for those who monetize their website through affiliates.
Pin = Pinterest Style / Personal Masonry Blog / Front-end Submission Highlights:
Get found on Google with rich snippets.
Allow users to submit content as well as edit their own content.
Membership functionality.
Live search, so visitors can find content they're looking for and is more relevant to them.
Tamashi - Portfolio WordPress Theme
If you're looking to turn your fashion or art into a money-making business, then Tamashi might be a great option for you. The theme is perfect for anyone who has a portfolio of creative designs. Visitors will be able to scroll horizontally down the Pinterest style layout to look through your excellent designs. If they like anything they see, you can get them to buy it via your website thanks to WooCommerce compatibility.
There are lots of great features for this theme that make it a great choice. For instance, there are lots of typography options for your website and more than 800 Google Fonts. Therefore, you can put your branding into your website with ease. To help you customize the site, there is the WPBakery Page builder included for free. This drag and drop builder allows you to design the perfect Pinterest style website with ease and no coding knowledge.
Finally, for those that have a lot of Pinterest content, there is a great Pinterest widget that can display anywhere on the website. This can highlight your top content and help you attract audiences to your social media account for long term engagement with audiences.
Tamashi – Portfolio WordPress Theme Highlights:
A responsive theme, so will looking great on any device or screen resolution.
Optimized for search engines, be found quick and easy on Google and other engines.
Lots of options to display your portfolio.
Lots of customization options to help you get your website's design to match your brand.
WooStroid
WooStroid will help you build your website with ease and emulate Pinterest while also helping your to sell products online. There are lots of theme templates (demos) you can choose from, and you can customize them with a variety of WordPress page builders. This makes getting your website up and running easy, even if you're new to WordPress.
There are lots of features that make this a great theme for everyone. First, it includes lots of premium plugins to help you build a website full of features that help convert visitors into customers. The design elements also allow you to add social media functionality with ease, so you can include your Pinterest updates on the page and also get visitors to connect and follow you on Pinterest.
Woostroid2 Highlights:
Can create a great WooCommerce powered WordPress website with this theme.
Lots of support for those who are new to website design.
Lots of templates to help you get started.
Optimized for mobile devices and search engines. So performance and audience retention will be high.
Monstroid2
A top selling WordPress theme on Template Monster, this theme offers a great, eye-catching design. The customization of the page is super-easy and you can easily recreate the Pinterest environment on your website. There is a great drag and drop builder that makes this building and customization not just easy, but a pleasure.
There are also more than 500 elements you can use in your website design to help you maximize website functionality. One of the best features is the JetMenu. This allows you to create spectacular and stunning menus. So, navigation on your website is great for audiences and this reduces visitor churn.
Monstroid2 Highlights:
Lightweight code, allowing your website to load fast.
SEO friendly, so you can be sure that you can attract new audiences on Google and other search engines.
Drag and drop builder making customization easy, you don't need to know any code.
Recreate that perfect Pinterest look to showcase your products and brand in a positive light.
Uncode
This visually impressive WordPress theme is an excellent choice for recreating that Pinterest experience on your website. It is very attractive, easy to use and has lots of functions to help you sell online. To get the design as you want, you can use the Visual composer, drag and drop builder to create the design. There are also demo sites that can help you setup your website quickly.
Uncode is a fast WordPress theme. Page scores can often be as high as 98. This allows you to rank high on Google and keep audience retention high. The theme is also fully compliant with new GDPR laws from the EU.
Uncode Highlights:
Unique looking WordPress theme that will allow you to establish a strong brand presence.
Highly response, so your site will look perfect on any device.
Optimized search engines, so you can expect your site to rank highly with some SEO tweaks.
You can use lots of demo sites to start your website's design.
Final Word: The Top 11 Pinterest WordPress Themes
If you want to create the perfect website with Pinterest style or content, you need one of the best Pinterest WordPress Themes. There are many listed on article, but each has unique features which make them great choices. Which one will you use for your next WordPress website project.
Recap:
Save 4 Later
Email liked links to yourself