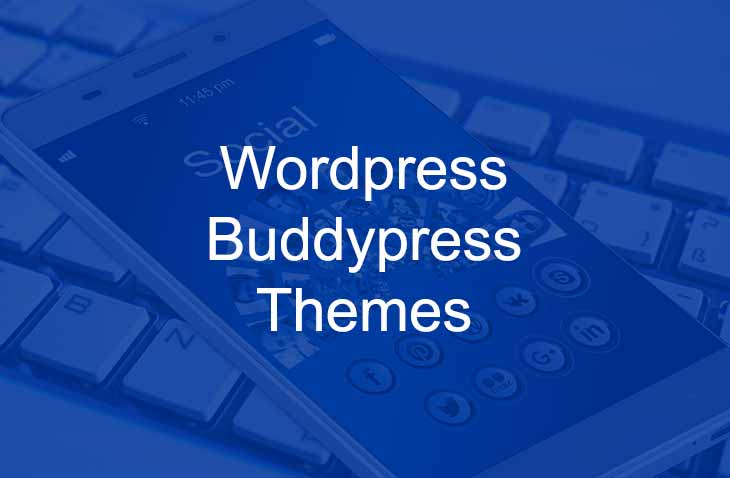 18 Buddypress Themes And WordPress Social Network Themes Compared - 2023
Last modified: September 20, 2021
When you're looking to create the next Facebook, or a site for a community to interact with, you'll need a good platform. Luckily, WordPress has one of the best software packages for you to create that: BuddyPress. There are also other options, but BuddyPress is the leading software package. To go with this, you'll need to use one of the many BuddyPress themes available.
What Is BuddyPress?
If you aren't familiar with BuddyPress, here's a quick introduction. BuddyPress is a free WordPress plugin that offers you a lot of social networking functionality. There are lots of features that are similar to Facebook, such as sharing content between contacts, befriending each other, users giving content likes and dislikes, groups for similar interests, user messaging and social profiles.
The fact that it's free has made it very popular, and the idea of creating a social network has also led to its popularity. But another aspect fueling its use is the popularity of social media. When there are over one billion Facebook users, and high market penetration for other social media platforms, it has become a profitable business to be in.
Recent research has found that more than half of the world's population are on at least one social media network. That's a lot of potential customers for you. It also shows you how attractive your social network could be.
There are several ways you can earn money via social media, for example, you can sell advertising from brands looking to interact with your users, sell merchandise, or offer a premium membership service. Lots of the BuddyPress themes included in this list have these compatibilities.
What Kind Of Sites Could You Create With BuddyPress?
There are many different sites you can create with BuddyPress. One of the most basic is a Facebook style website where you offer the same services and experience as the social media network does. This can be lucrative, but it might be hard for your website to compete with.
Another option is to create a social network for a specific community, interest or invited individuals. For instance, you could create a website for family, friends or a university course. If you create one for a special interest group, like movies, pets, historical groups, you can find some great ways to monetize your site through memberships or merchandise.
Finally, you can also create social groups for specific organizations like work. This can be a great way for colleagues to keep in contact with each other if they aren't based in the same location. It might also be a great way to collaborate on projects.
Why Do I Need To Consider Specific BuddyPress Themes And WordPress Social Network Themes?
BuddyPress offers specific functionality to your website for you to create a social media channel. The best social networking sites have similar features and styles that you can identify in the appearance of the website.
They are all quick to load, look simple, are responsive, and have a strong brand presence.
Not all themes can match these requirements. In fact, there are only a few specific BuddyPress themes and WordPress social network themes that can match these requirements. That's why you need to look at these in particular before you start choosing your next project's specific theme.
In the list below we have chosen some of the best themes for your new BuddyPress project. A couple of these are free, but most are premium. It's important to note that because there are very specific requirements for social network sites, the themes designed for them are often more expensive than other themes. So consider this when starting your project.
So, what are the best BuddyPress themes and WordPress Social Network themes we recommend?
| # | Name | Image | |
| --- | --- | --- | --- |
| 1 | SocialMag - a Free BuddyPress Theme | | More Info |
| 2 | The Columnist - Responsive and Young BuddyPress Theme | | More Info |
| 3 | Buddy - Multipurpose BuddyPress Theme | | More Info |
| 4 | BeSocial - Social Network Theme for BuddyPress | | More Info |
| 5 | KLEO - Multipurpose Wordpress Theme | | More Info |
| 6 | Sweet Date - BussyPress + bbPress Theme | | More Info |
| 7 | BuddyX | | More Info |
| 8 | Reign | | More Info |
| 9 | Socialize - Flexible Social Network Wordpress Theme | | More Info |
| 10 | Mingle - Top Selling BuddyPress WP Theme | | More Info |
| 11 | OneCommunity - Community Wordpress Theme | | More Info |
| 12 | Cinematix - Build a Community with BuddyPress and bbPress | | More Info |
| 13 | Razor - a Wordpress Framework for BuddyPress | | More Info |
| 14 | Salutation for BuddyPress | | More Info |
| 15 | WildCommunity - a Social Network Wordpress Theme | | More Info |
| 16 | Klein - Social Networking and Wordpress Theme | | Not Available |
| 17 | Flocks - A Business Wordpress Theme | | Not Available |
| 18 | Thrive - a Perfect Social Network Theme | | Not Available |
Show More
* This button will show the rest of the post and open up an offer from a vendor
Save 4 Later
Email liked links to yourself