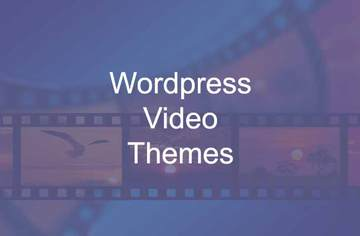 Top 20 WordPress Video Themes Compared - 2023
Last modified: May 28, 2023
If you run a business that relies heavily on media, and aren't using a WordPress video theme, your content might not be performing as effectively as it should. A lot of time and effort goes into making a video, so your videos shouldn't just be sat on YouTube or another video sharing site. You need to be actively profiting from them on your website.
Why Should You Be Using WordPress Video Themes?
There are several reasons why you should use videos on your website and not just using channels like YouTube.
To begin with, consumers are hungry for video online. YouTube consumption statistics demonstrate how much internet users love videos. According to their statistics, more than 60 billion hours are watched every month and YouTube reaches more people in the US aged between 18 and 34 than any cable channel.
Second, video has shown to improve the experience of the website visitor. Good media converts a static brochure site into a compelling experience for those visiting. Consumers who watch your video will start to identify with your brand. While they might not buy on their initial visit, they are more likely to return and purchase at a later date. This brand loyalty is important for long-term success online.
Third, it helps promote your website. A video on your website improves your site's SEO score, so it should rank higher on Google and other search engines. A better SEO rank will generate a superior place on search engine listings and more traffic to your site. In addition, if your video is informative, search result pages might contain your content at the top.
Video is frequently shared on social media channels. So, if you produce a good video, it could be shared lots on Facebook, Twitter or other channels which attracts more visitors to your website. The extra mentions of your brand on social media will also support your SEO.
Why Should You Be Using Videos On Your Website?
All you have to do to insert a video is enter the URL from YouTube into the page on your site. This simple method will enable your website to display the video, but not every theme will allow you to control the size of the video player and sometimes it can look unappealing.
Another option is to upload and self-host the video. You can use countless widgets and plugins to display a video. Though without the appropriate server, this can slow your website down. This, in turn, will harm your website's SEO score and damage the visitors' experience.
Instead, using one of the many WordPress video themes will allow you to circumnavigate the negative issues associated with manual insertion. They frequently have unique functions to help your media embed seamlessly into your website's design.
Some of the WordPress video themes can also help create the next media sharing website with functions like social shares, comments and discussions. Though if you want these, a plugin like BuddyPress might be needed; assuming it's compatible with your chosen theme.
So what are the best WordPress video themes for your website? Here's our list.
| # | Name | Image | |
| --- | --- | --- | --- |
| 1 | Divi | | More Info |
| 2 | Vlog | | More Info |
| 3 | TheMotion | | Not Available |
| 4 | Videotube | | More Info |
| 5 | Newspaper | | More Info |
| 6 | BeTube | | More Info |
| 7 | Videoly | | More Info |
| 8 | Vlogger | | More Info |
| 9 | VideoTouch | | More Info |
| 10 | SocialPlay | | More Info |
| 11 | Snaptube | | More Info |
| 12 | Soledad | | More Info |
| 13 | SlimVideo | | More Info |
| 14 | FilmMaker | | More Info |
| 15 | VYSUAL | | More Info |
| 16 | The Producer | | More Info |
| 17 | VideoPress | | Not Available |
| 18 | PenNews | | More Info |
| 19 | Viduze | | Not Available |
| 20 | Videoblog | | More Info |
Show More
* This button will show the rest of the post and open up an offer from a vendor
Save 4 Later
Email liked links to yourself