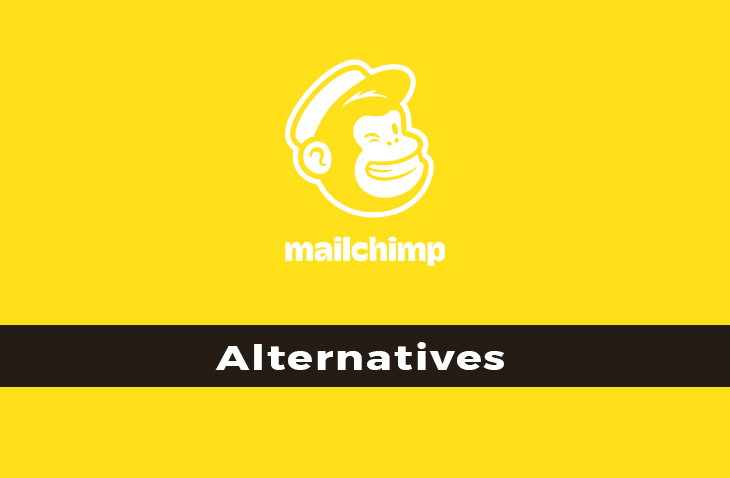 12 MailChimp Alternatives Compared - 2023
Last modified: January 3, 2021
Odds are if you have had any experience with digital marketing or have ever created a website you have probably heard of MailChimp. This is one of the most popular tools that websites use for email marketing. MailChimp was launched way back in 2001 and have really made a name for themselves in the email marketing universe.
MailChimp has some really amazing tools and features, which is probably one of the reasons for its incredibly huge popularity. Some of these tools include: detailed reporting for tracking your newsletter's performance, it's free, easy to design emails, and you can use emails as  a sales channel as well. But just because something is popular does not mean it is the right option for you (or even for some of the people who may be using it). For instance if you need features such as: managing multiple mailing lists, you need a landing page or complex automations, and strong data privacy then MailChimp is actually not the right choice for you to use for your email newsletter and you should probably look into some MailChimp alternatives.
MailChimp Alternatives for Equally Great Email Marketing
I know it may seem hard to believe but there are actually many different MailChimp alternatives for you to choose from. People usually immediately think of MailChimp when thinking of email marketing tools but honestly there are other options out there. This is why we have put together this list so you can see some of the other choices you have to use for your site's email marketing. You can check each option out and compare it to the others to find out which one is ultimately the best match for what you want to be able to accomplish with your email marketing platform. So let's not waste any more time, check out these great alternatives to MailChimp.
| # | Name | Image | |
| --- | --- | --- | --- |
| 1 | SparkPost-Email Delivery Plugin | | More Info |
| 2 | GetResponse-Enhance Your Contact List | | More Info |
| 3 | eSputnik-B2C Email Marketing | | More Info |
| 4 | Activecampaign-Make Meaningful Connections with Your Customers | | More Info |
| 5 | Constant Contact-Manage Your Email Marketing | | More Info |
| 6 | HubSpot Marketing-Inbound Marketing Software | | More Info |
| 7 | Marketing 360-Marketing Platform | | More Info |
| 8 | SendPulse-Email Marketing Newsletter | | More Info |
| 9 | ConvertKit-Embed Lead Capture Forms | | More Info |
| 10 | Agile CRM-All in One CRM | | More Info |
| 11 | OmniSend-Generate More Sales | | More Info |
| 12 | MailerLite-Create a Sign up Form | | More Info |
Show More
* This button will show the rest of the post and open up an offer from a vendor
Filter between free and paid
SparkPost-Email Delivery Plugin
Let's get our MailChimp Alternatives list rolling with the SparkPost plugin. This is an email delivery plugin that was built to do several things: ensure that you mail gets in the inbox, show you live analytics, and track and optimize your email actives. Once you have enabled the WordPress SparkPost plugin, all of the "outgoing email from your WP installation is sent through your SparkPost service". Then, from within either the SparkPost UI or SparkPost EU UI, you will be able to watch your campaigns live as they unfold by tracking your users engagement metrics.
This is incredibly beneficial because you can learn what it is that your audience responds best (or responds at all) to. If you want, you can also "integrate more deeply with your app using the SparkPost API".
GetResponse-Enhance Your Contact List
With the GetResponse WordPress plugin was created for you to use to get response from site visitors. With this plugin you will have the ability to do various things such as: add site visitors to your contact list, update contact info, add your GetResponse landing pages to your WP as a page. By growing your contact list and making sure that you have contact info and eCommerce data, GetResponse gives you the information and tools you need plan successful marketing campaigns.
The GetResponse has built in integration with three major plugins: Contact For 7, Ninja Forms, and BuddyPress forms. There is built in WooCommerce integration as well which will let "you add customers to your contact list and send eCommerce data to get response". By doing this you can keep data about each customer like their spending habits, product purchases and the items that they place in your cart which can help you create more targeted marketing campaigns.
Other Features of GetResponse Are:
Web event tracking
Popup, exit popup, fixed bar forms
Run a/b tests
eSputnik-B2C Email Marketing
Next up we have eSputnik. This one is kind of interesting because it is an Omnichannel Marketing Automation Software for B2C. eSputnik will allow you to accomplish several things with your marketing campaign: generate more sales and conversions, optimize the return on investment of your customer retention efforts, Maximize customer lifetime value, as well as save time by automating your direct marketing workflow.
With eSputnik you will have a drag and drop worflow editor so you will be able to setup multi channel campaigns super easily. It has web tracking as well so you can optimize the communication strategy that you are using with your customers depending on actions such as their behavior in your letter, after visiting your business's website, and offline things like promotional offers.
More Features of eSputnik Include:
12 different AI features
Reliable and fast delivery of emails
Consultant service
Multi channel marketing communications
Activecampaign-Make Meaningful Connections with Your Customers
Whether you are looking for something that can handle: email marketing, marketing automation, sales CRM, or messaging, you have come to the right place because Activecampaign can do it all. It will provide you with "all the tools you need to make meaningful connections and grow your business".
Activecampaign is very focused on automation because it makes it much easier to run your marketing. You can do things like segment your contacts or create a welcome series with email automation. There is sales automation as well to help you sell more. A CRM with both email and sales automation will keep all of your customer data safely in one platform, which will make things very organized.
Other Features of Activecampaign Are:
Site tracking
Integrated forms
Gmail extension
Migration services
Advanced reporting
Constant Contact-Manage Your Email Marketing
We have reached the fifth of our MailChimp Alternatives with the Constant Contact Forms WordPress plugin. Constant Contact is actually a pretty popular and it may already be familiar to you as a way to manage your email marketing. This plugin makes it very simple for you to capture site visitor information directly from your WordPress site. It will be able to collect various types of information such as: contact info, visitor feedback, email addresses and you can customize the forms you create with data fields that are relevant to you.
The forms you create will also be mobile optimized which is great because it means that they will be able to work even on tiny mobile phone screens. While you do not need a Constant Contact account t use all of the tools of this plugin, it is actually beneficial if you have one because all of the new email addresses you capture will be automatically to your Constant Contact email list.
Other Features of Constant Contact Form Are:
Customize data fields
Easily create forms
You can choose forms that will automatically choose the theme and style of your WP site
"

... and Scan WP's recommended WordPress theme is... Astra (Click to try)

"
HubSpot Marketing-Inbound Marketing Software
Next up we have HubSpot Marketing. This is an inbound marketing software that will provide both self-service business intelligence as well as web analytics reporting so you will be able to measure of your website and marketing. While this is HubSpot's focus, it can also do many other things as well such as help your business get found more easily online and convert you site traffic into leads and customers.
There are also many blog features with HubSpot so if you have a blog you can: see analytics, have comment moderation, use collaborative writing, etc. While HubSpot is a paid program you can request a free assessment before committing to using it so you can see how HubSpot Marketing "can help you drive: leads, sales and monitor the success of your business".
More Features of HubSpot Marketing Are:
Keyword Search tools
Drag and drop, for landing page creating
SEO management
Posting schedule for social media marketing
Marketing 360-Marketing Platform
Marketing 360 was created with one main purpose, provide a way for small and midsize businesses with the number 1 marketing platform in the world. It is a feature packed platform that offers world-class digital marketing software as well as very skilled professional marketing services using one single powerful and affordable platform.
Marketing 360 has social media integration which is great because it will make it much easier for your and site's users to promote your business on various social media platforms. There are also tons of email marketing specific features such as: drip campaigns, event triggered email, image library, analytics, and more. Marketing 360 can also work for eCommerce sites and has tons of eCommerce specific features as well.
Other Features of Marketing 360 Are:
SEO management
Advertising agency features
Marketing automation features
SendPulse-Email Marketing Newsletter
We move on to the SendPulse WordPress plugin. This is an email marketing and transactional SMPT service that will allow you to add a newsletter subscription form to your WP site. Once someone subscribes, their information will be automatically added to your mailing list. SendPulse will maximize your newsletter open rate automatically.
The makers of this plugin have discovered that when you use their artificial intelligence technology you will get 50% more open rates for your emails. There is also a drag and drop HTML editor with SendPulse, which is great for those of you who are not super tech savvy. There is one click installation and easy configuration so it is super easy to get this plugin up and running.
More Features of the SendPulse WordPress Plugin Are:
Rich analytics and reporting
Email personalization and list segmentation
Unlimited autoresponders and mailing lists
Add multiple newsletter subscription form
Email marketing automation builder
ConvertKit-Embed Lead Capture Forms
We move on to the ConvertKit WordPress plugin. This plugin will make it much easier for you to get more leads and sell more of your products by embedding email capture forms anywhere on your site. For people using WordPress blogs it will make your life much easier since you can automatically append a lead capture form on any of your posts or pages. This plugin comes with three different options for embedding and using these lead capture forms.
The first is that there is a default form that will be embedded at the bottom of any post or page on your site. Should you want to turn off form embedding or use a different form for a specific post or page, you can do that from within the ConvertKit meta box, And lastly, you can embed the default form into the middle of a post or a page content by using the shortcode that comes with this plugin.
Agile CRM-All in One CRM
Next up is number ten of our MailChimp Alternatives list. The Agile CRM  is an "all in one CRM with sales marketing and service automation in a single platform". This plugin is jam packed with various tools to improve your business. Once you start using this plugin on your site, your business will be able to do so many things such as: enable omni-channel communication, monitor customer behavior, receive real time alerts for customer activity, and so much more.
The Agile CRM plugin also has a drag and drop editor that will help you to easily automate your marketing, sales and customer retention process. With this plugin you will also be able to see, in chronological order, a detailed record of every customers' details as well as communication history.
More Features of the Agile CRM WP Plugin Are:
Web analytics
Two way emails
Clean and modern interface
Convert website visitors directly to leads in the CRM
Sales tracking
OmniSend-Generate More Sales
The OmniSend plugin is just for those of you who have or are looking to create an eCommerce site with WordPress. With this plugin you will get a complete solution for generating more sales for your business as well as connecting your eCommerce business with existing and potential customers. Once you have connected your WooCommerce store with the OmniSend plugin it will automatically sync your customers, orders, carts and products with your OmniSend account.
This will make it much easier for you to segment your customers, send campaigns, and send out automated personalized emails. This WordPress plugin also has various sign up forms such as: various popups, landing pages, sign up box, and even an interactive Wheel of Fortune. You will also receive a full report of your performance and generated sales.
Other Features of OmniSend Include:
Campaign booster
Product recommender
Discount coupons
Email and SMS automation workflows
MailerLite-Create a Sign up Form
And last but not least of our MailChimp Alternatives is the MailerLite sign up forms WordPress plugin. This plugin was designed to make it easy to grow your newsletter subscriber list. MailerLite will allow you to add a newsletter sign up form to your WP blog or site and then automatically integrate it with your MailerLite account (you do need to have an account to fully use this plugin).
When MailerLite is activated you will be able to choose and add any of the webforms that you have in your MailerLite account or you can always create a new webform. There is a shortcode with this plugin as well that will allow you to post your webform anywhere you want on your website.
More Features of the MailerLite Plugin Are:
Double opt-in sign up
Setup Welcome emails in your MailerLite account
Save subscribers automatically
Final Thoughts
We hope this list of MailChimp Alternatives has made you believe that sometimes the popular option isn't always the best one. We believe that these other email marketing tools could all be great options for you to use depending on what you are looking to accomplish and want to know about your email marketing campaigns
Recap:
Save 4 Later
Email liked links to yourself