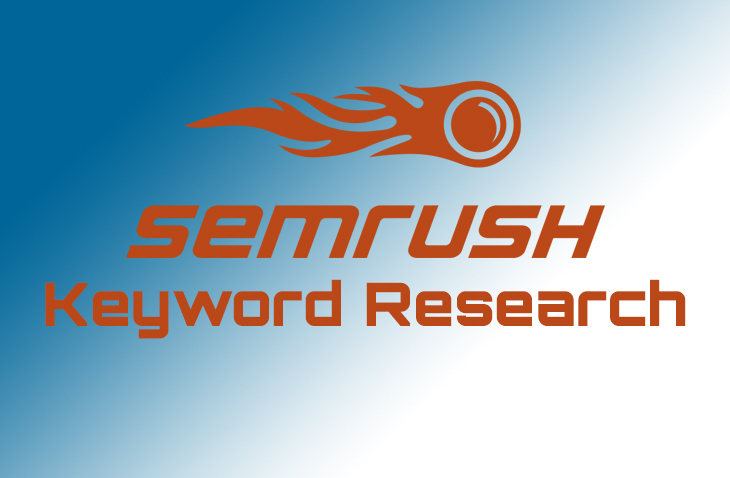 Keyword Research with SEMrush
Last modified: January 13, 2020
If you've been into SEO for a while, you probably read a few articles about keyword research. There are several ways you can do keyword research and everyone has their own way. Some people use keyword research tools and some use free tools such as the Google Keyword Planner Tool. The thing is, if you use the same data that everybody else uses, you don't really have an edge. In SEO the magic happens when you learn how to do things better that your competitors. Looking at the same data as your competitors do pretty much insures you get similar results.
The Best Way to do Keyword Research – SEMrush
In this tutorial we'll take you through a fairly simple process of doing keyword research with SEMrush. If you are not familiar with the tool, read our SEMrush review here and understand the extent of SEO abilities this tool has to offer. If you don't have an account yet – get a 14 day trial here.
Check Out Your Own Keywords
One method that is overlooked a lot is looking at your own keywords. Looking at keywords that you already rank for but didn't know about, could be a great start. To find a list of keywords you already rank for, just go to your Google Search console account and export all your keywords. Then just filter them and find some that are relevant. Next, go to SEMrush's keywords page and add your own domain to the form at the top of the page. This will give you a result similar to this:
*I used the WordPress.org domain as an example as you can see in the URL column.
You could go through the results manually or export the entire list with the button on the top right of the list.
Copy Your Competitors' Keywords
No matter how good your site is in your own niche, you always have competitors that are doing something better than you. For that reason, you should always be doing competitor research.  Here are a few very easy to accomplish tasks that will keep you busy for a long time.
1. Create a List of Your Top Competitors
Sometimes if you are a local business, you might know who your top competitors are, though a lot of the time you don't necessarily know them, and if you do, you might be missing out on a whole lot of others. That's why SEMrush's organic competitors is a great tool. In the previous link you could see that I used WordPress.org as an example again, and I got a whole list of WordPress.org's top competitors based on keywords they rank for. So if you put 2 and 2 together, you'll figure out that if you don't know all of your keywords, you must not know all of your top competitors for those keywords – meaning, you are missing out.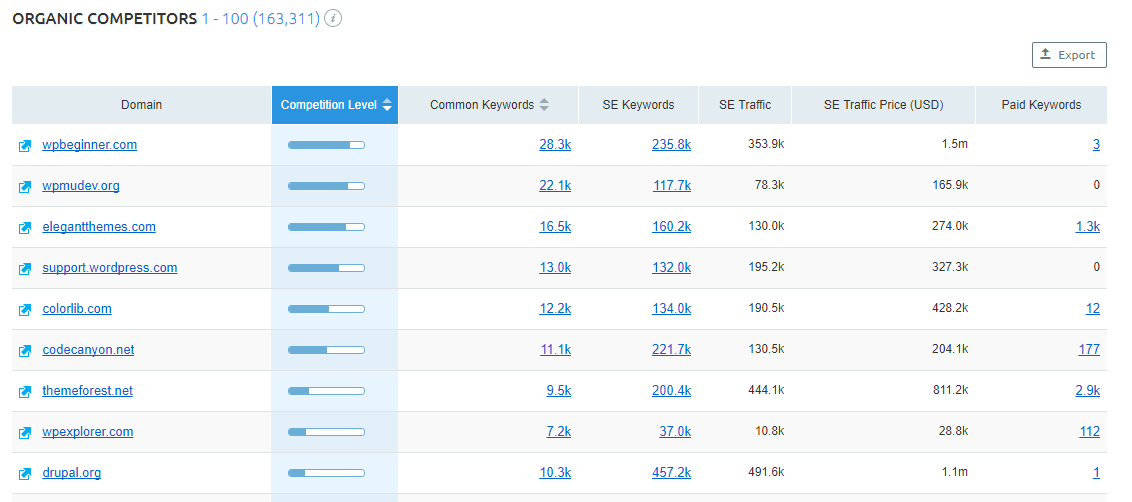 Once you add your URL to the tool, you'll see a list similar to the image above. Now, just export it so you have a list of your top competitors.
2. Go through each of your Top Competitors' Keywords
Now that you have a list of your competitors, just decide which ones you want to research. Take each URL, put it into SEMrush's tool and navigate to the positions area. (Personally it's easier for me to export to Excel and then continue but you can absolutely do this within the tool itself) After you have a list of keywords and other metrics, filter through the volume column. Decide what search volume you are looking for. Don't go for anything too high and don't settle for anything too low. Once you filter out unwanted keywords, start filtering out keywords based on what you see. Your competitor might rank for a product you don't sell, so just filter out these types of keywords. If you did all this within the tool and not on an Excel spreadsheet, don't forget to export the result with your chosen keywords.
3. Create a list of New Keywords
After you go through a few of your top competitors' keywords:
Put them all together into an Excel spreadsheet
Sort keywords by search volume
Create a list of the keywords you already know you rank for. Add another column called "already rank" and add some symbol in it
Add to the new list we just created
Remove duplicates
Sort by the "already rank" column
Hide / delete those rows
Now we have a list of keywords with the search volume that we want, without keywords that are irrelevant to us and without keywords we already know we rank for. All you need to do now is create new content to rank these new keywords we found.
If you need tips on how to do that, just read our article about how to rank no. 1 on Google.
Use SEMrush
Add any domain you wish to research and start your keyword research process.
Try out SEMrush for 14 Days
Show More
* This button will show the rest of the post and open up an offer from a vendor
Save 4 Later
Email liked links to yourself