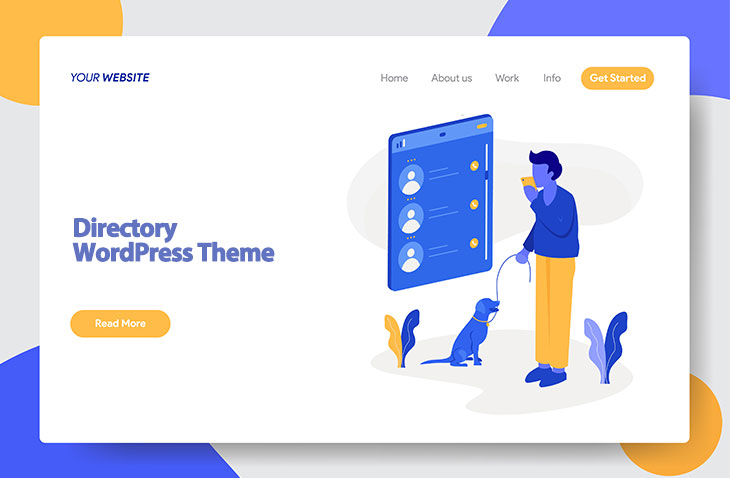 11 Best Directory WordPress Themes Compared - 2023
Last modified: May 28, 2023
Directory websites are common on the internet. They help users to locate businesses local to them with all the contact information that is required. They can also be used as a way to determine who are the best businesses via ratings, reviews and other features.
There are also some great ways to earn money from directory sites. Firstly, you can charge businesses advertising fees to appear on your site, to be placed near the top or for extra features on their listing. Alternatively, you could diversify and offer social media, website or other marketing services along with your directory listing.
Yet, there is tough competition and you need to be able to compete against some of the big directory websites that are currently holding onto the market.
You Need One Of The Great Directory WordPress Themes
To be able to compete, you need to ensure that you're using one of the best directory WordPress themes. Too many people will abandon a website because it is too slow, doesn't look good or is missing important features. If you aren't using one the best directory WordPress themes, then you're going to lose out on traffic.
Traffic is very important for directory sites. You don't just need new visitors either, you should look at developing returning customers. The more returning traffic you get (and generally the more monthly traffic) the more you can charge for additional services.
Part of drawing attention to your brand and attracting more traffic is building a good looking website, which these directory WordPress themes will help with. So, here is our top selection for you to choose from.
| # | Name | Image | |
| --- | --- | --- | --- |
| 1 | ListingPro | | More Info |
| 2 | Wyzi | | More Info |
| 3 | Listable | | More Info |
| 4 | Turner | | More Info |
| 5 | BoatSquad | | More Info |
| 6 | Catalog Multipurpose Directory Template | | More Info |
| 7 | Business Directory | | Not Available |
| 8 | Larrys List | | More Info |
| 9 | Robolist Lite | | More Info |
| 10 | Astra | | More Info |
| 11 | Divi | | More Info |
Show More
* This button will show the rest of the post and open up an offer from a vendor
Filter between free and paid
ListingPro
The experienced development team behind ListingPro have created a great directory WordPress theme that is certainly highly regarded. According to them, it is used by Yellow Pages in at least some territories.
The great thing about ListingPro is that it is a complete package for those wanting to create or update a listing website. Therefore, you are unlikely to need to pay for any other premium plugins to add good functionality to your website.
In the package, you will get a review and ratings system, advanced search functionality, a built in ad manager and one of the most intuitive listing submission interfaces you could need.
Monetization options are really good on these sites too. There is an advert management tool you can create multiple membership packages from, including free. You can also collect payments for any adverts/memberships. If you want people to claim businesses you've listed, or have been listed by users, you can get the businesses to claim them later on and take control of their appearance on your directory.
There is also a lead generation aspect to the theme. Businesses can communicate with customers directly to deliver quotes and win business, making your new directory site invaluable to them.
ListingPro Highlights:
Lots of features that make other plugins obsolete.
Can take payments for memberships/adverts.
Can create multiple membership tiers.
Is used by leading directories.
Wyzi
This powerful, multifunctional business directory WordPress theme is a great option if you're not sure of future plans. The theme can be customized to take different styles, allowing you to be unique and still have all the functions for a great listings site. This WordPress theme can also be used as an estate agents listings portal.
There are several different demos for this theme, which, when uploaded, can be customised to match your own brand. You can also combine different elements from the available demos to develop the perfect directory platform.
To help you customize your platform, Wyzi comes with Visual Composer. This makes it easy to adjust your website's look through the efficient and easy-to-use drag-and-drop content editor.
There are lots of options to help you with your website's monetization. You need to add on WooCommerce and its library of add-ons to take care of payments. However, it does allow you to create numerous digital products like advertisements and memberships. You can also add subscriptions to your site.
Wyzi Highlights:
Business owners can take control of their listings through a front-end management.
Users can book appointments with businesses.
Businesses can sell products/post job vacancies directly on your site.
You can get users to rate businesses on an unlimited number of aspects of the business' operations.
Listable
Listable is one of the top directory WordPress themes available for those looking to create a smart, elegant listing website. The listings can look beautiful, with great images, information and clear call-to-actions. However, that doesn't mean that this theme is overloaded with unnecessary code. It is rather clean and quick, so you can be sure that your listing site will be fast to load on a browser.
The developers offer an excellent array of free plugins, so you can add functionality to your website. But because they are separate from the theme you can customize the needs of your website. This helps you lessen the load time by only having the code you need installed on your website. When you have a theme with all the aspects pre-installed, you can actually slow down your website by not using functions but they are still included in the coding of your website.
Listable is also great for monetization. You can charge for any listing subscription customers have or you can take a commission for taking reservations/selling services that are offered through your website. The theme uses WooCommerce and their extensions to offer these functions.
This theme also comes with a great support base to help you should you have trouble.
Listable Highlights:
Numerous ways to monetize your website.
Excellent customization options.
Great search facilities for your users to find businesses.
Excellent way for businesses to be displayed on your site.
Turner
Turner is a directory theme that can take your listing site to a new level. The theme is beautiful and elegant with a lovely header image positioned at the top of the page that can really set the tone for your website. There are lots of functions that can make your site reliable but these are all fairly easy-to-use and you should be up and running within minutes.
To help you out, there are more than three home page layouts that you can choose from. And you can access more than 630 icons to identify businesses that are listed on your website.
The code is absolutely clean that helps with page ranking on Google and other search engines as well as load times. The code for the website has been W3C validated, giving you an extra boost when it comes to search rankings.
The theme has been designed with mobile users in mind and is completely responsive. It is also cross browser friendly.
Turner Highlights:
An excellent listing theme that can be used as the perfect local, national or global listing sites.
Google fonts integrated.
SEO optimized for better search ranking.
Dedicated support for your theme once purchased.
BoatSquad
Although technically it was developed for selling and buying boats, there's no reason why this theme can't be adjusted so it can display business listings in your area. There are lots of features that make it perfect for any listings sites. To get you started quickly, there is a one click demo that you can use to set in place the initial design and then you can customize as you require.
There are some beautiful animations that can be incorporated into your website design that will engage audiences with the website. Users can also search by region or by product type. The theme is completely compatible with contact form 7 and the Disquis comment system. You also get Visual Composer and Revolution Slider included with your purchase of this theme.
To add information to your website, you can add multiple items to you sidebars, headers and footers. Finally, you can make it easy for users to head back to the top of the page thanks to the back to top feature.
BoatSquad Highlights:
Clean code that makes it easy to load and rank.
Advanced Typography options.
Premium plugins included with the theme.
Fully optimized for mobile devices.
"

... and Scan WP's recommended web hosting company is... Cloudways (Click for special deal)

"
Catalog Multipurpose Directory Template
This is one of the most unique directory WordPress themes and will help you develop a presence on the internet whether you're specific with your listing site or more general. The site's design is highly customizable but starts with four appropriate home page design styles, as well as five different search layouts you can use in different combinations to create a unique and perfect experience for your audience.
In addition, there are lots of other features that will make you the number one directory choice. The design is beautiful and the listing display is both elegant and modern. You will also like the pinpoints on a map that can be colored based on numerous factors.
Catalog Multipurpose Directory Template Highlights:
Very clean code so it will rank well on Google and other search engines.
Retina ready, so it looks good to users.
Loads fast onto any device for better user experience.
Modular design.
Business Directory
This is one of the best free directory WordPress themes that is available directly from WordPress.org. You can start to build your website and your directory very quickly and be up-and-running within five easy steps. The theme is very customizable and there are several background patterns that can be incorporated into the main design to create a unique look to your website.
You can also customize other theme options to make a perfect website that is suited for your specific directory. In addition, this is another theme that can be full width, as well as other recently mentioned themes.
Business Directory Highlights:
Can have a sticky post on your blog page to highlight important information.
Translation ready so you can take your business directory globally.
Free theme from WordPress.org.
Sell listing spaces on your website.
Larrys List
Larrys List can be used as a directory or a classified ads. It is built on a great responsive framework that allows it to be displayed on mobiles, tablets and desktops with ease. This framework also offers several benefits such as fast loading times and higher search rankings.
The listing aspects of the theme are excellent. The main page can be set to show a specific number of latest listings that you determine. Image thumbnails for listings can popup so users can get a better look. Listings show only on the view listings and custom category pages. Blog posts will display only on the blog listing page.
The theme can be managed in the backend by you and on the frontend by members.
Larrys List Highlights:
A free theme from WordPress.org.
Very customizable through the use of several page builders.
Highly responsive so will display perfectly on any device or screen size.
Clean code so will load quickly.
Robolist Lite
Robolist Lite is a great theme for any directory. Its modern, sleek design looks great on any device and with the numerous features, you can be sure that you have one of the best directories on the internet. This theme is perfect, whether you're looking to design a business agency, hotel, real estate or selling site. The theme is completely responsive thanks to the BootStrap Framework incorporated into the design.
The design is beautiful and allows for visitors to focus clearly on the search element that appears at the center of the screen as the user lands on the front page.
Robolist Lite Highlights:
Very responsive theme that will display well on any device or screen size.
Easy to get ranking on Google and other search engines.
Clear call-to-actions to direct users to specific actions.
Very versatile and free.
Astra
Astra is a great theme that is so versatile. It can effortlessly be made into a directory site to help you earn a living quickly. It is easy to customize with the WordPress customizer. You can start from scratch with your design if you have a specific style in mind, or use one of the demo sites included to quickly build a site and then customize it. The ease of which you can develop this website is phenomenal and you don't need to know any code.
This lightweight theme is super-fast, something that is very important for directory sites as you want to ensure that people can load their searches quickly. To help your business be found on Google and other search engines, the theme has been optimized for search.
Astra Highlights:
Super fast website that means your visitors don't abandon your site.
Optimized for search engines so you can be found on Google and others for higher traffic levels.
Lots of customization options to allow you to create the perfect website without restrictions.
Is compatible with many of the best plugins to add more power to your website.
Divi
Divi is one of the most used WordPress themes on the internet. There are lots of premium brands that use this and it has lots of potential to be a highly successful directory theme for your business. One of the best features of this theme is the split testing element. You can test variations of your website concurrently to see what audiences prefer. Then you can incorporate the best elements into your website to increase conversions.
The Divi Builder can be used to customize your website. This is an easy to use builder that can help you create a perfect style for your own brand without the need to know any code. If you need some help you not only have the community of developers who can support you, but access to dozens of demo sites that can help you get started.
Divi is diligently coded by the developers and is therefore superfast to load and optimized for search engines.
Divi Highlights:
Have a global directory with 32 different languages and support for RTL languages.
Businesses can help their rankings by incorporating videos in their listings.
SEO friendly so your website can be found on Google.
A highly customizable theme that has many different elements to make it a perfect theme for any project.
Final Thoughts On The Best Directory WordPress Themes
There are many directory WordPress themes available online that can help you create a great listings website. Many of the themes don't require additional plugins or coding, but some do. Whichever you choose, you must make sure that your theme matches your needs and offers your key audience the service they're looking for.
Recap:
Save 4 Later
Email liked links to yourself