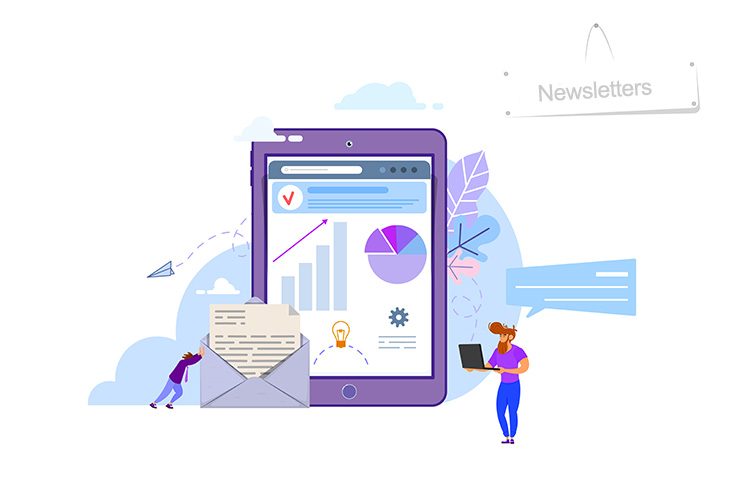 12 Best WordPress Newsletter Plugins
Last modified: June 21, 2023
When it comes to marketing your brand, you need to use one of the WordPress Newsletter plugins. This will allow you to collect email addresses and sometimes send content to your audience via email on a regular basis. Email marketing, such as newsletters, are an excellent way to grow revenues. Research has shown that for every $1 spent on your email marketing, you're going to get back roughly $44 in revenue. This is the highest ROI for any digital marketing channel you could use.
Of course there are several laws and regulations that you must follow across the world. Canada has one of the most stringent email marketing laws. For those who collect emails from across the world, it is really important that your website follows the tightest email laws. However, you can't go wrong if you follow these simple rules:
You tell people that you're collecting their personal details.
You link to a privacy policy in the signup process.
After details have been entered, you send a confirmation email to your new subscriber.
Data collected must be essential.
You tell your subscribers what you're collecting, what content you'll send and finally how often you'll communicate with them.
Why Should You Use One Of The WordPress Newsletter Plugins?
There are many software solutions available that allow you to collect emails and send newsletters. Some of these aren't plugins. However, the problem is that these can sometimes slow down your website and look unattractive on your website. WordPress Newsletter plugins are designed to integrate within your WordPress website to improve conversions. You can have better control on text, style and branding in the plugin.
In addition, many WordPress Newsletter plugins allow you to use third-party email marketing content to help send content. However, that doesn't mean that you have to use those. There are some advantages for this, namely that their mail server reputation is high enough that your mailings don't get blocked by servers. But if you want to keep everything to your server, there are options for this as well. This will often mean that your mail campaigns are delivered faster.
You can also buy WordPress Newsletter plugins that can help you design campaigns. These can be sent out manually or automatically, depending on your specific needs. You should also look at the triggers for sign up forms. Some will only offer exit intent, but others will offer you dozens of behaviors that can trigger the signup form to display.
So, which WordPress Newsletter plugins do we recommend? Here are our suggestions.
| # | Name | Image | |
| --- | --- | --- | --- |
| 1 | Bloom | | More Info |
| 2 | Newsletter | | More Info |
| 3 | ALO EasyMail | | More Info |
| 4 | WP Subscribe Pro | | More Info |
| 5 | Getsitecontrol | | More Info |
| 6 | Mailster | | More Info |
| 7 | Optinly | | More Info |
| 8 | Useful Notifications Email Newsletter Template | | More Info |
| 9 | Groups Newsletters | | Not Available |
| 10 | WooCommerce MailChimp Newsletter Discount | | More Info |
| 11 | Jackmail Newsletters | | More Info |
| 12 | MailFit | | More Info |
Show More
* This button will show the rest of the post and open up an offer from a vendor
Filter between free and paid
Bloom
Elegant Themes brings you one of the best WordPress newsletter plugins available. It is the complete package, allowing you to target specific audiences, subscribe visitors and send WordPress emails to multiple recipients. The power of this plugin is excellent and it has some very specific benefits that will make it a great choice for your website.
For instance, you can create numerous forms that can be displayed on certain pages/blog posts. This allows you to tailor call-to-actions and other content to specific audiences. For instance, if they're reading a blog post about dogs, you can entice them to subscribe to your mailing list about dogs. If they're on a page about cats, you can entice them with a signup form mentioning cats. This can help improve conversions.
All the subscription forms are excellent and will help you convert more of your website's visitors. You can choose from up to 100 unique designs. All of these are mobile optimized, which is great when so many people choose to read emails on their mobile devices and can be customized to match your branding.
Bloom Highlights:
Six ways to display subscription forms on your website.
Numerous triggers to get your plugins to display exactly when you need them to be seen by website visitors.
Can integrate with dozens of email marketing service providers.
An excellent dashboard to help you control your subscription forms to see results and the success of your campaigns.
Newsletter
This free WordPress newsletter plugin offers lots of functionality that makes it a great option for those on a tight budget. It is easy to install and setup and allows you to create beautiful forms. In addition to collecting emails, you can send an unlimited number of emails to an unlimited number of subscribers. You can be sure also that you're keeping your domain reputation high as there are subscription spam checks.
When sending campaigns, Newsletter will send out about 12 emails per hour, about the same as your blog can manage. You can also target subscribers based on their list or other data with combinations like 'all in', 'not in', 'at least one of' and so forth. This allows you to keep audiences engaged with your email without upsetting them by sending them irrelevant content. You can see the results thanks to the statistics included with the plugin.
You can also be sure that you're following the latest email marketing laws. The plugin is GDPR ready, can include links to privacy policy, single and double opt-in options.
Newsletter Highlights:
Compatible with all SMTP plugin.
Can be integrated with BuddyPress.
Newsletters can be sent with HTML or text.
Free plugin with lots of possible free integrations for extra functionality.
ALO EasyMail
Another free plugin available from WordPress.org, this is a simple plugin that offers maximum functionality. You can write and send newsletters simply by writing posts, selecting the recipients and then sending them in batches. The software collects emails and sends them in groups every five minutes until sending has been completed.
In addition to sending email newsletters to your audience, you can grow and manage your list from inside your WordPress plugin. This plugin allows you to subscribe an unlimited number of people, and if you've already got subscribers on another mail platform, then you can import them using a CSV file. Then you can manage these from your dashboard, separating subscribers into specific groups.
In the statistics page, you can see how many people have opened your mailings, and clicked on any links you've included. You can also see who has bounced and remove them from your list to keep it clean. You can also send re-permission campaigns to check you're not sending emails to accounts that are no longer active/don't want your content any more.
ALO Easy Email Highlights:
View your newsletter campaigns statistics to see if you're meeting expectations.
Privacy policy checkbox in the subscription form.
Manage your subscribers inside your WordPress website.
Free plugin.
WP Subscribe Pro
This premium newsletter plugin has everything you need to grow your email list and start earning revenue from your subscribers quickly. There is no coding necessary for your start using this plugin that integrates with all the major email marketing service providers. WP Subscriber Pro allows you to have an opt-in form that will display based on basic triggers such as arrival on specific URLs or on a time delay. Getting the forms designed and selecting display settings is incredibly easy. Even those new to website design are going to find this easy to use.
This plugin is designed for a great all-round experience. There's no speed disruption when installed on your website. Plus, the forms are completely responsive; therefore, your forms will display well on all devices.
WP Subscribe Pro Highlights:
Compatible with SEO and caching plugins to ensure your website can be discovered on search engines and doesn't lose speed.
Compatible with all the major email marketing software providers including MailChimp, MailerLite and GetResponse.
Lifetime support and updates.
Lightweight plugin.
Getsitecontrol
Getsitecontrol is a cloud app to help you create email signup, contact, and survey forms, and it comes with a dedicated plugin for WordPress users. What makes Getsitecontrol different from most solutions is its versatility. For instance, apart from modal popups, it brings slide-ins, fullscreens, floating bars, panels, and buttons that expand into a full-featured newsletter subscription form. If you're not into designing forms from scratch, however, you can add one from an extensive template gallery.
To work with Getsitecontrol, you don't need to have any tech skills. The plugin installation requires no coding, and the dashboard is very newbie-friendly. If you do have basic tech knowledge though, you get a chance to customize the appearance of the form very precisely and make it match your website style perfectly. For instance, to change the fonts, colors, and other elements of the widget look, you can use the CSS editor. Plus, there is a separate tab in the dashboard, where you can adjust the way your subscription form looks on various mobile screens.
Getsitecontrol provides in-depth audience targeting tools. That means, you can decide which audience segments see the subscription form, where and when. That allows you for using a more personalized approach and placing different popups, say, on your blog pages, and everywhere else. There is a long list of email marketing tools Getsitecontrol integrates with, and even more connection opportunities via Zapier.
Getsitecontrol highlights:
Grab email signup forms directly from template gallery
Use a built-in CSS editor to customize the appearance
Ensure perfect mobile experience with a dedicated tab
Import high-quality visuals from Unsplash and GIPHY
Use the autoresponder to send welcome messages
A/B test email signup forms to optimize conversions
Integrate Getsitecontrol with any email marketing tool
"

... and Scan WP's recommended WordPress theme is... Astra (Click to try)

"
Mailster
Mailster is a great option as it allows you to collect emails on your website with a wide range of forms and then send your campaigns directly through the software, or, if you prefer, through numerous email software providers. To create campaigns, you can drag and drop content into certain areas of the newsletter design to create something that matches your brand and is aesthetically pleasing.
There are numerous autoresponders available. The options include the number of days from subscription, birthdays and purchasing history. This allows you to build effective email marketing campaigns, which run automatically saving you lots of time.
To see how your campaigns are working, there is a powerful analytics screen that can really show you what is working and what is not. Plus, there is the possibility to assign subscribers to different lists to help you get the most from your email marketing campaigns.
Mailster Highlights:
Have an unlimited number of subscribers, lists and forms.
Drag and drop campaign designs.
Create automated campaigns to save you time and improve subscriber engagement.
Track campaigns in real-time.
Optinly
Optinly is your go-to WordPress newsletter plugin that allows you to capture leads and build your audience base seamlessly. What makes this plugin special is its goal-based marketing approach that allows you to create popup campaigns in under minutes. You get to choose from the pre-existing marketing goals, the appropriate popup templates and then go live. 
Also, the plugin comes with an in-built WYSIWYG editor that allows you to customize popups just the way you want to – there's no need for you to have any previous development or designing experience! The advanced popup triggering options help you share a moment with your website audience and later convert them into subscribers/customers. 
The option to seamlessly integrate with 10+ email marketing platforms comes as another remarkable feature of Optinly, not to mention a forever free plan the plugin offers to its users. 
Optinly Highlights
Pre-existing mobile responsive WordPress popup templates. 
Multiple types of popups to choose from (fullscreen overlays, floating sidebars, etc,)
Popup transition effects (fade-in, zoom in, backin up and flip in) for better engagement and conversion rates.
Clean user interface for creating popup campaigns with zero hassle.
In-depth analytics dashboard that lets you know popup campaign insights like clicks, views and conversions.
Integration with 12 top email marketing platforms at once.
Useful Notifications Email Newsletter Template
A simple email design and sending plugin, the actual designs that can be created with this WordPress newsletter plugin are aesthetically pleasing and are certain to be admired by your audience. At the same time, you can be sure that your content will be received by your audience.
You can send content through numerous email marketing software providers with emails being compatible with numerous email clients including desktop and mobile clients.
Useful Notifications Email Newsletter Template Highlights:
Design emails within your WordPress website.
Send campaigns through numerous email marketing providers.
Responsive email designs with eight templates to choose from.
Compatible with numerous email clients.
Groups Newsletters
Groups Newsletter is a great plugin for those looking to use email marketing as a driving force behind their revenues. It is specifically great for a news website or news sites. It is a great way to push stories out to your audience to help build engagement. You can create automated campaigns that can be sent to specific groups of subscribers or to everyone.
The newsletter targeting is great. You can even set a specific group of your audience who've paid for additional content and send them specific content. A great new revenue stream available to you. In addition, you can manage groups, noticing who isn't responding and remove them from the mailing list for better list statistics.
Customers can also specify which group of newsletters they receive. Which can be a great way to communicate with audiences if you run a website with lots of different topics.
Groups Newsletters Highlights:
Target audiences based on lots of different criteria.
Manage campaigns and subscribers.
Tell the story of your brand or sell stories of news in your niche.
Let customers choose what stories they receive.
WooCommerce MailChimp Newsletter Discount
WooCommerce MailChimp Newsletter Discount Newsletter plugin is a great option to add to your website to your WooCommerce powered site. There is no coding required to make this a productive and profitable addition to your WordPress website. The system works by collecting the email address of the visitor in exchange for a discount. This can help improve sales.
The plugin collects the user's email address by displaying as a popup or as a simple form that can be inserted into your website's design with a shortcode. Once the email has been entered into the form, the plugin will add that email to your MailChimp list. It will then send out an email with a unique coupon code that is linked to their registered email address. This prevents people abusing the system and getting discounts with bogus email addresses.
WooCommerce MailChimp Newsletter Discount Highlights:
Helps to increase sales by offering customers a discount code when subscribing to your mailing list.
Works with MailChimp and automatically adds the email address to your subscription list.
Offers unique code so no two people can use the same code.
Can be triggered by exit intent behavior.
Jackmail Newsletters
Jackmail Newsletters makes sending emails through WordPress easy. Each year you can send 15,000 emails that can be generated automatically as soon as you publish new content on your website. There is a wide range of industries that might benefit from this type of plugin, including news sites, bloggers and those that publish more than once a day. You can restrict sending, so it sends every X number of emails.
The beautiful designs that can be created using this plugin are certainly a bonus. They are visually stunning and will impress subscribers. In addition, these are fully responsive.
Jackmail Newsletter uses their own servers to send out emails, this can greatly increase the speed in which content is sent out to your audiences. Other SMTP services will slow down sending to just a few per hour. However, everyone can get their mail at the same time thanks to the server settings at Jackmail.
Jackmail Newsletters Highlights:
Beautiful email design possibilities.
Automation so you can concentrate on what you do best.
Fast sending of campaigns.
Send up to 15,000 emails per year.
MailFit
Are you looking for an all-in-one subscriber management solution that allows you to manage everything in the comfort of your WordPress dashboard? Then MailFit might be one of the best WordPress Newsletter plugins for you. It comes with a range of features that allow you to take your email marketing to the next level and really showcase your brand, improve returning traffic and increase revenue from your site.
MailFit allows you to manage your lists and subscribers from right inside your WordPress dashboard. Look for those who aren't responding to your newsletters any more and remove them for a more healthy subscriber list.
This is a professional email builder, that allows you to build email designs that are visually impressive and are certain to yield good results for your business. Campaigns can be sent manually or automatically based on behaviors of your audience. This makes it a great feature for any eCommerce or large business.
Emails can be sent through your own SMTP, which can be much more cost effective than running your emails from other software providers.
MailFit Highlights:
Automated emails can be sent based on several triggers.
Build your own email designs to create impressive and visually appeasing emails to build brand recognition and sales.
Can integrate with several email sending providers or use your own SMTP.
Manage subscribers and groups from within WordPress.
Final Word: The Top 12 WordPress Newsletter Plugins
The top 12 WordPress Newsletter plugins are varied in their functions and their price. Each have their own merits and it depends on your needs and skill level when deciding which one you want to have on your website. Have a look at the list above again and choose which is best for your next WordPress project.
Recap:
Save 4 Later
Email liked links to yourself