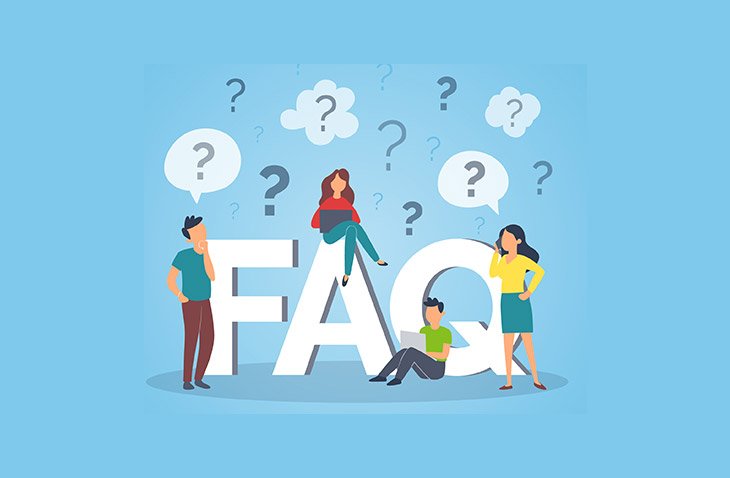 How to Setup Cloudways for WordPress
Last modified: March 25, 2021
When it comes to choosing a host for your WordPress website, there's a lot of choice out there. You can have shared hosting, managing WordPress hosting, VPS, Dedicated servers and more. One of
the more popular options is now Cloud hosting.
Cloud hosting is popular because functionality, speed and security can be drastically improved. Speed is very important for online sites. Research has shown that a one-second delay in your site loading can represent a 7% drop in your business' revenue. With Cloud, you can build a fast website that will load quickly.
Cloudways is one of the top cloud hosting platforms available and you can easily host your WordPress website on them right now.
Show More
* This button will show the rest of the post and open up an offer from a vendor
What is Cloud Hosting?
Cloud hosting is a significant number of real-world servers that work together as a single system that creates a stable and secure virtual server. If one server goes down, then sites don't go down because other servers can take on the work. In addition, it allows you to reach a worldwide audience with better speed. This is because audiences will be served your website by the server that is closest to them.
With other hosting plans, speed can be affected due to the server located. For instance, if you have a hosting solution with your server in the US, then those who are visiting your website from the US will have positive speeds, but those from the EU, UK or even in Australia might have delays in their loading speeds. When you have cloud hosting, the speed is almost universal across the world.
Why is Cloudways a Great Cloud Hosting Option?
Cloud hosting is being made available through numerous companies, but Cloudways offers unique deals that make it a great choice for managed cloud hosting. For one, Cloudways always use the latest servers and systems to enhance the performance and security of your site.
In addition, they can really help you with the performance of your website. All their WordPress websites can have the Breeze Cache Plugin pre-installed on this site. This reduces the loading times of your website. This can help because the faster your website loads the higher the revenue of your site. Research has found for every second that it takes for your website to load, you will lose 7% of your revenue. In addition, speed is linked to higher rankings on Google and other search engines.
You can also use Cloudways CDN, which is a great way to improve website speed.
Another fantastic aspect of Cloudways is that they offer managed server-side security. They use multiple layers of protection like firewalls and 2-factor authentication and IP whitelisting. They will also automatically update all their servers to the platforms have the latest patches and security fixes.
This reduces the chances that you will suffer a hack and is worth a lot of money. Other companies that host websites don't offer this kind of service to their clients.
Finally, it is hard to find a hosting provider that offers you a variety of platforms in which you can use. And you can have unlimited installations, team collaborations, ease server scaling and more. You can also benefit from free SSL certificates from Let's Encrypt.
What Plans are Available on Cloudways?
When it comes to plans on Cloudways you have lots of choices on the platform. Cloud servers start as low as $10 per month. There are also plans that are far more expensive, but Cloudways can be spoken to and a plan can be built that's specifically for you.
Many services are included with Cloudways that other hosts would charge you for. One example of this is migration where your website can be moved from one server to another, even on their services.
How to Host a WordPress Website on Cloudways
If Cloudways sounds like a perfect solution for your WordPress website, then you will want to know how to establish your website on the platform. Here are the step-by-step instructions on how you can get your WordPress established on Cloudways.
Step 1: Signup for a Free Cloudways Account
The first step that you need to take is to create your free account on Cloudways to start hosting and building your WordPress website.
To do this you will need to go to the Cloudways homepage and click on the link that invites you to start a free account ('Start Free'). This will redirect you to the main Cloudways signup page. You can choose to login with LinkedIn, Google or Github or use your own email and password. Choose the one that is secure (if using a public computer choose email and password) and easy for you to remember.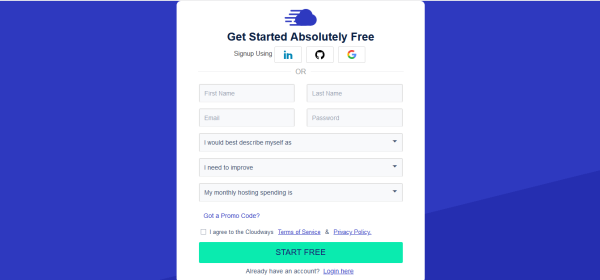 When using email, you should get an activation email in a few minutes. Be patient, it can take a little while. If it has not arrived within a few minutes, check your spam folder. Within the email, there should be a big green button to activate your account. Click on this.
If there is a problem and there is an error while you're signing up, you can speak to the technical staff at Cloudways. They operate a 24/7 customer support live chat feature. You can find this in the lower right corner of any Cloudways page. They can help you immediately.
Step 2: Log In
Now it is time to start setting up your server to host the website(s). So ensure that you're logged into your account on Cloudways. If you've been able to use the activation email, you should already be logged in. Otherwise, you need to head to the login page on the Cloudways website.
Step 3: Select Application
First thing you need to do is to select the 'Application'. An application is a website for those looking to establish one. As Cloudways know that WordPress is one of the most used CMS in use, they've placed this option at the top.

There are four different options that you can use for WordPress, this includes:
Standard WordPress
WordPress Plus WooCommerce
WordPress Multisite
Clean WordPress (this option is the standard installation without any Cloudways optimizations)
Choose the option that is most suitable for your needs. For example, if you're not going to be using WooCommerce, choose either the first or fourth option. Or if you're going to have multiple WordPress sites (like other international stores) then use the WordPress multisite.
For a standard website, without WooCommerce, it is highly recommended to use the Standard WordPress because this includes the optimizations that Cloudways have put together. Therefore, you should have a better performing website.
"

... and Scan WP's recommended WordPress theme is... Astra (Click to try)

"
Step 4: Data Center
Once you've made the decision on what WordPress website you've created, you will need to choose the server and data center. Some plans are available for free for three days. This gives you a chance to test the hosting. There are lots of options here including Digital Ocean, Linode, Vultr, Amazon and Google Cloud.

There are advantages for all of these. For example, Google Cloud is best used for those who have large businesses and will require plenty of resources dedicated to them. If you're not earning lots of revenue already, this might not be something for you.
All of the platforms are similar. The biggest differences you'll find are in the reliability and the price. You can find some inexpensive options that will be good if you don't have much need. Plus you can always add more resources to your server should you need to at a later date. Cloudways are great at offering you the tools to do this as you need to.
You'll also need to choose a server size. This can be harder to figure out and you might need to speak to someone about it. However, most start-up websites that don't host videos or something like that can make it on low resources.
Once this has been selected, you can set your server location. While this isn't too much of a problem, you will find that those located closer to the main server will still get a slight improvement in performance. Therefore, if your main audience is in the USA, then choose a server location within that area.

Step 5: Cloudways Server Configuration
Now you need to launch your server.

Once this has been done, you should be taken to the console where you can see an estimated time it will take for your server to be setup. While this is happening it is recommended that you complete your profile. Detail more information about your company/brand.
As soon as that has that has been completed, you can manage your server. Open the server control up. You will be given a run-through by the Cloudways system on how you can manage your server. There is nothing too challenging here, and the basics can be really good to know.
What you will need to do is to view your Master Credentials. You will probably want to view your username, password, SSH Keys and your IP address.
Next, you have your monitoring tab. There are lots of different options here. There are two things you will need to keep an eye on. The first is the idle CPU. This tells you how many resources for traffic there is on your server. The lower the number, the less there is available and you will need to scale up your website. The higher the number, the less worry you have.
This is given in a range, so be sure to take the lower figure to ensure you don't get downtime at any moment.
The other monitoring aspect is to check your free memory. Small server plans can operate great with low memory options. But if you're a large business with lots of content, ensure that there is more than 100 MB of free space available. Otherwise, you might need to scale up again.
At this point, you will want to head on over to the Cloudways Server Settings and Packages area. As you're using WordPress you will want to adjust some settings. Adjust the levels so they can accept larger files like a plugin or theme.
Be sure that you save any changes.
Step 6: Security
Security is one of the most important aspects of your brand. About half of all websites experience an attack every year. Therefore, try to protect yourself. Cloudways maintains a firewall for your website and implements server patches at regular intervals. This helps protect you from hackers. But it isn't the only option.
Cloudways monitors for suspicious activities on your server. This includes regular attempts to guess your password. If there are multiple failed logins, this can lock you out of the content. You can go to your Cloudways security panel and then whitelist your computer's IP address. Remember that if you ever get a new computer or sell the one you're using to remove the IP address from the whitelist.
Step 7: Backups
Now it is time to initiate the backups for your website. These are automatically available for your website. You can enable backups within your website that allows your site to be backed up every hour or just once a week.
Depending on what content you are publishing and the frequency will determine how often you will need to backup your website. Those with lots of activity on a website will need to do it regularly. However, as a new business, it is recommended only a backup once a week.
You can also enable local backups for your website. This allows you to download a copy of your website to a local drive-through SFTP/SSH. This is a great way to protect your business' website.
Step 8: SMTP
In the last section under the server manage you can set up other elements and services to improve your business' performance. For instance, you can use a third-party email service as a gateway to deliver emails from the Cloudways server. All you need to do is to click and choose your own SMTP and then configure the email provider details. Or you can enable elastic email from the available addons.
Step 9: Application Setup
Now you can move onto your WordPress website. To do this, click on the Applications on the main menu. This will take you to the application manager. There you can access all the installations on your server.
Click on the installation of the WordPress website that you. Once you've clicked on that you will be taken to the access detail screen. This gives you all the basic information about your install. This will include login credentials.
At first, your site will be set as a staging website. This is a website that is not live as such, but rather in a development phase. You will need to move your site being a live site when you're ready.
Step 10: WordPress Installation
Now you can start to install and use WordPress on your Cloudways server. From here there is nothing really different from other WordPress installations. On your first access to the WordPress website (yoursite.com/wp-login) you will go through the usual setup process.
From there you can remove sample posts and pages and start building your WordPress website like any other.
Remember to install a good theme and a good set of plugins for your store. Also, you should find that Breeze Caching Plugin is installed. If you want to use a different one, you will want to deactivate and remove this from your installation. Otherwise, you might have a conflict issue.
Step 11: Make Your WordPress Website Live
As mentioned earlier, as soon as you've finished creating your WordPress website you need to make your website live. This will allow your business' website to be found and take customer orders.
And you should be done.
Final Word: How to Setup Cloudways for WordPress
When it comes to using Cloudways for WordPress there is a simple process that allows you to have a fully functioning website within no time at all. In addition, you can control many aspects such as security, backup features, server settings, email settings and more.
You can also set your website up to be highly effective and high functioning. This can make you earn more revenue from your website. And you can control costs and more with ease as well and choose a server that is best for your brand.
Recap:
Save 4 Later
Email liked links to yourself