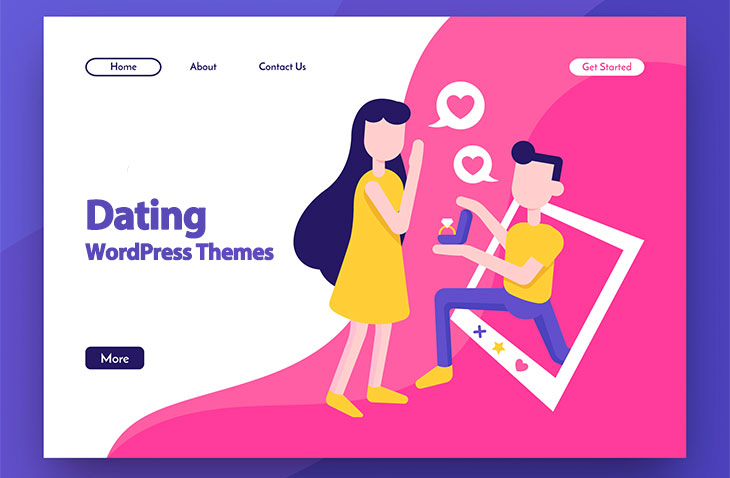 10 Best Dating WordPress Themes Compared - 2023
Last modified: May 28, 2023
If you're looking for a new business venture, then building a dating site might be the one to offer you a return. Dating is worth a lot of money. In 2018, $555 million was spent on dating websites in the US alone. However, if you're looking into getting into this industry, you need to know that there is a lot of competition. There are numerous dating sites online and only the best make a good income. Those who generate a decent income usually have a good website, and for a WordPress website, that means having one of the best dating WordPress themes.
Why Do You Need To Use One Of The Best Dating WordPress Themes?
There are many different Dating WordPress themes available online. They all have different aspects that might make them the perfect choice for your website. However, you need to consider the specifics of the themes so you can be sure that they match your website's core values and proposed functions.
Some of the best dating WordPress themes need to be compatible with some major WordPress plugins. For instance, you might need a membership plugin, WooCommerce or a social network plugin. You also need to be sure that you can customize the theme so that it matches your branding.
So, what makes our list for the best dating WordPress themes?
| # | Name | Image | |
| --- | --- | --- | --- |
| 1 | Sweet Date | | More Info |
| 2 | Astra | | More Info |
| 3 | Divi | | More Info |
| 4 | DatingLite | | More Info |
| 5 | LoveStory | | More Info |
| 6 | Seeko | | More Info |
| 7 | Dating Responsive Website | | More Info |
| 8 | Gwangi | | More Info |
| 9 | DateBook | | More Info |
| 10 | BeSocial | | More Info |
Show More
* This button will show the rest of the post and open up an offer from a vendor
Filter between free and paid
Sweet Date
Sweet Date has a lot to offer those who are looking to build a successful dating website on WordPress. You can integrate it with BuddyPress and then allow users to build a community around the site. This helps you to increase returning visitor rates that helps with SEO and monetization of your website.
The theme can be integrated with the Paid Membership Pro plugin. This allows you to offer visitors a subscription to be a member easily, and affordably. You can choose the payment gateway including PayPal.
This theme is also compatible with WooCommerce so you can add many different monetization options for your dating website.
Sweet Date Highlights:
Fully responsive website that allows you to have a website that can be viewed on all devices.
Customizable with a drag-and-drop page builder.
Facebook Login integration for easier user registration and login.
Smart notifications can be applied to keep users engaged with your dating website.
Astra
Astra is one of the best WordPress themes that you can utilize for your dating website. It has lots of key features that make it perfect for your next web project and is compatible with numerous premium and vital plugins such as WooCommerce, BuddyPress and others.
When you're building your website, you can use one of the pre-built templates and demos. There are numerous suitable demos you can use as an Astra user. These demo sites are customizable through the WordPress Customizer, so you don't need to know any code. If you're new to website development or more specifically WordPress, this is one of the best themes you can buy.
If you want to have more control over your website's design, you can use numerous page builders. Many can be drag-and-drop and also don't require you to know any code.
Astra is one of the fastest WordPress themes. With the right setup, your site can load within half a second. This can make the difference between your website ranking on the first page or not. It also helps to improve your visitors' experience that is so important in getting visitors to come back to your dating website.
Astra Highlights:
Optimized for search engines so you can appear on the first page.
Great demo sites that can get your website up-and-running quickly.
Lots of great editing options to help you create that perfect dating website look.
Great customer service to help you when you need it most.
Divi
Divi is one of the more widely used premium WordPress themes and it is certainly a top option when you're looking to develop a dating website. Divi has lots of options to help you get the most out of your visitors to ensure that they subscribe and continue to return to your website again and again.
Firstly, Divi is fully compatible with all the major WordPress plugins. This includes WooCommerce, BuddyPress and membership plugins. At the same time, it has very useful functions that can help you refine the look, and the behavior of your visitors. You can split test pages to test what drives conversions and improve your website's performance.
In addition, building your website is simple with the easy-to-use Divi page builder. This is a drag and drop page builder that allows you to add in elements to your page's design as you need them. If you do run into any trouble with the theme, there is a strong community that can help you find solutions to make your website perform better.
Divi is also a perfect website for those who want to build a website that will perform well on all devices and rank highly on Google. The code is clean and up to the best standards. Plus, the site's loading speed is really fast.
Divi Highlights:
Highly responsive WordPress theme that can be displayed on any device regardless of screen size.
SEO friendly, so your site can rank highly on Google for better traffic.
Split testing option so you can improve the performance of your website.
You can make your dating website go international. Translate your website into 32 different languages and it can also support RTL languages too.
DatingLite
This is a fully responsive Dating WordPress theme that will help you develop a great dating website. This simple WordPress theme is free and has lots of great features to add to your website, including Facebook, Twitter and Instagram feeds. You can also add WeChat and SnapChat to offer more interaction between your business and visitors.
There is WooCommerce plugin support, so you can monetize your website with ease.
DatingLite Highlights:
A child theme for HospitalLight WordPress theme with additional functionality.
A built-in Homepage slider.
Free WordPress theme for those looking for a great theme on a budget.
Can add engaging content from many different social networks.
"

... and Scan WP's recommended web hosting company is... Cloudways (Click for special deal)

"
LoveStory
LoveStory definitely deserves its place on the best Dating WordPress themes list. It has numerous features that make it an ideal choice, plus the look and style of the theme are perfect for the industry. The theme is completely responsive, so it will look great on any device or screen size.
For users, they will be able to add lots of details about themselves to attract matches with the extended WordPress profiles. This includes uploading photos, add favorites, view gifts and read messages. This can all be done on the front-end.
The built-in chat system is really good. It allows any two people to start a real-time conversation, regardless of what pages the users are on, on the site. The chat is simple, looks modern and is easy to use. Plus with the notifications feature, you can be sure that visitors won't miss out on conversations or new messages.
To monetize your website, you can use the built-in membership system. You can set membership level limits so that members are limited to certain restrictions and take payments if they want more features or to raise limits. All payments are processed thanks to integration with WooCommerce.
LoveStory Highlights:
Lots of inbuilt features to help you create a great dating WordPress website.
Great responsive coding so your site can be viewed on any device or screen size.
Users can login through Facebook for easier registration and logins.
Can monetize your website more with advertising banners.
Seeko
Seeko is a BuddyPress WordPress theme that is a great choice for a dating website. In fact, this theme has a pre-built dating website demo included. Plus there are other features that you might need and probably want included with the theme that make it a must consideration for your next website project. If you do use this site, you could be attracting singletons within the first few days.
The default homepage layout includes a form that appears above the fold that allows new visitors to search the database of singletons on the site. Once the search is complete, your visitor will be invited to signup to your dating site, a great way to hook and catch visitors to your new dating site. New members can then choose between free or premium membership packages, depending on your settings.
To add validity to your website, there is a matchmaking system included within the theme to help those registered to find their true love. This can include finding people who are located close to them. And users can also communicate with each other and make new online friends with many of the cool features included within the theme.
Customization of the dating WordPress theme is easy thanks to the drag-and-drop builder tool that is included. This makes making changes to the prebuilt template easy or you can start from scratch and build a new look for your dating website.
Seeko Highlights:
Great prebuilt demo site that can help you get started.
Simple and easy to use on mobiles.
Includes matchmaking technology.
Uses BuddyPress so you can create a great community from members.
Dating Responsive Website
If you're looking for a dating WordPress theme, then this might be a good option. It has a simple, modern design that looks beautiful on any device. With the right tinkering too, you can be sure that your dating website can be found on Google and other search engines.
To help you create a great brand look, there are a lot of customization options for your new website. This includes changing the typography, colors and other details for your new website. There are also 80 shortcodes that can add lots of functionality to your website, giving you power.
To get started, you can utilize the two-step installation function that will have your new site ready in minutes. The parallax effect of the theme looks stunning as well and with the lazy-loading element of the images, load times are significantly shorter than with other non-premium WordPress themes.
Dating Responsive Website Highlights:
Lots of customization options available to make your dating website your own.
Multilingual ready, create a truly international dating site.
SEO ready so you can be found online.
Built-in customizer to make it easier for you to make your website match your brand.
Gwangi
Gwangi is a great WordPress theme for those looking to add dating and community together into one package that will take off. There are six different website demos you can choose from that will give you a ready-made website. These demos include glamorous, feature-rich front pages that will delight visitors as well as templates for lots of different pages you might need across your new dating website.
Customizing the website is easy. From inside the dashboard you can make most changes using the versatile WordPress customizer that allows you to see a live preview of the changes you've made. And if you want to add function to any page or post, you can use the large range of widgets included to add those functions.
Gwangi is also compatible with lots of different plugins, so you can add features you need and be sure that you'll still have a functioning website.
Monetization is great with Gwangi. The WooCommerce Subscriptions plugin is the perfect partner here and it allows you to collect regular payments from subscribers. You can also collect one-off payments from visitors for certain features (like paying for on-site credits to perform actions, etc.). To add to revenue possibilities, the theme includes advert spaces that are great. Of course, some options will require additional plugins, but the potential for revenue generally is great.
Gwangi Highlights:
Deep integration with some of the WordPress' most important and biggest plugins.
Develop lots of revenue streams to maximize profits.
Blogging option to help with website traffic.
Easy to customize thanks to the WordPress customizer.
DateBook
DateBook is a great theme that has a modern, responsive design that will impress users from the moment they land on your website. It is feature rich with great options to help you attract visitors to signup as well as ways to monetize your website.
When you setup your website, there are already pre-packaged profile fields you can use, saving you time in developing profile aspects of your new website. And when visitors sign up, they can create a personal profile that will highlight, represent and promote the aspects they wish others to see on the website.
If you want to generate an income from membership, this theme includes a subscription option that takes payments by integrating with the WooCommerce subscription extension or DateBook Subscription. Payments are then paid into your PayPal or Paystack accounts.
As with many dating websites, there is the private chat messaging service and users can see when others are online and not. Subscribers can also add people to their favorites list. To keep your site secure there are plenty of great options including the Google reCaptcha that is required when a visitor registers or logins. Plus you can blacklist members who aren't following community rules.
DateBook Highlights:
Great features that help you build a community around your dating site.
Earn revenue through subscriptions.
Easy to install and customize.
SEO-friendly so your site can be found by search engines.
BeSocial
Besocial isn't one of the dedicated dating WordPress themes on the list, yet it has many features that could make it a good candidate. It also has an impressive array of features that make it on par with some of the other dating themes we've listed previously. Firstly, it is a BuddyPress theme, therefore, you can carry profiles of those who want to use your dating website. With this comes all the usual functionality such as private messaging, like and dislike rating systems and activity streams. Users can also have extended profiles to showcase what makes them a good match.
This theme also has some great monetization options which can be made available with the use of WooCommerce. Finally, there are some great features that will help increase conversions like social login, MailChimp integrations and a great front-end login/registration system.
The design of the theme is also great. It looks modern, sleek and perfect for the modern dating website.
Besocial Highlights:
A lovely theme that helps to build a community around a central cause.
Monetization available through WooCommerce.
Easy to customize.
SEO-friendly.
Final Thoughts: What Are The Best Dating WordPress Themes
There are lots of dating websites available on the internet. Which means you have a lot of competition. Therefore, you've got to have a great website with one of the best dating WordPress themes for your site. This will help you to rank well and give users a great experience that will keep them coming back all the time.
Recap:
Save 4 Later
Email liked links to yourself