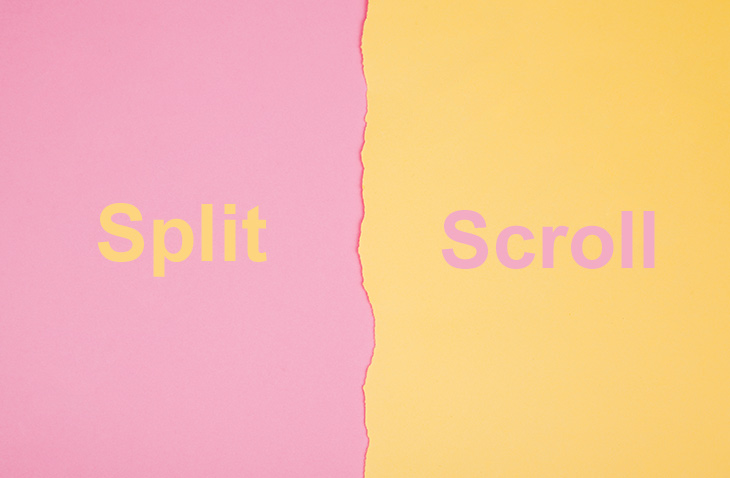 9 Best Split Scrolling WordPress Themes Compared - 2023
Last modified: May 28, 2023
A growing trend among web design is for companies to have a split scrolling design. This is also referred to as a full screen. This strategy is known for the great way that business owners can present lots of information on a front page in an organized and concise manner.
Why Should You Be Using One Of The Split Scrolling WordPress Themes
Using one of the many Split Scrolling WordPress Themes is great for businesses that offer products for two different audiences. On one side of the screen you can offer one audience (e.g. trade) access to a mini-site and on the other side of the screen you can offer the other audience (e.g. customers) access to another mini-site.
Alternatively, you can use a split scrolling WordPress theme to let customers scroll down the page to the information they want without annoying them with irrelevant content and information.
The style also has several benefits for grabbing the attention of your website visitors. Firstly, it is an unusual design that can really draw the attention of your audience by playing on contrasts. In addition, it allows you to focus the readers eyes to specific parts of the screen where key information for them is.
Therefore, there are many reasons why you should be using one of the split scrolling WordPress themes. Here are some of the best themes for you to consider using.
| # | Name | Image | |
| --- | --- | --- | --- |
| 1 | Werkstatt | | More Info |
| 2 | Borderland | | More Info |
| 3 | Receptar | | More Info |
| 4 | Reflex | | More Info |
| 5 | Uber | | Not Available |
| 6 | Ichiban | | More Info |
| 7 | MagicBook | | More Info |
| 8 | GeekApp | | Not Available |
| 9 | Divi | | More Info |
Show More
* This button will show the rest of the post and open up an offer from a vendor
Filter between free and paid
Werkstatt
This modern portfolio theme is the perfect WordPress theme for any creative professional or agency. There are lots of striking layout options that are great at displaying your work, images and designs to an audience.
There are a lot of templates you can choose from when creating your perfect website design, and you can opt not just for a split screen, but also a vertical slider, parallax scrolling or even try to amaze your visitors with a page that has animated abstract segments.
In addition to the main layouts, Wekstatt offers web designers some of the more beautiful pre-built layouts for your portfolio and blog pages. These can be customized with seven grid layouts, more than 3,000 fonts and numerous hover effects.
Those that operate a shop on their website, you'll be pleased to know that Werkstatt is fully compatible with WooCommerce and even includes 8 pre-built shop page templates. The theme designers for Wekstatt have gone all out with their theme and it has that balance of a modern appearance that will impress with some fun and playfulness as well.
Werkstatt Highlights:
Highly responsive so will look good on any device.
Optimised for SEO and speed, so your site will rank well on Google.
One click demo installation to make getting up and running quick.
Great support on offer.
Borderland
This theme is one of the easiest to use and will get your website functioning and looking good. The Passepartout border allows for multiple layout options on your site, making sure that you can offer visitors a unique experience when they visit your store. And to ensure people can scroll down on their specific information on the split screen there is a fantastic inclusion of the vertical split screen slider.
If you want to show off your previous work, it is easy to accomplish with Borderland. There is a fantastic clients carousel, or you could use the testimonials shortcode to display what past customers have thought about you.
We all know how important a blog is. Publishing regularly helps you to rank well on Google and other search engines. However, when a person visits your site for one blog, they often want to read more from you. This is where this theme can come in handy. It has various ways for you to display your blog content, including a blog masonry list, blog post slider or a vertical loop.
If you've also got the inclination to include a video background on your site, it is simple with Borderland. There is also an option to set a video background that will give your site that added attraction to visitors.
The theme is also compatible with WooCommerce for those that need to implement a shop on their website.
Borderland Highlights:
Theme includes two amazing premium plugins, WPBakery Page Builder for WordPress, and LayerSlider Responsive WordPress Slider Plugin.
The website is translation ready.
There are child themes included with the theme.
More than 600 Google fonts for you to choose from.
Receptar
Because split scrolling WordPress themes are challenging to build for developers, there aren't many who are willing develop them for free. Therefore, Receptar is the closest you're going to come to a free split scrolling WordPress theme. It looks good with a modern, responsive design that is suitable for any bloggers or those who want to imitate the modern cook book feel.
However, it lacks certain functionality such as the split scrolling without using a premium plugin that can make it happen.
Still, this plugin does have some benefits. It includes Beaver Builder page builder and has Jetpack plugin support. It is translation ready and includes front page slideshow.
Receptor Highlights:
A free design that looks impressive.
Translation ready.
Includes the Beaver Builder page builder.
Has a good reputation on WordPress.org.
Reflex
Reflex is an amazing WordPress theme that can help you standout from the crowd. The theme comes with 23 HTML files that are all W3 valid and responsive. No matter what device your website visitors are on, they'll see your website exactly how you want them to. The developers have even gone out of their way to test the theme on all major devices to ensure there are no issues.
The unique split screen scroll layout is impressive and will amaze any visitors and help you to catch their attention with the right content.
The coding for Reflex is great. There's no bulky, unnecessary coding that helps keep your site speed down. You can also have a fullscreen background video with the video hosted on either YouTube or Vimeo.
For branding there is little that you can't do. The developers have allowed you to customize the website with an unlimited number of colors. This means that whatever color scheme your brand uses, you can create it on this template. And if you want a helping hand with your website, don't worry there are eight fantastic demos you can install and customize and if you need technical support that is available and free too.
Reflex Highlights:
One of the cheaper options for a theme on the list, yet still a powerful option.
Is translation ready so if you operate in multiple countries, you can have the right language on your website.
Use a video background for your website to entice more interaction with website visitors.
Unlimited possibilities for your website design.
Uber
Split scrolling websites don't mean that they can't be minimalistic. And Uber proves that. This website has the split scrolling functionality you're looking for while maintaining the benefits of a minimalistic website. Therefore, if you're looking to display your work online, this is almost certainly worth a consideration.
Firstly, the theme comes with two fantastic plugins to help you get your message across. These are the Visual Compser and the Revolution Slider. These can really help you create a website design that stands out from your competition. You don't have to start from scratch either. You can simply use the one-click demo install to get your website up-and-running immediately. From there you can customize it with your own text, images and design preferences.
A website run with this theme is going to run fast and that is regardless of whether the visitor is on a desktop or mobile device. And you can expect to have lots of traffic thanks to the coding that makes this theme very SEO-friendly. With the right SEO tools on your website, there's no reason why you can't be ranking on the first page very quickly.
Uber Highlights:
Two excellent plugins included with the theme plus support for Contact Form 7.
Retina ready so webpages look great on any device.
Google fonts are included with the theme.
The device has been tested on numerous devices and on different browsers so you can be sure that your audience will always see your website clearly.
Ichiban
If you're a professional photographer, then this is one of the most suitable themes for your new website. It allows you to bring alive your previous work within a sleek, elegant design that attracts new customers to you. The coding for the theme is brilliant and is clean enough for search engines to rank it highly but also robust to protect it from errors.
In addition, you can be sure that your site will have that unique touch. There are numerous ways you can customize your website so that you can display your work. One very unique aspect of this theme is that there are three page sizes: half, medium and large. With the different ways you can display content on the web page, this gives you the option to really display your work in the best way it can be.
To help you design that perfect website layout, the theme includes a powerful page builder and for those that work internationally, the theme is translation ready. Also, the theme designers have created a series of videos to help you get started.
In addition, if you're looking to sell your images across the internet, that isn't a problem. The theme is fully compatible with WooCommerce, allowing you to display work as a product and take payments via PayPal, Stripe and numerous other payment solutions.
Ichiban Highlights:
A demo site importer is included with the theme.
WooCommerce compatibility so you can sell images or other products through your website.
SEO ready, so you can rank quickly on Google and other search engines.
Clean and robust code to ensure your website runs fast and without errors.
MagicBook
This is one of the most amazing themes out there with lots of different functions available that it can seem a little daunting. On the surface, MagicBook is a 3D flip book WordPress theme. However, it can also do split screen scrolling. Take a look at its demo site and you'll be amazed.
The 3D perspective animation will wow visitors and your site can be customized with Visual Composer which is included free with the theme. The high functionality of the theme might make you worry about responsiveness or cross-browser compatibility, but these aren't an issue. Your website will display on any device or browser.
MagicBook Highlights:
Fully responsive. So will display well on any device.
A really unique design.
Free page builder included with the theme.
High functioning theme that will impress visitors.
GeekApp
A theme that was originally designed to showcase mobile devices, this theme has a lot of potential. It does create a very traditional design that often performs well with online users. However, it does have a lot of features and functionality that can make it a really good option for those looking for the next level in their website design.
The theme supports a lot of premium and great plugins to help you get the design to be perfect including visual composer, accordion slider and flex slider. The theme can also integrate with a lot of popular services including MailChimp, Facebook, Twitter and Instagram. Therefore, you can have a high functioning website that improves engagement with website visitors and generates leads for your business.
GeekApp Highlights:
Lots of integration options for your business to help you stay engaged with your visitors and build leads.
Fully responsive so your website is visible on all devices and is cross-browser compatible.
Is great for SEO so your site can be ranked high on Google.
A traditional design your website visitors will expect.
*Note that the theme name is a bit confusing, and it is not in fact an app. If you want, there are several WordPress to App options you can choose from though.
Divi
Divi is the most versatile WordPress themes and it can easily accommodate many styles, including split scrolling. For this to work, you might need to have some additional software, but the finished product will look great.
The clean look of any design you create with Divi will give your website that excellent style that will make you standout from the crowd. To get that perfect design, you can use the awesome and user-friendly Divi Builder page designer. It is really simple to start using and even those new to website design will get a handle on it quickly.
To create that perfect look, simply determine the section width and heights and then drag and drop the desired modules into place on the screen you want them. If your creativity isn't flowing, then you can get a head start with the numerous demos available.
There are plenty of features with Divi that make it such a great choice for any WordPress website. The most impressive function is the Split Testing functionality. With this you can test and compare two different designs. Then you can determine which audiences prefer and implement it into your designs.
In addition, add some additional flair into your web design and incorporate some quality videos into your design. Videos can be hosted on sites like YouTube and Vimeo.
Divi is fully responsive. Therefore, it will look and function perfectly whatever device your website visitor is using, no matter if it's a desktop or a mobile device. In addition, websites run with Divi tend to load quickly.
Divi is built with SEO in mind, therefore, with the right meta tags and other SEO best practices, its easy to rank with Divi. This can help drive traffic to your site and improve your site's general performance.
Finally, there is a lot of community support available for Divi users. Therefore, if you're experiencing some issues with your Divi theme, you'll probably find someone who can help you out.
Divi Highlights:
Divi is by far one of the best WordPress themes available to website owners.
The theme is one of the best for SEO with clean code, fast loading.
Easy to use drag and drop website builder for you to build the perfect website look.
Community support to help you should you get into trouble with your Divi WordPress website.
Final Thoughts On The Best Split Scrolling WordPress Themes
Split scrolling WordPress themes are a great way to attract visitors to your site. They allow you to appeal to two groups of your audience without having different webpages for them. However, there aren't many of these themes. Nor can you get a free theme without using a premium plugin to help you. However, with the style of website, you can really make your website stand out from the crowd and impress website visitors. So which theme will you choose?
Recap:
Save 4 Later
Email liked links to yourself