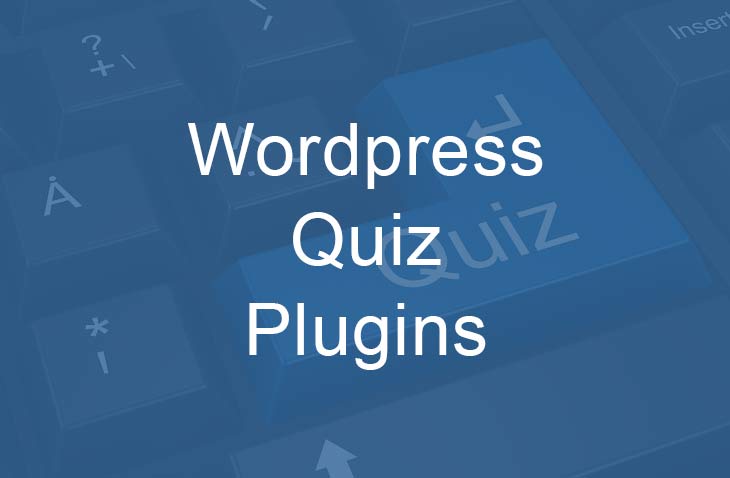 3 WordPress Quiz Plugins Compared - 2023
Last modified: May 28, 2023
Interaction on a website begins with finding ways to engage guests. Many posts are aimed at getting people interested in what you have to offer and trying to engage guests in conversations. A good quiz from a WordPress quiz plugin can easily encourage comments from your site visitors.
WordPress Quiz Plugins: Interactive Websites
Depending on the nature of your website, visitors may expect a variety of things when they visit. Some may be looking for information on a product or service, while others may be interested in reading blog posts or reviews. Whatever the purpose of your site, a fun quiz can add an element of interaction and fun. A WordPress quiz plugin can help you form quizzes that match the subject matter of your site. There are also several popular answer options point systems. Your website can present with a more fun appearance while still serving its original purpose.
| # | Name | Image | |
| --- | --- | --- | --- |
| 1 | Quiz and Survey Master | | More Info |
| 2 | Slick Quiz | | Not Available |
| 3 | Opinion Stage - Polls, Surveys, & Quizzes | | More Info |
| 4 | Watu | | More Info |
Show More
* This button will show the rest of the post and open up an offer from a vendor
Quiz and Survey Master
This program used to be known as Quiz Master Next and is still at the top of the review list. This plugin comes in a free and paid version. The free version carries with it everything you need to keep your guests engaged.
The add-ons on the premium version start at $15 each, and can add even more customizable options to make the plugin more convenient. A dashboard, advanced reporting, and email marketing are a few of these choices. The full range of quiz formats is available, including multiple choice, fill in the blank, and drop down options.
You can choose the way the quizzes are scored. Some popular options include points that are added up or correct/incorrect. Guests may be riddled with curiosity about themselves. Quizzes often play on this by offering questions about preferences. The answers offer a result that tells the reader something they may want to learn about themselves. The quizzes can offer facts, personality traits, and color schemes.
Slick Quiz
Slick Quiz brings simplicity to quiz formatting. This free plugin has everything you need to keep your readers interested while going easy on your budget on time.
Setup takes minimal time and you can easily share the quizzes on your site as well as on social media. The quizzes can be set to have more than one correct answer and the scoring is already set up with no extra work needed on your part. You can make your own set of questions, and a determined quiz takes random questions from the set.
These questions are presented to readers from this set. Choose to inform quiz takers if they are right or wrong after each question, or at the end only. Fun titles can be arranged for those that get a majority of the answers correct. This site keeps the fun going without a complicated structure.
Opinion Stage - Polls, Surveys, & Quizzes
If you want to keep your readers interested, there's no better way to do that than adding interactive features to your site. One of the top options for that is adding Opinion Stage to your site. Over 100,000 sites are currently using this plugin on their site in order to interact & drive traffic, but more importantly – generate leads and sales.
Here are some of this plugin's top features:
Create quizzes with their ready-built templates
Built for social sharing
Customize the quiz look (including overriding the current CSS)
Integrated lead form, built for high conversion optimization
Advanced quiz reporting dashboard
Built-in integration with many marketing tools
Built-in email notifications
Embed anywhere on the web
And much more
Watu
Watu is another site that has both a free and premium option. The free version is a great starting point for providing a variety of quizzes. The quizzes present well on mobile devices, as well as computers, giving your readers the versatility they desire.
The premium version costs about $47 and adds increased functions such as a variety of question types, more categories, and randomization. The increased customizations make the price well worth it for the premium version. Quiz takers can expect to have their points added up and produced for them at the end. Even the free version offers a variety of add-ons.
Integration with WooCommerce MailChimp can make your organization easier. Watu has a fully functional free site with attractive add-ons on the premium version.
Final Thoughts
Quizzes are a great way to encourage interaction on your website. Many are fully integrated to work across a variety of devices, enabling your quizzes to meet a larger audience. You can easily run a functional business site while adding some fun with a quiz. Quiz plugins are a simple way to add some variety and interaction to an otherwise formal site. Readers are more likely to come back when they have fun on their visit to your site. Take the time to find a WordPress quiz plugin that fits your subject matter and is easy to set up with a variety of structure options.
Recap:
Save 4 Later
Email liked links to yourself