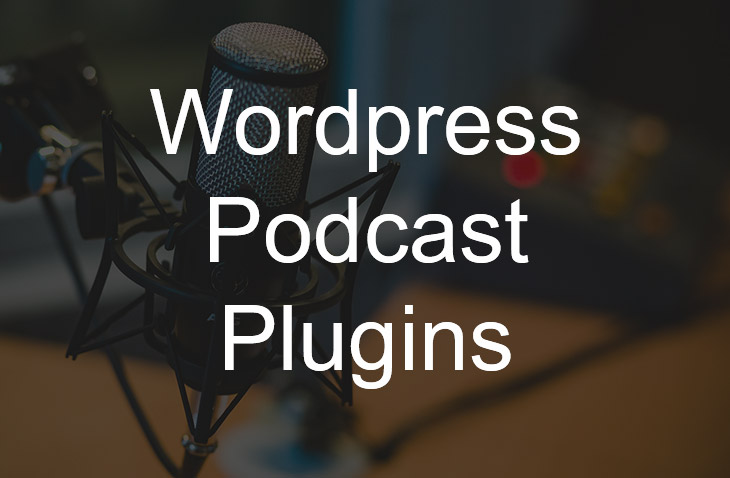 9 Best WordPress Podcast Plugins Compared - 2022
Last modified: July 18, 2021
If you don't live in one of the far corners of the earth or under a rock you are probably very familiar and aware of an increasingly new trend of media consumption, the podcast. Your kids may be making them, your friends may be listening to them, your co-workers may be discussing them, people everywhere are taking part in some way with the podcast fad and that number of people is increasing by the day. Podcasts are a great and inexpensive way for people to discuss topics that they like or feel are important or just want to share with the world and get their opinions heard. It is like listening to talk radio but you seek out the topics you want to listen to. Maybe you want to learn about cooking, or a certain culture or maybe you like celebrity gossip or fashion trends, no matter what you like and want to hear about, there will be a podcast out there for you to listen to. In this article we discuss different WordPress podcast plugins that people can use on their WordPress website.
WordPress Podcast Plugins – It's all About your Voice
Well if you want to create your own podcast then these plugins can help you do that very easily. These plugins work with WordPress themes so if you don't already have one you will need to create a website with a WordPress theme so you can then incorporate one of these plugins. Depending on what you want to accomplish with your podcast or how technologically advanced you are, some plugins may be a better fit for you than others. Lucky for you we have done the work for you and have compiled a few of the best WordPress podcast plugins to help you along in your podcasting journey and make your podcast dreams a reality.
| # | Name | Image | |
| --- | --- | --- | --- |
| 1 | Seriously Simple Podcasting | | More Info |
| 2 | PowerPress | | More Info |
| 3 | Podlove | | More Info |
| 4 | Buzzsprout Podcasting | | More Info |
| 5 | Libsyn | | More Info |
| 6 | As Heard On | | More Info |
| 7 | iTunes Podcast Review Manager | | More Info |
| 8 | Dicentis Podcast | | Not Available |
| 9 | Podcast Searcher | | More Info |
Show More
* This button will show the rest of the post and open up an offer from a vendor
Seriously Simple Podcasting
We begin our list with the Seriously Simple Podcasting plugin. As its name suggests, this plugin is powerful but very easy to use to create your own podcast. This plugin is very simple but gets the job done, so if your goal is to just create an awesome podcast then the Seriously Simple Podcasting plugin is the right choice for you. It comes with some great tools like: gathering stats on your listeners by using the free stats add on, it can support both video and audio podcasting, and it ha lots of shortcodes and widgets. Also, if you want to have a variety of different podcasts on your site, this plugin has the ability to do that as well.
More features of the WordPress Seriously Simple Podcasting plugin include:
Integration from the Costas podcast web hosting platform
Full user and developer documentation
New podcast post type
Use any post type for your podcast episodes
Series taxonomy to manage your podcast episodes
PowerPress
This next podcast plugin is considered to be the number 1 WordPress podcasting plugin out there. This podcast is so extraordinary and diverse that it even comes with a Simple Mode should anyone begin to feel overwhelmed or not want to include any extra features. The Simple mode will walk you through the plugin with 3 short and easy steps. Then once you have completed the steps, switch to the Advanced Mode to get all the cool options and features you want. With this plugin you can create a subscribe page by using the subscribe shortcode and subscribe sidebar widget. There is also support for multiple podcasts should you want to create different podcasts and separate them by category or media format.
The PowerPress WordPress podcast plugin also comes with:
Multi-languages and locales
Migration tools to migrate from things like: TGS podcasting, PodPress, Blogger and more
Podcasting Search Engine optimization
Integration with HTML5 media players
Podlove
Podlove was built for WordPress users and does not rely on third party podcasting platforms. A cool thing you will get from the Podlove podcast plugin is its awesome custom templating system. With this system you can publish your podcast and change its style at any time you want without needing to touch the individual postings at a later point in time. it allows you to have access to all the codes that relate to your podcast data so you can change its appearance. Podlove's functionality is also modular, this means that more advanced user can customize their site even more in the back end interface.
But the Podlove plugin does not stop there. It also comes with:
Powerful analytics that can help you make your site and podcasts better
Chapter support to help you manage episodes
Multi format publishing such as video and audio
A roadmap to give you even more features with Podlove's different templates
Optimized web player with HTML 5 support
Buzzsprout Podcasting
And we continue on with our WordPress Podcasting plugins list with a premium plugin called Buzzsprout Podcasting. This plugin is jam packed with helpful tools and features and is a great choice for publishing your podcasting content online. It offer support for HTML5 players and iTunes so everyone can hear your podcasts. The plugin can also show you statistics which you can use to improve your site and see which of your content people like better so you can improve your site. This plugin is free but there are other plans should you want to have more hours of podcasting available.
The WordPress BuzzSprout Podcasting plugin comes with many more features, for example:
Podcast migration tool so you can easily switch from your old podcasting server
You can choose HTML5 or Flash Audio players to embed in your site
A powerful play to play analytics engine
External hosting
Byte range request support
You can upload artwork from iTunes
Libsyn
We have come to number 5 of our WordPress podcast plugins with Libsyn. Libsyn Podcasting is actually a renowned podcast hosting solution, so if you have been in the podcast game you may be familiar with this one. What you have to do is connect your account on the Libsyn podcast hosting service to you WordPress website in order to easily publish your episode. By using the Libsyn plugin you can create episodes, create drafts of episodes and schedule posts. Once you have your media files created and uploaded they will stay hosted with Libsyn and your RSS feed also be generated by Libsyn. Unfortunately, you do need to pay a small fee to have a Libsyn account which you need in order to use this plugin, but once you have your account the plugin is free to use.
More features of the WordPress Libsyn plugin include:
Works with HTML5 media player
External cloud hosting
Custom mobile apps for Windows devices, iOS and Android
As Heard On
The As Heard On podcast plugin lets you show several different podcasts where you have been interviewed. This will help you do things like: leverage social evidence, be able to get featured more on other podcasts, and feature other podcasters on your site. This plugin is super easy to use and lets you showcase any of the podcasts that you want.  With this plugin you can also give the podcasts names, and a host name, episode URL, description of the podcast, thumbnail, etc.
The one downside with this podcast plugin is that you have to find art work to include with your podcasts and the manually upload the images and art. There is also a sidebar widget where you can display your podcasts with their corresponding art work, or you can display them on a blog post or any other page of your website.
iTunes Podcast Review Manager
With the next of our WordPress podcast plugins, you can check all of the international reviews for your podcast. The iTunes reviews of you podcast content will be shown to you in the back end menu and you can also choose to have them on the front en of your site (by using shortcode) should you want to flaunt and show your reviews to the public. You can choose to either wait to see more reviews after it is automatically checked or you can choose to manually check sooner by just clicking the button but the podcast reviews are checked automatically every 4 hours so you don't have to wait too long.
This plugin is still receiving upgrades and updates and the developers are working on even more enhancements like email notifications, filtering, charts etc. So if you want to see how people are liking your podcast content and want to work on maybe improving your site then you should definitely try out the iTunes Podcast Review Manager.
Dicentis Podcast
The goal of the Dicentis Podcast WordPress plugin is to allow you to have the amazing capability of being able to have multiple podcasts on your site and be able to support feeds individually for different kinds of media. So if you are looking to make your website very podcast heavy you may want to look into the Dicentis Podcast plugin to help you out. This plugin also lets you add series and speaker to the podcast episodes for a better archive and this will also lead to improving and enhancing your episodes with more metadata. If you have so many different podcasts you will need to organize them in some way and lucky for you with this plugin you can organize them by category so they can easily be found later on.
With the WordPress Dicentis Podcast plugin you can aslo:
Provide the podcast episodes in different formats (ogg, mp3, m4a)
Watch or listen to your episode directly with the built in WordPress media player
Translation ready
Podcast Searcher
And we have reached the end of our WordPress Podcast plugins list with number 9, the Podcast Searcher. This WordPress plugin uses Clarify's technology to allow audio and video to be searchable. By using automatic speech recognition to extract spoken words of: Spanish, English, and French and it allows you to get info about your media with simple AI calls.
Whenever you insert a URL by either copy and pasting it into a post or by media embedding, it will then automatically be sent to Clarify to be indexed. When the file is done being processed you will then be able to use your on-site search to find a word in an audio file down to the second. While this plugin will not automatically send any audio or video media that is already embedded on your site to Clarify, you can just re-save any of your old posts that you want to then they be sent to Clarify to be indexed.
Final Thoughts
So now that you no a little more about the podcasting game we hope you have found one of these WordPress podcast plugins to be your perfect match. Let people hear what you have to say on any of the topics you are interested in. Podcasts are a great way of expressing yourself and sharing who you are with the world. So get started on your podcast project today with a WordPress podcast plugin.
Recap:
Save 4 Later
Email liked links to yourself