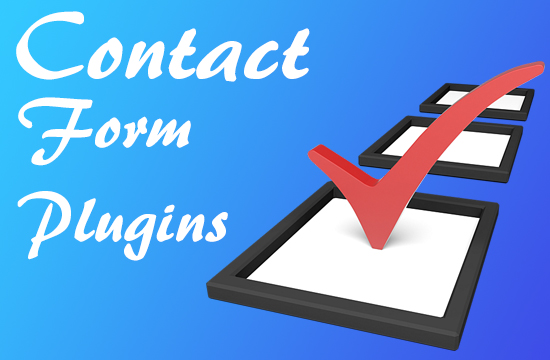 5 Best WordPress Contact Form Plugins – Compared - 2023
Last modified: May 28, 2023
A WordPress website is incomplete without a contact form, an essential engagement tool that allows your audience to get in touch with you instantly and easily. Businesses have innumerable choices in WordPress contact form plugins to collect visitor information and conduct surveys. It often creates the 'problem of plenty', overwhelming you and risking the fact that you will choose the wrong plugin. This post discusses the 5 best WordPress contact form plugins that you should definitely explore.
| # | Name | Image | |
| --- | --- | --- | --- |
| 1 | Contact Form 7 | | More Info |
| 2 | Ninja Forms | | More Info |
| 3 | Gravity Forms | | More Info |
| 4 | Fast Secure Contact Form | | Not Available |
| 5 | Formidable Forms – Form Builder for WordPress | | More Info |
Show More
* This button will show the rest of the post and open up an offer from a vendor
Filter between free and paid
Contact Form 7
There are many reasons why Contact Form 7 has the highest download rate of all contact form plugins in the WordPress.org repository.
Free to download and install on any number of sites.
Offers a user-friendly interface, simplifying the process of creating and managing multiple forms.
Supports submission via Ajax, Akismet spam filtering and CAPTCHA
Available in 60 languages
Ideal for creating a basic contact forms (most WP users start with it) yet provides the benefits of several extensions for add-ons and options.
Some of the best Contact Form 7 extensions include:
Contact Form 7 Select Box Editor Button – enables you to add a styled select box to your forms
Contact Form DB – one of the plugins I use on almost every site. Save each contact from submission to the site's database in an easy to use list and exportable, right in your admin dashboard
Contact Form 7 MailChimp Extension – combines the functionality of Contact form 7 and Mailchimp
Custom Skins Contact Form 7 – pretty self explanatory name
CF7 (as the experts call it) is pretty simple to use, yet it has any functionality you night need from a contact form on a website. You can add any type of field(email, tel, text, textarea etc.), you can add placeholders, add IDs and class names,limit input lengths and the list just goes on and on.
This is definitely hands down my no.1 WordPress contact form plugin that I use on every site
Ninja Forms
Ninja Forms is a top-rated freemium contact form plugin whose functionality can be extended through premium features. The annual charge is worth it given the number of top-shelf, useful extensions you can access, and a community that contributes to the enhancement of Ninja Forms. Email support, documents and guides are other support options.
Simple drag-and-drop interface
Like Contact Form 7, you can use Ninja Forms as a starter plugin to build out a web form to facilitate registrations and collect email addresses
Built-in hooks, filters and custom field templates are extensively leveraged by the developer community
Access to premium features and extensions, which include:

File uploads
PayPal integration
Front-end editing and posting
Conditional logic – this is a great feature that unless you are a developer, you will not be able to create with CF7. This feature shows form fields depending on a previous choice on the form
Integration with Salesforce, Freshbooks and Campaign Monitor
Email marketing support
Overall, Ninja Forms is definitely a well crafted WordPress contact form plugin and has many additional features on the premium version. If you need these features you would be well off purchasing the premium version.
Gravity Forms
Gravity forms is no doubt one of the top WordPress contact form plugins and for good reason. This premium plugin has amazing features and they only keep on growing. One really interesting option they have is limiting the form to a specific date range. Say you have a campaign running for a week and after a week it's no longer relevant. Here Gravity forms can come in really handy, they will limit the use of the form until the specified date.
Gravity forms has any type of field that exists in HTML. email, text, tel, checkboxes, drop downs, radio buttons, textarea etc.
Just like a few other plugins, Gravity forms has conditional logic which is great if you need that type of dynamic form.
There is a huge list of add-ons that you can get for Gravity forms for lots of integrations types. Here are a few examples of:
AWeber
ActiveCampaign
MailChimp
Agile CRM
Coupons
Dropbox
Paypal Payments Standard
PayPal Payments Pro
PayPal Pro
Polls
Stripe
Trello
Zapier
Fast Secure Contact Form
Another free, top rated plugin makes it to our list of the best WordPress Contact Form Plugins. It is a reliable option if you want to quickly set-up a simple contact form. You will need WordPress 3.4.2 or higher to use this frequently updated plugin.
Drag and drop functionality (excellent for non developers)
Spam-blocking CAPTCHA and Akismet support
By default, you can collect subscribers' information in your master email address; you also have the option to add multiple contact mails to collect information
Supports all major form fields
'Thank you' message, extra URL redirect and double opt-in options
Customizable, with added CSS functionality
User-friendly backend
Multilingual support
Formidable Forms – Form Builder for WordPress
With this premium WordPress contact form plugin, your contact form is ready within five minutes. Its interface is as easy as it can get, so new users will be able to build a new form within no time. The only issue is that the entry-level 'personal' plan starts at $49 and add-ons are available for purchase separately. For $99, you can install the plugin on three websites and access six premium add-ons. If you're okay paying for premium features, think about Formidable Pro for these key reasons:
Beautifully designed forms with unbeatable visual appeal
Integration with PayPal, Zapier, MailChimp, AWeber, WooCommerce and stripe
Field calculations and conditional logic
Built-in hooks and customizable form templates
Easy drag-and-drop functionality
Conclusion
Depending on your requirements and budget, you may find one form builder to be better than the rest. Check out the WordPress contact form plugins on this list, read user reviews and make a decision. Each project we build has different requirements and there's when other plugins that we are unfamiliar with come into play. This is how we learn about other options. These top 5 contact form plugins will basically cover any option you might need.
Enjoy!
Recap:
Save 4 Later
Email liked links to yourself