13 WordPress Calculator Plugins Compared - 2020
Last modified: January 13, 2020
WordPress plugins are very helpful because they are a simple and easy way to really enhance your WordPress site of any kind. There are free plugins and paid plugins and plugins for all kinds of different uses and sites. For example, a very popular plugin that you may have heard of if you are very familiar with WordPress is the WooCommerce plugin. There are actually many different specific WooCommerce plugins but in general this is an extension that someone can incorporate into their WordPress site. This particular plugins is used to help people create an eCommerce site or help manage an online shop section of their website, such as a photography site selling images. In this post we are discussing WordPress calculator plugins. Now I know what you are probably thinking, just how many different kinds of calculator plugins could possibly exist? The answer to that question is that there is tons of WordPress calculator plugins available. Some of them can do basic things that many of the plugins can do and some of them do specific things.
WordPress Calculator Plugins to Help With Various WordPress Websites
Now if you came to this post you are probably in the market, or having been considering getting, a calculator plugin but you are probably unaware of how detailed some of them can be and that deciding which one to get may take more thought then you were thinking. It is important to first know exactly what you are looking for and what you want to kind of plugin you want to integrate to enhance your website. These various WordPress calculator plugins are each a bit different from one another. So let's check out all of these different plugins back to back so you can see clearly just how feature packed they all are.
Filter between free and paid
Cost Calculator-User Friendly Calculator Plugin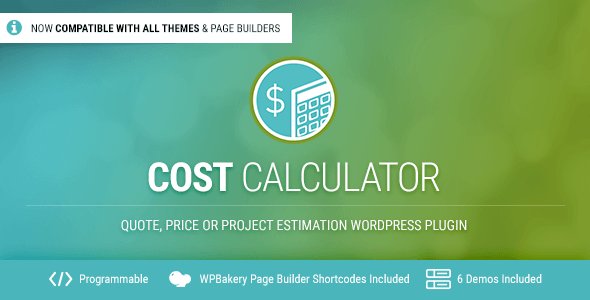 We kick off our list of WordPress Calculator plugins with the Cost Calculator. This plugin is clean and simple and it will help you to do things like: get a simple quote, project price, or estimation so then you can create a quote or price estimation form for your site. By having a price estimation form on your site, your clients and potential clients will be able to check the cost calculation for your product or service.
You can also integrate your calculator with PayPal payment as well. The Cost Calculator plugin is one of the most user friendly and easy to use calculator plugins available. It is meant to be used with the WP Bakery  (formerly Visual Composer) page builder or the Bolder page builder. You will be able to enable Contact Form 7 as well with Cost Calculator so you will have a way of staying in touch with customers.
More Features of Cost Calculator Are:
One click import
Responsive design
Tons of different demos
Numeric sliders
Advanced drop down
Calculated Fields Form-WP Calculator Plugin

As the name of this plugin suggests, with the Calculated Fields Form plugin you will be able to create "forms with dynamically calculated fields to display the calculated values". It comes with a form builder so you can add or edit different field types.
The Calculated Fields Form plugin can actually make calculates for a lot of different things, such as: ideal weight calculators, general calculators, calorie calculators, quotes for both hotel bookings and car rentals, loan and finance, pregnancy and much more. You will be able to add as many calculated fields as you want. There is support for multi page forms as well.
Other Features of the Calculated Fields Form Plugin Are:
Five pre built samples
Predefined forms template
Calculated fields can be hidden fields
And there is a premium version as well if you are interested in more features.
Calculator Pro-Diverse Calculator Plugin

With the Calculator Pro WordPress plugin you will get the calculatorpro.com's  entire collection of online calculators for WordPress. You will be able to customize as well as embed any of the calculators into your posts, pages, or even a sidebar by using the shortcode. Some examples of calculators you will get with Calculator Pro are: financial calculator, conversion calculators, health calculators, math calculators and much much more.
Internationalization is also now available so you will have the ability to translate your calculator which can be very helpful. This WordPress calculator plugin comes with almost five hundred different calculators so if you are looking for a calculator plugin to help you with almost any calculation you need, the Calculator Pro is probably a great choice for you.
Jazzy Forms-WordPress Calculator Plugin
The Jazzy Forms WordPress plugin is an online form generator that will give instant calculations. It is a great plugin choice for inter-active price calculators and it can be used to send cost estimates by email. The Jazzy Forms plugin is cool because it comes with its own drag and drop tool for you to easily set up forms. All you would have to do is move items around the form and drop them where you want.
You will also be able to insert the form you create into both pages and posts. Form elements that you will get when you create a form are: radio buttons, drop down menu, update button, reset button, email button, text/heading/HTML, single and multi-line input, and output.
More Features of the Jazzy Forms Plugin Include:
Comprehensive functions library
Rich number formatting
hidden elements
Real time evaluation of spread-sheet like formulas
Flexible layout
EZ Form Calculator-WP Calculator Plugin

Number five of our WordPress calculator plugins is the EZ Form Calculator. This is a premium form generating WordPress plugin so you can create a form calculator for both you and your customers. This plugin has drag and drop elements available as well so customizing your forms should be a snap, even for those of you that may be a little tech challenged.
EZ Form Calculator is translation ready as well so you will be able to translate the content you make with this plugin if you should want or need to. You will also be able to do things like generate basic forms with values and add form elements with just one click.
The Premium Features of EZ Form Calculator Are:
More than 30 different elements
WooCommerce integration and MailChimp integration
9 predefined templates
Unlimited forms
PDF file generation
Unlimited file uploads
PayPal integration
Advanced Real Estate Mortgage Calculator
The Real Estate Mortgage WordPress plugin is a very easy to use financial calculator and it is also a great tool to use on a real estate website. This plugin can quickly calculate things like: monthly payment from sales, down payment, interest rate and length of a loan or you can even choose the monthly payment you want to find out the sales price, and you can do this all on the same form. The calculations you do will happen right away upon each updated entry.
WPCalc-Calculator WordPress Plugin
With the WPCalc WordPress plugin you will be able to create your own online calculator for both you and your customers who visit your website. You can add as many calculated fields as you want. There is an easy and visual calculator interface and you can use things like: check boxes, radio buttons, drop down menus, and input elements for the calculator.
With the WPCalc plugin it is also really easy to make a copy of a form, all you have to do is click the "duplicate button". And you will have the ability to create up to three calculators for your various needs. This WordPress calculator plugin also has a Pro version available if you would like to have more features for you to use.
uCalc-Calculator Integration Plugin
Next up we have the UCalc WordPress Calculator plugin and you will be able to automatically integrate the calculator into your WordPress site. All you will have to do is give access from the UCalc account and choose a calculator that is already made from the list.
With this plugin you will be able to create calculators to do various things such as estimate services and delivery costs, and you can build booking, review, feedback, and event registration forms. All you have to do in order to create a calculator with this plugin is just drag the blocks and put together a few simple formulas. With this plugin you will be able to customize lots of elements of your calculator like: background and text colors, as well as fonts and color customization of the elements.
More Features of the UCalc plugin Are:
Recognition of any currency and measure
Widgets will automatically adapt to smart phones and tablets
Ready to use templates
WooPrice Calculator-WooCommerce Extension
The WooPrice Calculator plugin is actually the first WooCommerce extension that allows website owners to create variable prices for their products based on the features that are chosen by their customers. How it works is that "the feature of the products become the variables in mathematical formulas that were created and matched to those products".
Your customers will then be able to change the variables through the product's characteristics on a product page which will then change the final value of the product and their shopping cart. There is also a Pro version of the Wooprice Calculator plugin available for those of you that feel you may need more features.
Below is a video about how this plugin works.
Price Calc-Calculator Plugin
Next up is number ten of our WordPress Calculator plugins. The Price Calc plugin will allow you to display on your site an interactive price calculator form on any post or page or widget content. You will be able to let your customers see automatic bids and cost estimates for your different products and services.
"You can set up a set of product variations and freely define a price structure." Your customer or user you will get an interactive form to choose all of the different characteristics that he needs and when he is done he can see the quote instantly.
More Features of the WordPress Price Calc Plugin Include:
AJAX user experience
A fully configurable price structure
User defined calculation formula
Different options for each general product type
FC Retirement Age Calculator-Responsive Plugin
This plugin, as you might have already figured out, answers the very pressing question "at what age can I retire?". This plugin can help you to easily answer that question and it will create a very detailed schedule with projected date based investments and charts. Your users will have the ability to choose their own currency and date convention used in the investment schedule.
You will be able to choose from four predefined sizes or modify CSS style to customize and change colors. This plugin can be used in either a page or a post by using the shortcode. This plugin is responsive as well so it can be used and work well on different devices, from large desktops to small mobile phones and touch devices.
FC Loan Calculator-Responsive WP Calculator Plugin

The FC Loan Calculator WordPress plugin is a general purpose loan calculator that will be able to solve for a monthly loan payment "and creates a detailed amortization schedule with date based payments". Your users will also able to see a set of charts so they will be able to visualize the loan. Your users will also be able to choose their own currency if they live somewhere else.
This is great because you will be able to have a wider client base and bring you more business. You will be able to choose from one of four predefined sizes or you can change an alter the CSS file to customize colors and size. The FC Loan Calculator plugin also has a reposnive design so no matter what device your user is using to access your site, this plugin will still work.
Zigaform-Calculator and Form Builder
And last but not least of our WordPress calculator plugins is the Zigaform plugin. This is a calculator and cost estimation form builder plugin. This plugin is great because it has a real time drag and drop form builder so you can see the edits and customizations that you make as you do it. Zigaform will be able to estimate any service for your clients and they can then make their payment using a payment gateway, and there is an offline payment gateway as well.
It is cross browser compatible too so no matter what web browser your user is using to access your site they should have no trouble using the features of this plugin. The Zigaform plugin is responsive as well so your content will always look great from large desktops to tiny mobile phones.
Other Features of Zigaform Are:
Multi language support
Ajax powered forms
More than 650 custom fonts
Bootstrap integrated
Final Thoughts
So now that you have been enlightened to how diverse WordPress calculator plugins can be have you figured out which one is what you are looking for? Take your time and see which one best suits your needs, because they can all do basic math.
Save 4 Later
Email these links to yourself