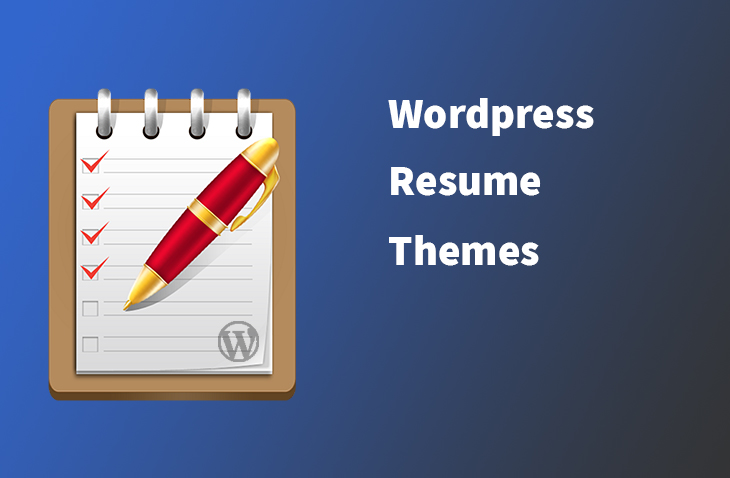 5 vCard WordPress Themes – Compared - 2023
Last modified: May 28, 2023
No matter if we are self employed, employed by a big firm or just starting out in our field, there's one thing we all know that we need, and that's an online profile that can be found easily. The best way to do that, if you are not planning on building a WordPress theme from scratch,  is to create one with the help of a great vCard WordPress theme.
What is a vCard?
vCard stands for "Virtual Business Card" which is essentially a virtual representation of an offline business card that you hand out to people. vCards can be found attached at the end of an email instead of a signature. vCards make it easy for others to add us to their contacts with a click of a button instead of manually typing everything in.
So what do vCards have to do with WordPress? There are many vCard WordPress themes out there that help you create your online profile in a creative way, while using the technology of a vCard for potential clients or employers that would like to contact you.
Below you will find a list of some of the top vCard WordPress themes that can be found today, hope this helps you out.
| # | Name | Image | |
| --- | --- | --- | --- |
| 1 | Uncode - Creative Multiuse WordPress Theme | | More Info |
| 2 | Resume - Creative CV WordPress theme | | More Info |
| 3 | MyResume | | More Info |
| 4 | Personal Page WordPress Theme | | More Info |
| 5 | Online CV WordPress Theme | | More Info |
Show More
* This button will show the rest of the post and open up an offer from a vendor
Filter between free and paid
Uncode - Creative Multiuse WordPress Theme
Uncode is a multiuse WordPress theme that also knows how to utilize the vCard functionality and become a perfectly useful resume WordPress theme. As you can tell by the image below, it has a very clean design which will help your visitors focus on what matters. You.
This premium theme has a drag and drop page builder so if you have no code knowledge, that's perfectly fine. All you need to do is drag and drop the elements that interest you and publish. It's as simple as that.
Here are some other features that come with this theme:
High pagespeed score (great for SEO)
Over 70 layout options
Adaptive images
8 types of menus
Social sharing
Sliders
Accordion
Resume - Creative CV WordPress theme
Resume is a very slick looking vCard WordPress theme.It aims to appeal to people looking for a unique and creative way to present their information. Here are some of the features Resume has to offer:
Responsive layout for all browsers and device sizes
Clean design
Speed optimised
Comes with font awesome built in icons
24/7 support
MyResume
This WordPress theme is very different than anything else on this post. Unlike other premium WordPress themes which are meant for presenting resumes, this theme does ONLY that. Most of the other themes are premium themes with page builders and were built after a whole lot of thinking and thousands of hours putting everything together.
This theme is a great option if you just want to get your information across in the fastest and cheapest way. Since MyResume is a free theme from the repository, it could be a great free option of that's what you are looking for.
Personal Page WordPress Theme
Unlike the previous theme, we are back on track with some seriously premium themes. Personal Page comes with lots of features and slick design. Assuming you are going to use this site as your resume, you can use this theme as a 1 pager parallax with several animated sections. Here are some other powerful tools that come built in:
Customized typography
Several color options
Built in sliders
Portfolio to show off your work
SEO ready
Lifetime updates
Backup (amazing feature for a theme)
Theme customizer
Online CV WordPress Theme
Online CV is a WordPress theme with the intent of giving your online resume a professional look, one that you would love to see again. One of its main features is its parallax scrolling, giving the illusion of 2d depth while scrolling through your information. The theme's header can be populated by a full width image or if you like, it can present a video. As long as your main message gets across.
Final Thoughts
When trying to get the essence which is YOU across in the best way, it's important to choose the best WordPress theme for the task. Choosing the wrong theme could be the difference between landing that desirable job or not. The top themes are some of the most successful vCard WordPress themes that exist and will present yourself the best way possible.
Recap:
Save 4 Later
Email liked links to yourself