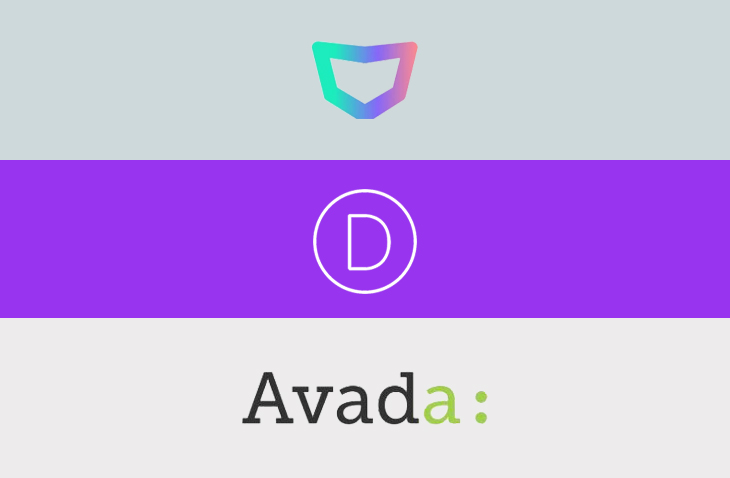 The Battle of The Best: Monstroid vs Divi vs Avada
Last modified: January 13, 2020
Modern best templates are so universal they let you power a website of literally any kind. However, it's hard to find your very best theme among the epic ones. They all have so many features that it's hard to compare. It's also hard to judge what the features you really need are, and which ones are just trifles. Today, we're here to help you pick the best one among legendary themes of 2018, such as Monstroid 2, Divi and Avada.
It's not a secret, that top WordPress themes of 2018 are WYSIWYG-editable. There are many popular WYSIWYG solutions. For example Monstroid 2 now works with Elementor, the hottest visual editor for WordPress out there. It elevates your website design at no cost to your time and editing ease. On the other hand, Divi has its own custom editor that empowers live mode editing. With visual editing provided by Monstroid 2, Divi and Avada, the question is:"What do you get on top of the WYSIWYG experience?" We're about to show you.
| # | Name | Image | |
| --- | --- | --- | --- |
| 1 | Monstroid2 | | More Info |
| 2 | Divi | | More Info |
| 3 | Avada | | More Info |
Show More
* This button will show the rest of the post and open up an offer from a vendor
Marketplace For Elementor Lovers
If you love working with visual editors, this comparison will be highly useful for you. You get top 3 most-popular themes with WYSIWYG editors compared. And we don't draw conclusions; the final choice is always up to you.
If you want to see a larger collection of Elementor templates, drop by Elementor marketplace, the ultimate repository of Elementor themes. Here you'll find a number of front-running Elementor-ready themes, countless presets and ready-made pages, additional plugins and more. Undoubtedly, this is one of the largest collections of Elementor-related products on the web, so you'll greatly accelerate the completion of your web project if you drop by and fetch a template or a theme.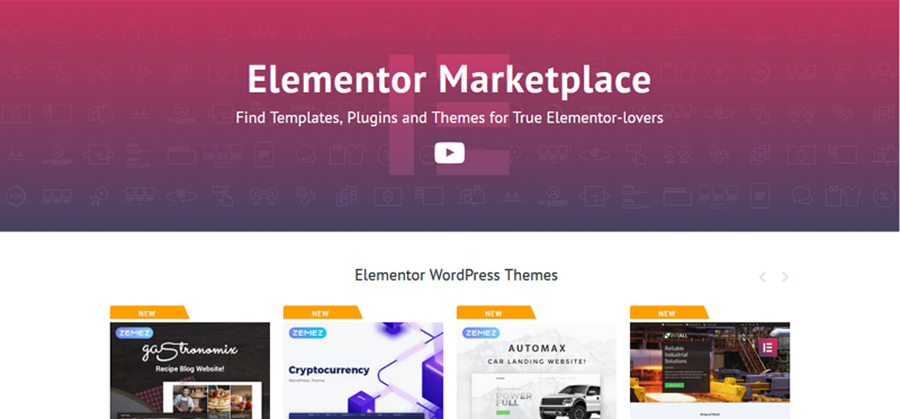 Introducing Best Templates Compared
So, today we compare 3 best-selling templates that work with Elementor builder. Let me briefly introduce the themes and share some general facts about them.
Monstroid2
Monstroid2 is a flagship template created by the ZemezJet TemplateMonster team. The theme was released at the beginning of 2018 and regularly updated since then. On August 27th, it enjoys a new large release, with full-blown Elementor support and multiple UI elements added. Developers claim, that with the new release, they'll smash other similar templates with the abundance of features they offer. We'll review the updated Monstroid2 version to see if this is true.
Divi
Divi is an ElegantThemes flagship template, which claims to be 100% visual editing friendly. They're proud of their customized editor, which lets you preview changes on your website in live mode. Divi 3 was released back in September 2016. This April, the theme was updated to Divi 3.1, bringing you extension and content block creation possibilities.
Avada
Avada is a well-established flagship multipurpose theme by ThemeFusion. It's actually been released 6 years ago. Since then, there were a large number of niche demos designed for the template. On top of this, the theme was regularly updated to meet the standards and demands of modern web design. Avada also provides for WYSIWYG editing thanks to Fusion builder, a custom visual editor by ThemeFusion.
Monstroid2 vs Divi vs Avada Comparison
Now, it's time to compare the three builders based on the sets of most vital and extended features they deliver. Let's get started!
"

... and Scan WP's recommended web hosting company is... Cloudways (Click for special deal)

"
Round 1: Skins
All the themes featured in this review are premium and multipurpose. Creating just one design that fits all the business niches is a tough task. That's why best multipurpose themes come with a pack of niche designs for different branches of industry. Let's see whether Monstroid2, Divi and Avada creators have gone an extra mile and supplied their templates with extra designs.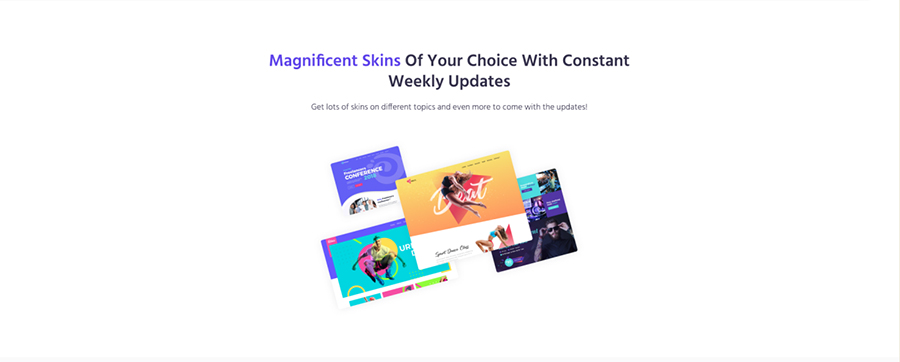 Monstroid2 is a gold mine in terms of stunning present-day skins. With the template, you currently get 20 perfectly built homepages and a selection of gorgeous skins that you can change any time. On top of this, new skins are released weekly, meaning that your website never gets out-of-trend with Monstroid 2.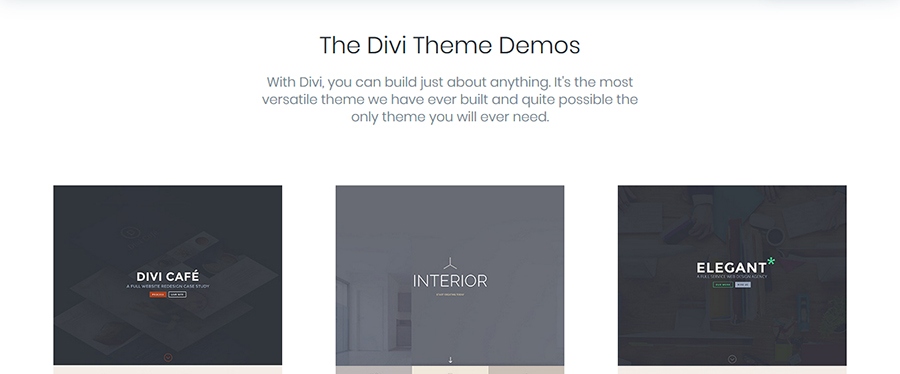 Divi theme also has skins. However, it has not as many as Monstroid2. This template comes with 7 prebuilt skins for catering (2 items), interior design, corporate and fashion. A couple of their skins are universal, i.e. not tailored specifically for any niche. So, Divi's got a nice pack for starters built-in, however they continue to launch new niche specific skins on a monthly basis. Free for all Divi users.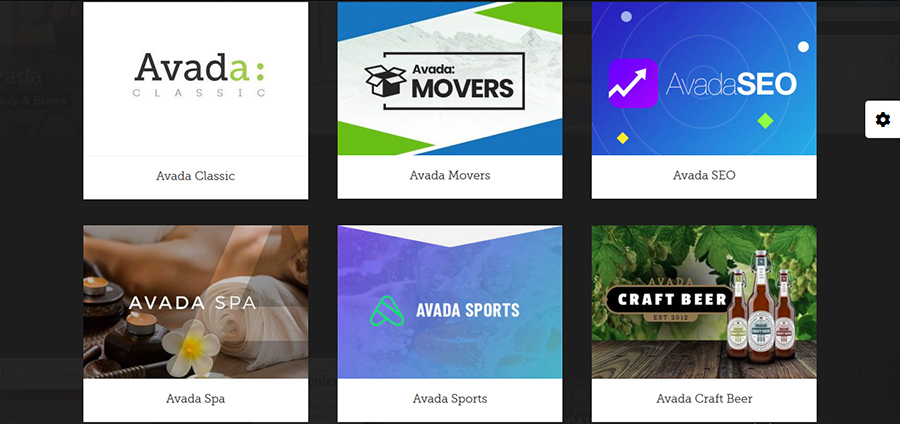 Avada brings you over 30 skins for different niches created over 5 years of Avada existence. Examples of the skins would be Avada Technology, Avada Dentist, Avada Sports, Avada Salon, etc. You can preview each template on the Avada product page and see if there's one that fits your needs.
Round 2: Blocks
With the advent of visual editing, everyone takes blocks, i.e. website UI elements, seriously. If you have many blocks to choose from in your visual editor, building a website turns into a Lego project. You take awesome building blocks, adjust them up to your liking and place as you wish. Indeed, if you've got a lot of ready-made blocks inside the theme, this makes your life way simpler.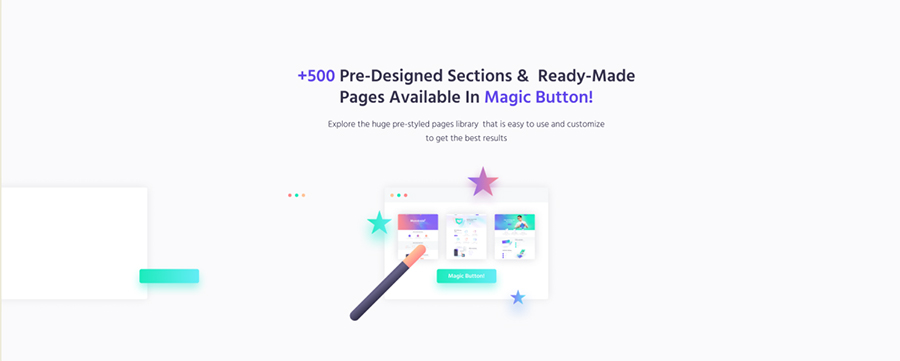 In terms of blocks, it's Monstroid that occupies the leading position. After you install Monstroid2, you find a collection of over 500 website elements within the Elementor. These elements make for 20+ custom skins with unique designs. What's great about Monstroid2 and Elementor, you can pick any skin and use pages/blocks from other skins as well.
On top of this, the blocks that Monstroid2 delivers you are enhanced by pre-built plugins to a large degree. Jet Plugins provide you with blocks that are usually missing even from the richest themes. These blocks ensure that you power an inimitable, user-friendly and engaging website interface.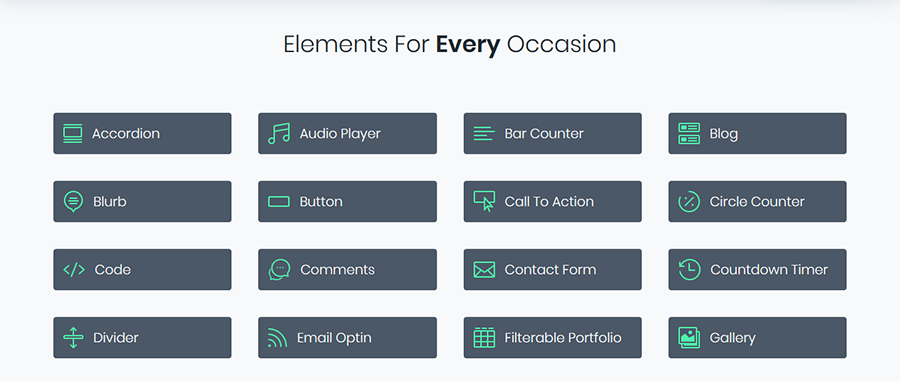 Divi brings you a collection of 37 prebuilt blocks. This ensures a pretty rich choice of elementary website building blocks that, as a rule, add a single interface element to your website each. However, Divi doesn't bring you complex UI pre-sets that serve as the ready-made designs for your website sections. So, with Divi, it's also a Lego game, but the details aren't combined into larger blocks for speed. You have to pick the small parts and fit them together the way you see it.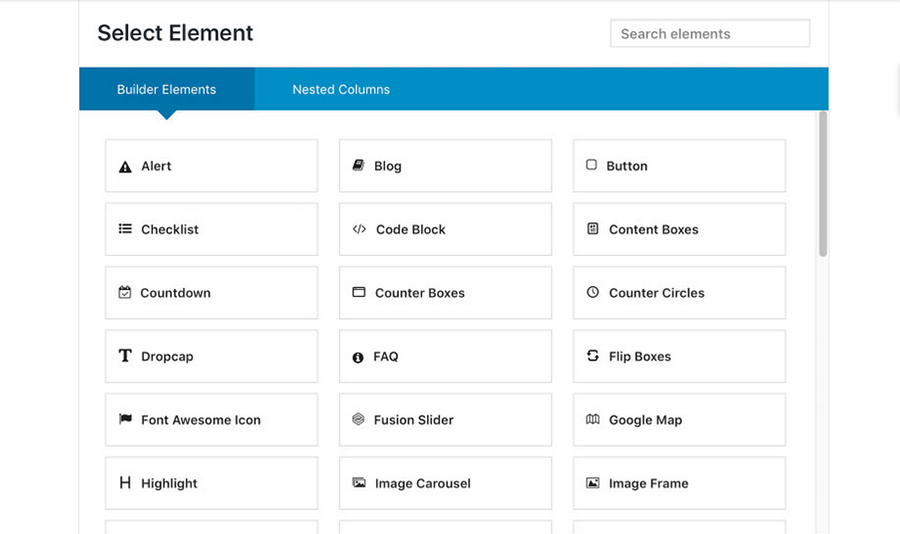 Avada and its Fusion Builder offer you over 50 content elements that are inserted in the form of shortcodes. You can use Element Generator within the default WordPress editor and insert the blocks in a couple of clicks. Unfortunately, this is a kind of obsolete and awkward way of working with blocks, so this is a miss for Avada.
Round 3: WYSIWYG Experience
We've already highlighted that each of the three themes comes with a WYSIWYG builder. It's time to see, which of the three builders provides for a smooth experience, which lets you edit a website without a hitch, etc.

Monstroid 2 comes with Elementor, the booming most-popular WordPress editor of the year. The editor has an extremely simple interface and minimizes your learning curve down to zero. You can preview all the changes you implement live within the editor's interface.
What's great, Elementor has a preset library, where you can access the 500+ ready-made blocks discussed above. What's more, you can create custom blocks and save them as your own presets to use in the future.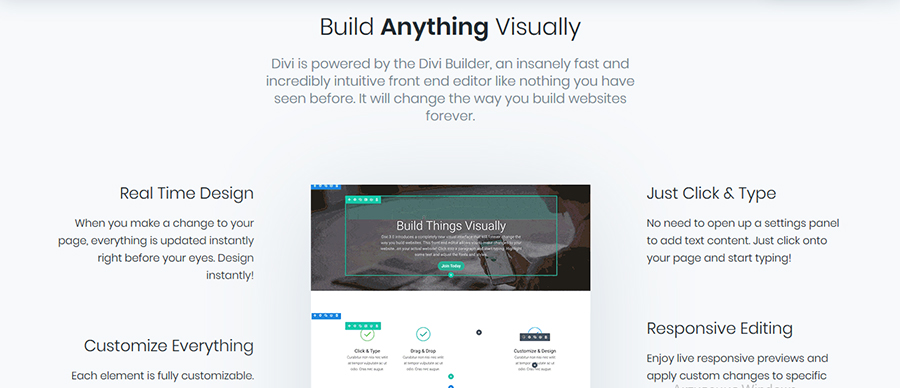 Divi theme comes with a custom Divi Builder, a convenient real-time WYSIWYG builder with a plentitude of features. The builder loads changes within a second and lets you enjoy the "click & edit" experience. Similar to Elementor, Divi has a preset library, where you'll find 22 pre-made layouts and can store your custom ones for future use.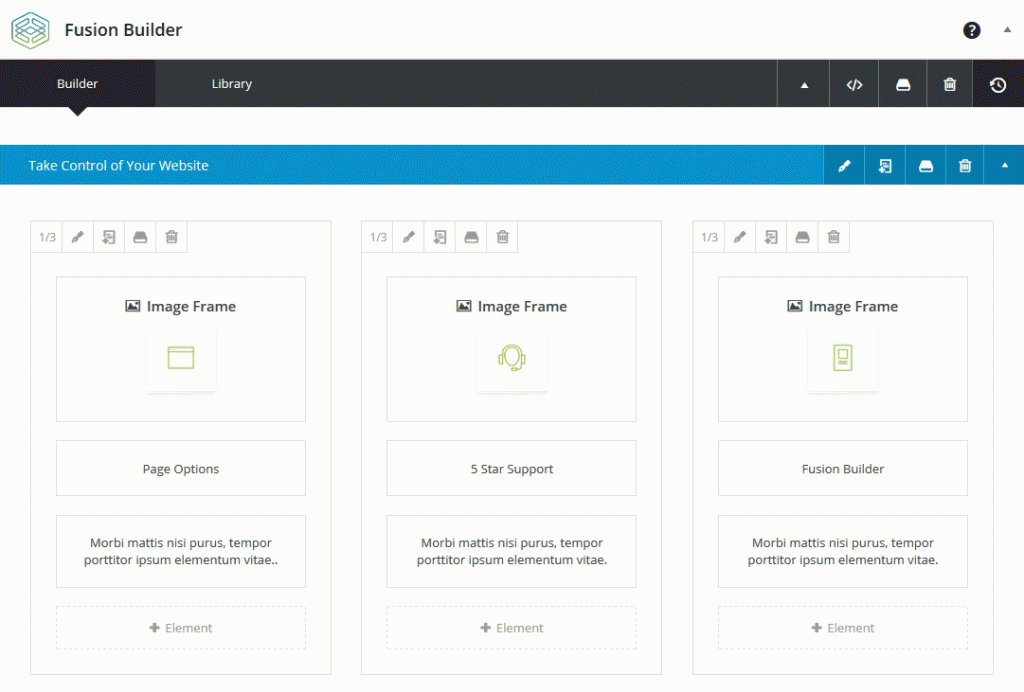 Avada's Fusion Builder is also a WYSIWYG builder. However, it doesn't make the mark and match the 2 other builders in terms of the WYSIWYG experience it provides. Within the builder, the blocks are not displayed as on frontend. You can see where you have the blocks, you can drag-n-drop them, but you can't actually preview the content within the editor.
Round 4: Prebuilt Layouts
So, we've got pre-made blocks. The next question is whether Monstroid 2, Divi and Avada deliver us attractive ready-made layouts to fill them with the content? It's time to figure this out!
Monstroid2 brings you 20+ header and footer layouts. Using these layouts and pre-made blocks you can create custom headers and footers with professional design in a couple of clicks. On top of this, Monstroid2 brings you over 50 ready-made blog layouts, including modern grids, card layouts, post mosaics and more.
On the other hand, Divi and Avada score lower in this regard. The former brings you 15 header/footer layouts and 4 blog layouts. The latter brings you 12 header/footer styles and 6 blog layouts.
Round 5: Plugins on Board
This is a very important one. Plugins define the UX and functionality of your website. As going for third-party plugins is often unsustainable, you've got to hunt for a theme with rich and useful plugin collection.

With the new update, Monstroid2 features a thick collection of useful and valuable plugins. It's fully integrated with the two popular open-source giants: Elementor and WooCommerce. The latter is additionally enhanced with JetWooBuilder plugin, which allows you to build a WooCommerce e-store in visual mode.
Most excitingly, Monstroid2 brings you all the Elementor-compatible Jet plugins free. As a result, you get 10+ plugins to enhance different elements of your website, e.g. top navigation, blog, reviews, tabs, charts and diagrams, etc. Moreover, the stunning JetMenu, not only g ives you extended navigation customization options but offers you the full-blown MegaMenu functionality.
Surprisingly, Divi developers don't seem to be into plugins. If you go for Divi, you should be happy with the editor and its default functionality. Well, the Divi Builder seems to be the only plugin on board. No doubt, ElegantThemes offers a number of great plugins, but they didn't make it to the Divi pack.
In terms of plugins, Avada does better than Divi. It has four prebuilt plugins: Fusion Builder, Fusion Core, Revolution Slider and Layer Slider. The latter two are the great slider extensions, which are nice to have on board.
Round 6: Price
For dessert, we'll compare how much you pay for each template. Monstroid 2 costs $75 for a single site lifetime license. This license covers using the template on one website, including all the sample imagery. What's more, for $75, you get exemplary lifetime e-mail and live (phone/chat) support.
To get hold of Divi, you've got to either pay $89 per year or can go for paying $249 at once for lifetime access. Both plans yield you unlimited access to all themes and plugins that are offered by ElegantThemes. You can't buy only Divi for a lower price. Fortunately, both plans come with customer support.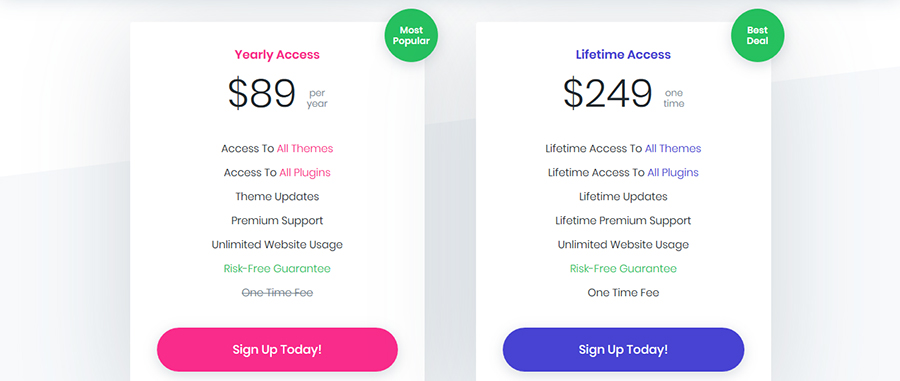 Finally, let's see how much you pay for Avada. For $60, you get the theme for lifetime and 6 months of support. If you pay additional $18, you extend customer support to 12 months.
Monstroid 2 vs Divi vs Avada Comparison Table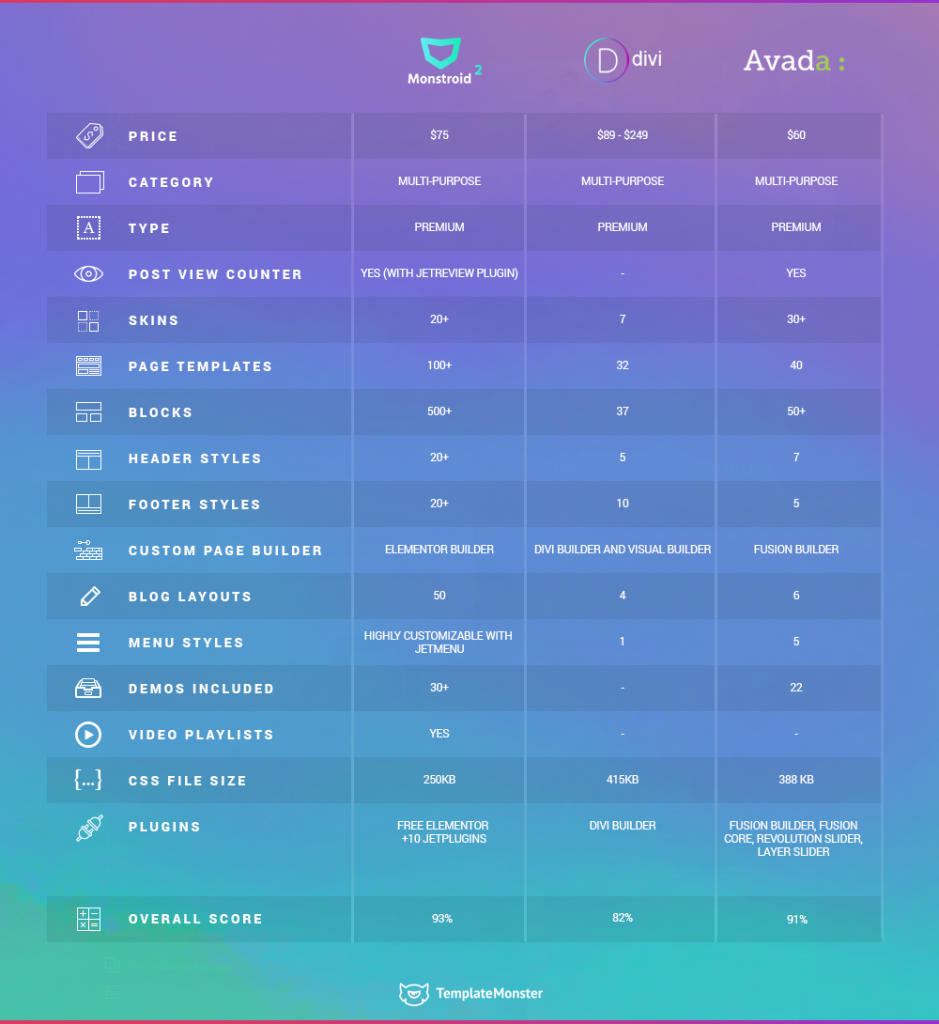 Wrapping Up
Congrats! You've reached the end of this comparison article. Now, you not only see that Monstroid 2, Divi and Avada are all great themes. Now, you know which one scores higher in certain aspects and can make an informed choice. We wish you good luck with your future website!
Stay tuned for more!
Recap:
Save 4 Later
Email liked links to yourself