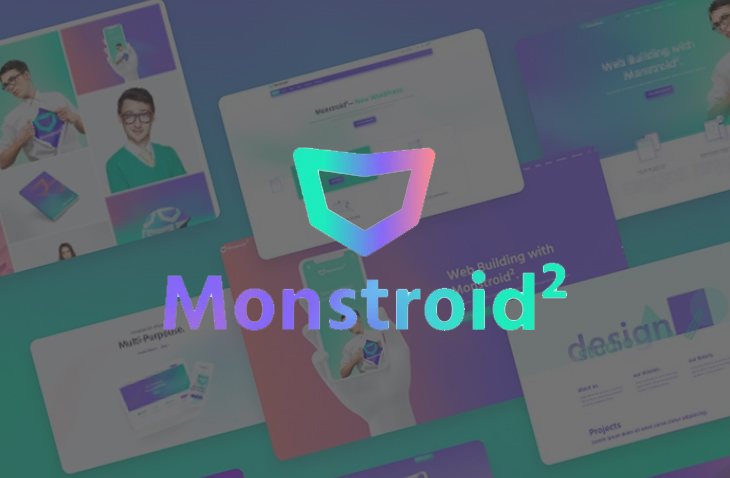 Monstroid 2 Review – New Trend in Web Design
Last modified: January 13, 2020
The bestselling Monstroid2 template has accumulated 7K sales since its release in January 2017. However, modern web design does not stand still. Some of the things that were hot back then (e.g. GPL craze and skins) are now passé for top templates. And Monstroid2 is definitely one of them.
At the same time, WYSIWYG website creation experience has seen major improvements since 2017. We've seen the period of WPBakery editor dominance and the subsequent rise of Elementor, which is currently the most popular visual editor for WordPress with 1 million downloads. Elementor delivers you the most outstanding WYSIWYG experience and is bound to remain the most popular tool till Gutenberg becomes the default WordPress editor (if this ever happens).
To ride the wave of web innovation in 2018, Zemez team launches the first major update of its Monstroid2 template this August. The theme has been completely rebuilt to work with Elementor builder and become a flagship modular template. In this article, we look into what the new update of Monstroid2 brings you in detail. Let's get started!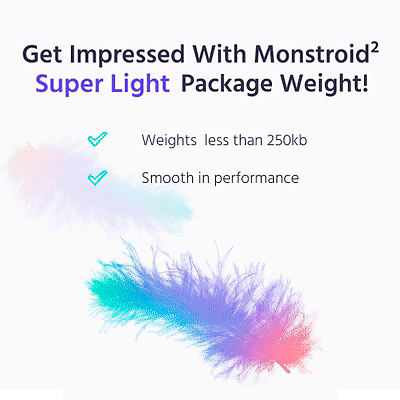 Show More
* This button will show the rest of the post and open up an offer from a vendor
Monstroid2 Elementor Experience
Before we get started, let's clarify some notions. To differentiate the two versions of Monstroid2, let's call the original Monstroid2 released in 2017 the classic Mosntroid2. Then, we call the new fresh-baked one, the updated Monstroid2. Deal? Then, we carry on.
The popularity and convenience of Elementor became the catalyst of the Monstroid2 update. To adapt Monstroid2 theme for Elementor, designers had to completely rebuild every page of the template within the builder. This brought around an array of improvements along the way. A short list of these improvements comes below:
The coding of Monstroid2 became lighter and sleeker;
The theme now loads and performs quicker;
The template is now modular and extremely flexible;
The number of provided additional ready-made UI elements grew impressively;
Prebuilt third-party plugins were ditched for a smoother experience;
Now, all the prebuilt plugins of Monstroid2 are Elementor-compatible and integrated within the builder;
Your website can be fully created with Elementor only: forget about using the messy TinyMCE default WordPress editor or ever working with the code.
We'll discuss these improvements in the next sections of our article. Back to Elementor, it's worth saying that Monstroid 2 comes with the pre-built free version of Elementor. And, with all the additional elements and plugins that Monstroid2 brings you, you'll never have to worry about upgrading to Pro. So, no unexpected expenses await you when you purchase the updated Monstroid2.
What's more, Elementor integration is a true bounty for web design newcomers. This is currently the most comprehensive and convenient visual editor for WordPress. By the way, it's also the most popular one, and for good reason. These are Elementor's ease-of-use, extendibility and groundbreaking modular content structure that make it a top editor for all WordPress lovers.

Lighter, Sleeker & Faster
So, Monstroid2 was re-coded from scratch. The new code is smarter and less resource-intense. For example, CSS coding was minimized and minified to fit into just one file weighing 288kb.
With the decreased CSS load, your website now loads dramatically faster. Google Speed gives Monstroid2 the A93 grade with the average loading time of 1.2 seconds, which is impressive.

What's more, the updated Monstroid2 is undemanding in terms of hosting. For the classic Monstroid2, you needed a dedicated or a VPN or, at least, a premium shared hosting. On the contrary, the updated Monstroid2 works on every cheap shared hosting without a glitch!
Groundbreaking Modular Structure
The popularity boom of Elementor gave rise to themes with modular structure. Let's see how the modular structure is implemented with Monstroid2 and how it benefits you.
Within Elementor, the basic default content blocks are called 'elements'. Let's say, a 'Call-to-action button', 'Text box' or 'Image' are all elements within the builder. You can combine the basic elements into sections (e.g. 'Testimonials' Home Page section), pre-style them and save as 'templates'. Every combination of pre-built blocks within Elementor, be it a ready-made section design, page or skin, is called a template.
How do you benefit from the theme's modular structure?
You are no more restricted to choosing just one design (skin) for your website.
You can freely pick any pages from any pre-built skin and add them to your website.
The same holds true for sections. Every prebuilt section that's within Monstroid2 can be placed wherever you wish on your website.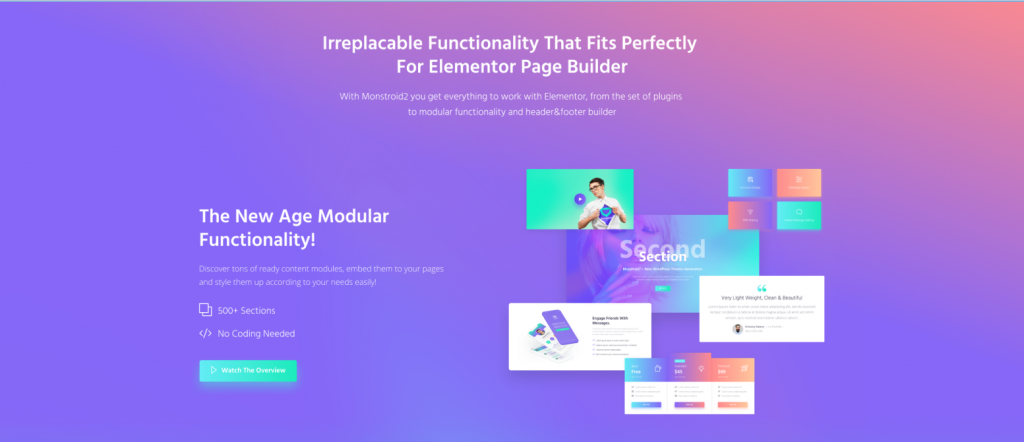 Magic Button
So, with modular Monstroid2, you can add any page or section wherever you want on your website. With the intuitive Magic Button this takes just a few clicks. The button looks quite simple and appears in every window of Elementor interface.

Once you press the button, it opens the library of prebuilt and custom templates. Here, you'll see such tabs as Pages, Headers, Footers, Sections, Archives, Single and My Library. Under each section, you'll find all the pre-built elements available. For example, the Sections tab offers you 500+ ready-made UI blocks for different purposes.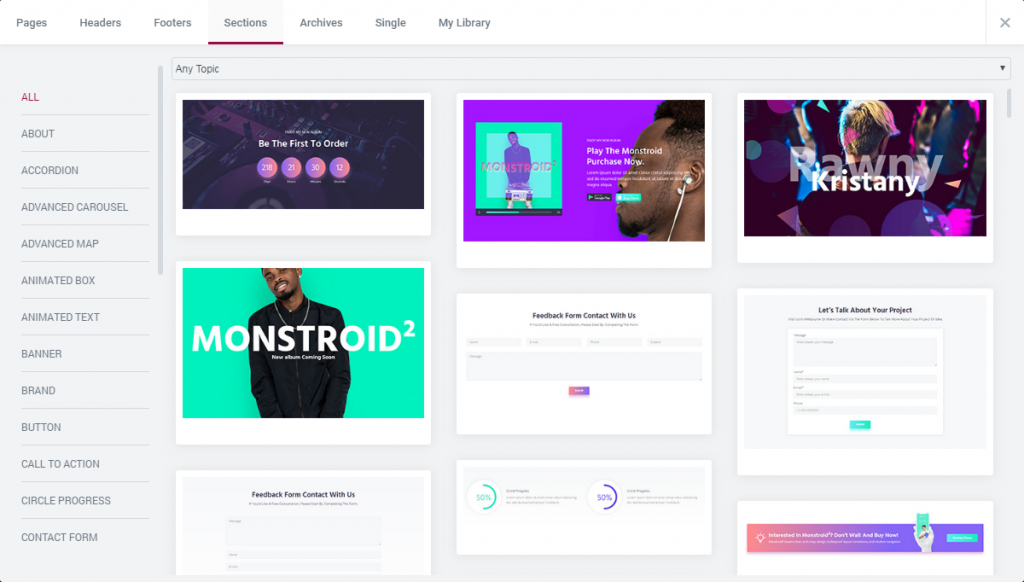 To find the needed block, you can either use a Sections Menu on the left or the search field. Once you see the section design you like most, click it to add the section to your website.
At the same time, Header and Footer tabs bring you a plethora of designs for these important website sections. You get a chance to launch one of the 10+ headers and 5+ footers in a single click. What's more, the pre-made layouts are filled with most needed UI elements, boosting UX and conversion of your website.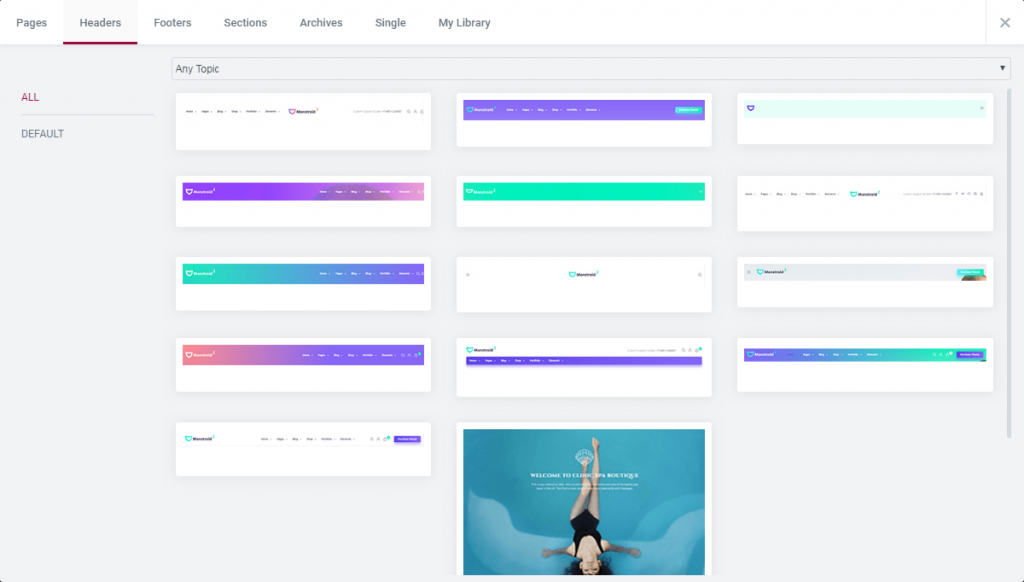 With the Magic Button, you can also access the custom presets you saved for future usage. So, in addition to 500 ready-made section designs, you can create and re-use your custom favorites. They will be available under the 'My Library' tab.
Huge Collection of Ready-made Designs
To make the new Monstroid2 a truly powerful and breathtaking template, designers created one of the largest collections of pre-built UI elements and designs ever. So, with the updated Monstroid2 you get:
500+ ready-made UI section designs;
14 Header designs and 10+ Footer variations;
300+ ready-made pages that provide you with a number of alternative layouts for every common (and less common) website page;

All these elements are available to you when you press the 'Magic Button'. What's more, these elements are arranged into 28 magnificent skins for different businesses and niches. You can choose any of the skins as your basic design and work on customizing it further on: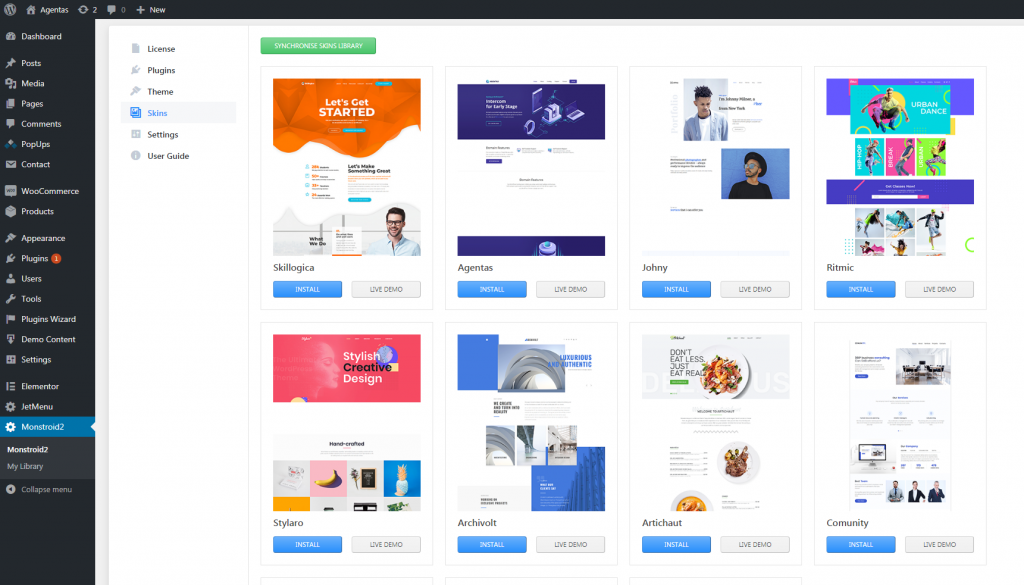 The new Monstroid2 is backed up with regular updates with fresh skins, sections and designs. The new skins and templates will arrive, at least, on the monthly basis. No doubt, they will all be available to all those who run websites with updated Monstroid2. To get the new skins, you just have to press the 'Synchronize Skins Library' button inside your admin panel.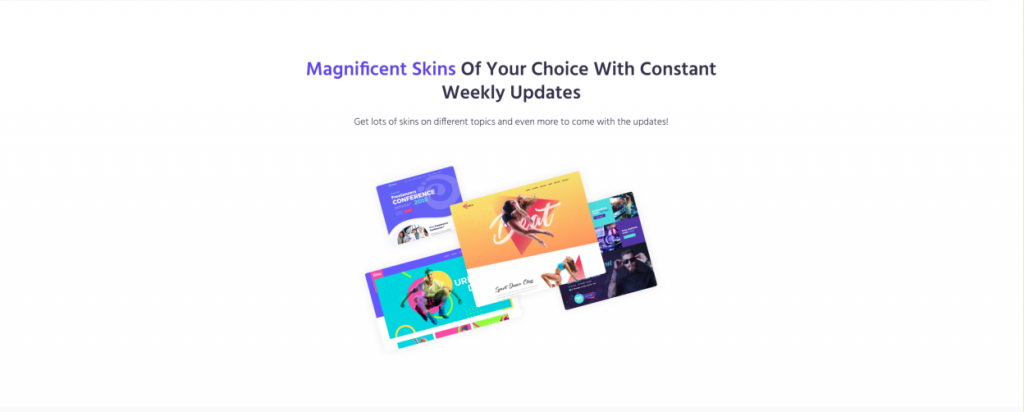 Impressive Jet Plugins
Another exciting thing about the updated Monstrid2 is the collection of Jet Plugins it offers. The premium plugins are fully compatible with Elementor and let you boost user experience on your website using the builder only.
With the updated Monstroid2 you get the following Plugins:
Free version of Elementor builder;
Open-source WooCommerce – the most popular e-commerce plugin for WordPress;
JetBlocks brings you a fully-functional collection of header and footer widgets. With the help of this plugin, you can add login forms, navigation menus, hamburger menu buttons, authorization/registration links, search forms, shopping carts, user menus and more.
JetTricks plugin lets you add complex visual effects to the pages of your website without touching a single coding line. With it, you can create hotspots, sticky columns, unfold sections, Parallax elements, etc.
JetWooBuilder is a WooCommerce Page Builder addon for Elementor, which lets you create store pages in visual mode. Moreover, the plugin brings you a collection of handy e-commerce widgets that display reviews, product ratings, products, current sales and special offers, upsales and more.
JetTabs plugin is capable of creating tabs, image accordions and switchers.
JetParallax plugin lets you set up Parallax backgrounds and adjust their appearance and behavior using multiple comprehensive settings.
JetReviews plugin lets you create spectacular review blocks with customer ratings and stunning styling.
With JetMenu plugin you can finally create MegaMenus fast and easy. What's more, the plugin lets you add menu badges, icons, change menu item backgrounds, adjust menu item appearance on hover and more. 
JetElements plugin extends the default Elementor set of modules with 19 custom modules that ensure engaging content presentation. Now, you'll be able to add an Instagram widget, pricing table, progress bar, advanced carousel, animated text and other sections in few clicks. 
JetBlog plugin lets you create smart post listings, smart headlines, video playlists, text tickers, etc. Moreover, with this plugin, you get all the settings you always wanted to have for your site's Blog. 
The premium Jet Plugins are provided free with the updated Monstroid2. Otherwise, they would have cost you more than $100. To learn more about the prebuilt Monstroid2 plugins and see additional plugins available, drop by Elementor Marketplace.
Installation is Now Even Smoother than It Was
With the update, Monstroid2 installation got even smoother. Now, the Monstroid Wizard is shipped with the theme as a separate component. After installing WordPress you run the Wizard and accomplish all the installation steps within a single interface.
During the installation process, you'll:
install the main Monstroid2 theme;
choose your basic skin;
upload, configure and activate plugins;
install Sample Data;
regenerate thumbnails.
What's more, during the installation, you won't have to upload a single file manually or mess up with the code. The whole process takes around 10 – 15 minutes. Once you finish the installation, you have a number of options: view your website, start editing, open up the documentation, access the Monstroid2 knowledge base, change your skin, etc.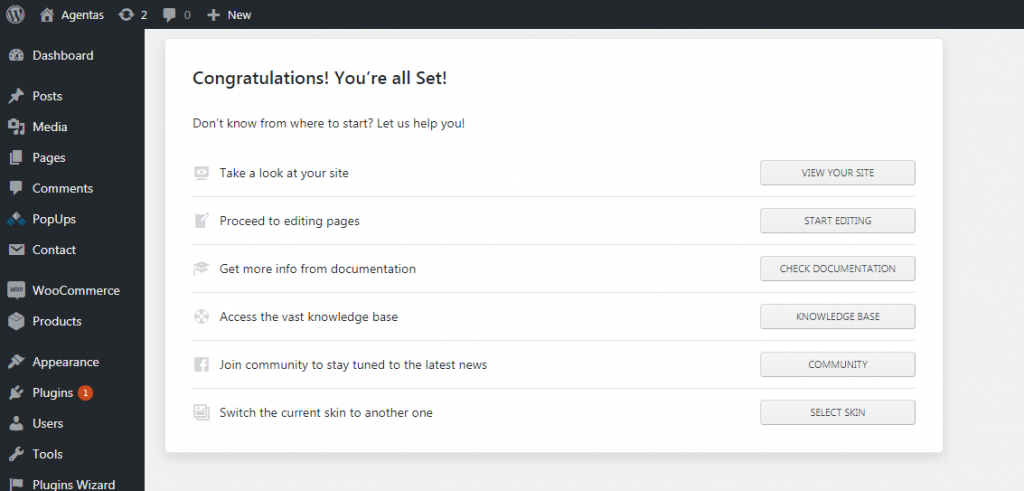 Are the Classic and Updated Monstroid2 Compatible?
As you can understand, the updated Monstroid2 is a whole new ballgame. It's coded to work with another, superior visual builder and uses another set of plugins.
Currently, the two versions of Monstroid2 aren't compatible. If you're running a website on classic Monstroid2, you can't migrate to the new one right now. Fortunately, the team behind Monstroid2 promises to figure this out and provide some backward compatibility solution for its clients.

Pricing & Licensing
Initially, the classic Monstroid2 was distributed under GPLv3 license and its use was not restricted to one website. The updated Monstroid2 is sold under Single-Site License. This means, that after purchase, you can freely use it on a single website for lifetime.
With the update, the price of Monstroid2 hasn't changed. Its regular price is $75. Fortunately, TemplateMonster marketplace often runs promotions, so you can get it even cheaper if you drop by during a promotion period.
By the way, with the updated Monstroid2, the awesome TemplateMonster Customer Support is fully yours for lifetime. Reach them out by web chat, phone or e-mail, and experienced support operators will be glad to help you out.
Wrapping Up
With the fresh update, Monstroid2 has reestablished itself as the most advanced flagship template on the market. Once again, it brings you:
unparalleled Elementor editing experience;
high performance and lightweight core;
500+ content blocks, 300+ pages, 28 ready-made skins;
Exclusive Jet Plugins;
Coding-free installation and customization.
Do not hesitate to go for the updated Monstroid2. The experience it brings now is better than it ever was. We wish you good luck in powering an outstanding web presence with Monstroid2!
Have you tried the updated Monstroid2? If you're the lucky one, we welcome you to share your feedback in the Comments section below. By speaking up, you can help others make a right choice.
Your questions and comments are warmly welcomed. Take care!
Recap:
Save 4 Later
Email liked links to yourself