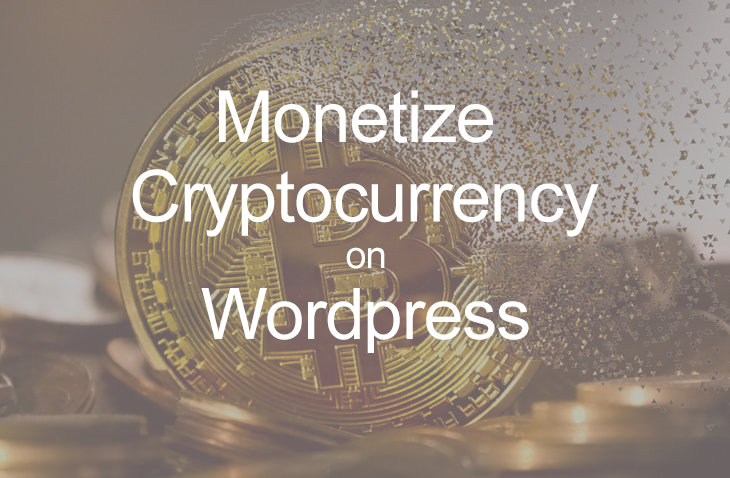 How to Monetize Your Cryptocurrency WordPress Website
Last modified: January 13, 2020
This article will be helpful for those who are looking for ways to monetize their cryptocurrency WordPress website. Well, there are several ways to go. Unlock your opportunities to start enjoying financial freedom. Among several options available to you, we doubt you'll find anything interesting on this list.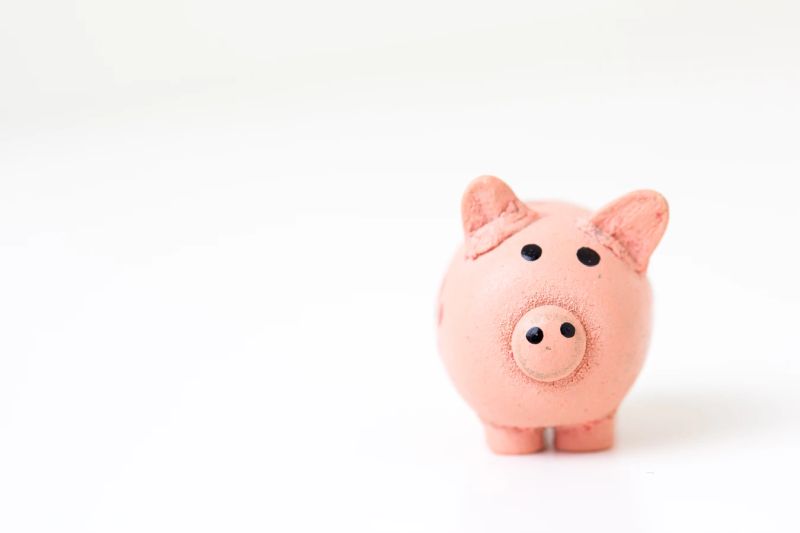 | # | Name | Image | |
| --- | --- | --- | --- |
| 1 | Simple Monero Miner – Coin Hive | | More Info |
| 2 | WP Monero Miner Using Coin Hive | | More Info |
| 3 | SpareChange Miner | | More Info |
| 4 | Monero Miner Pro | | More Info |
| 5 | Moonify – Monero (XMR) Miner | | More Info |
Show More
* This button will show the rest of the post and open up an offer from a vendor
WordPress Themes for Cryptocurrency Websites
Developing and running a website can be a challenging task. Better yet, you don't have to be a tech-savvy web developer to achieve that. Thanks to modern tools, it's easier than ever to make your own mark on the world. To help you get started we recommend you to build a cryptocurrency website using Crypton WordPress theme. Designed specially for cryptocurrency, bitcoin, digital currencies, bitcoin mining equipment or cryptocurrency exchange web projects, Crypton will serve you well.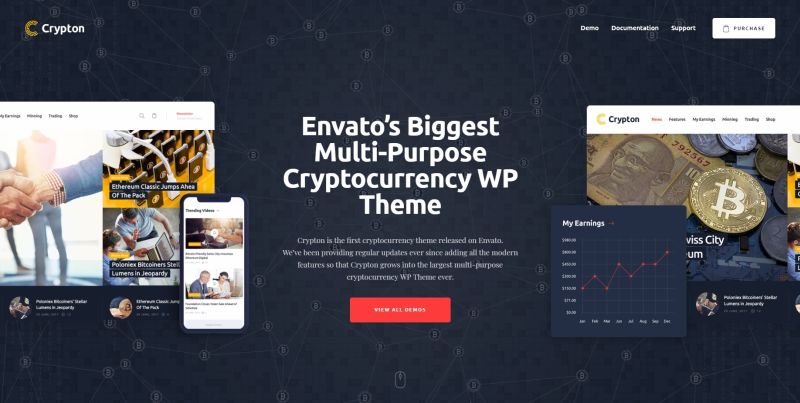 Even a beginner is able to build a modern cryptocurrency website that looks awesome on all modern devices. Besides, compatible with Cryptocurrency all-in-one plugin, Crypton allows you to show costs, exchange rates, charts and calculators to settle all payments and donations. After all, enjoy Crypton theme demo, to discover the numerous advantages it includes.
By the way, Hoverex can be another great WordPress theme for your future cryptocurrency blog. Compatible with WPBakery plugin, it allows you to create new unique page layout within minutes. If you're familiar with video cards, graphics cards, asics or accelerator cards, Hoverex is the theme to trust. Besides, it includes ThemeREX Donations to help you receive payments or donations online.
Learn how to turn your joy for mining into fuel for your success with Lymcoin WordPress theme. Crafted with care, it fits well with cryptocurrency blogs, blockchain specialists, financial advisors, cryptocurrency exchanges, and other related web projects. With Lymcoin no coding or programming skills are needed. Awesome easy-to-use options will adjust the theme to your needs. Don't forget to check its demo version.
What Options Are There? What Do They Stand for?
Before we'll dive into possible ways of monetizing your website, think carefully how would you want to do this? Well, all you need is a WordPress website and voila you're good to go. With almost endless opportunities for users, WordPress ensures several proven ways to reach substantial income growth. Here's what options do you have:
Join Affiliate Programs
Monetize Revenue From Mobile Ads
Start Mining in the User's Browser
Guest Posts
Be responsible and do your research. Whatever option you discover happens to be closest to you – try it. All you need is to do a few clicks and to browse a wide range of a few basic options that ensure a simple and smooth experience.
Join Affiliate Programs
Without a doubt, affiliate programs can add some passive income to your bottom line. This means that once you've done the work, you get paid forever. So it's no surprise that affiliate programs are among the most popular ones.
There are two ways to approach cryptocurrency affiliate programs. Some of them will pay you in dollars, while others will pay out your affiliate commissions in Bitcoin or any other cryptocurrency. The best thing is that both of them work pretty much the same as referral programs.
Among the best digital cryptocurrency exchange investors, there are some really worth mentioning. For example, Etoro, Cryptogo, Binance, 24option, Coinbase, Xcoins, LocalBitcoins, and many more. Indeed, these are only some cryptocurrency exchanges you should pay your attention to. This list will be updated for sure.
The thing is that exchanges are online platforms that serve as intermediaries between traders and make money by collecting fees. In fact, people have been investing, mining, purchasing and earning bitcoins and other cryptocurrencies, since 2010.
So join cryptocurrency affiliates to get the ability to generate a onetime or lifetime passive income for each person you directly send to their website say for registration or trading. Once you are registered, start posting a unique URL or promo code on your website, email campaign or social networks. The more traffic you can generate to these digital exchange sites; the more revenue you will get.
Monetize Revenue From Mobile Ads
It's no surprise people hate ads and block or ignore it. However, integrating with some ad networks like Google AdSense, Media.net, Infolinks or Bidvertiser can be one of the quickest ways of monetizing your WordPress website. Thus, you get several ways to go whether to sell some space of your website or to add some code to the same banner placeholder and display ads based on user's experience.
Well, Google AdSense is one of the most popular ad networks around. You have two ways to start earning extra money from it – based on impressions and based on clicks. By using AdSense you are basically selling billboard space on your website. Whenever guests to your site click on these ads, Google pays you. Face it, the more traffic you get, the more revenue with AdSense you make.

BuySellAds is a great option for websites generating a decent amount of organic traffic. This means you have two options available – either to buy or sell advertising space on high-traffic sites. For better results, make deals with advertisers directly. The more engaged visitors you get on a daily basis, the more the advertiser will be interested in buying of your ad space.
Guest Posts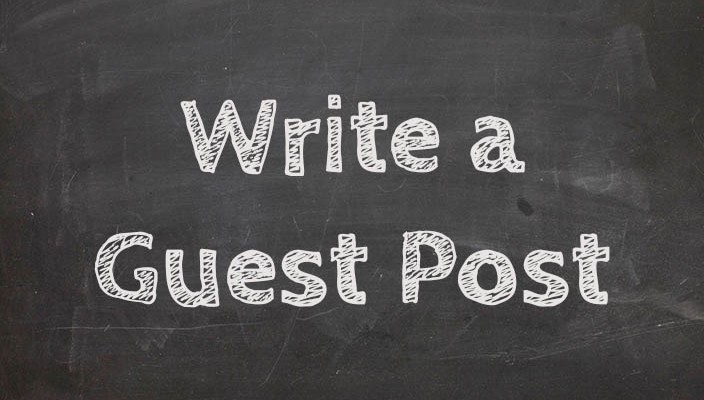 Guest blogging can be a great source of income if you are sure you have plenty of traffic to your site. Thus, you can draw in a certain type of audience like freelancers and brands alike to publish their guest posts as a way to sell their services. Besides, a surprising number of brands are looking for exposure and are willing to pay for it. Better yet, guest post is a way to go if you don't want to clutter your blog/site with ads. Make sure you notified your visitors about your good will to accept guest posts.
Mining in the User's Browser
Cryptocurrency mining is a new word in today's business. The thing is new but theoretically workable.
Start Mining in the User's Browser
In fact, mine cryptocurrencies in the users' browser is another popular way to maximize the profit online. The thing is that this option is a relatively new strategy. With the help of mining plugins that use resources of your site's visitors, you can generate some extra coin. This means that users pay for the content indirectly by coin mining when they lands on your site.
Important to note! If you want to use software which mines coins, you should get users permission first. Remember to inform your audience with a site-wide banner that you're going to mine some coins using their hardware and let them choose if it'll continue. Such mining software grabs lots of processing power from a computer or portable device.
After all, if you still want to try this way of monetizing your WordPress website, unlock your opportunities with some popular plugins.
Simple Monero Miner – Coin Hive
This is one of the more popular browse-mining services out there. It exploits your site's visitor's CPU time and notifies them of the mining that will be taking place. Besides, it gives the users a way to opt-in – to speed up, slow down or turn off mining, giving them a feeling of personally contributing. Its basic features are as follows: mine on users' CPU, widgets to control mining, top/bottom bar and alert popup options, visual control options and some statistics.
WP Monero Miner Using Coin Hive
Well, here's another great way to monetize your WordPress website. Grab WP Monero Miner using Coin Hive to use your visitors computing power to mine the cryptocurrency monero. Apart from a helpful widget enabling your visitors to start/stop mining and better yet, it enables you to control mining speed. Once you upgrade it to the pro version, you'll be able to utilize a certain protected content shortcode for displaying premium content only when a special amount is mined.
SpareChange Miner
SpareChange is a great browser-based JavaScript crypto miner that runs inside web browsers once a user lands on your WordPress website. It uses your visitor's CPU power to hash monero cryptocurrency instead of showing them an advertisement. However, being a part of the AdBlockNoCoin List, SpareChange doesn't work for users with AdBlock Plus, AdBlock, uBlock Origin, Brave Browser and Opera Browser.
Monero Miner Pro
Don't miss Monero Miner Pro plugin which uses your site's visitors computing power to mine the cryptocurrency monero. Its main feature is to connect miners on your site to real mining pools. Better yet, you get 99,8% of earned XMR which is the lowest commission among WordPress plugins.
What's more, it includes low minimum payout, prevention of AdBlock, uBlock, Kaspersky, ESET, background mining, real-time dashboard with a graph, and more.
Moonify – Monero (XMR) Miner
Moonify is a professional web mining solution for monetizing your traffic. It allows you to earn extra money from your site's visitors' CPU while they browse your content. In fact, it's not a background miner as a clear warning message notifies your visitors about mining activity (opt-in/opt-out). Apart from speed controls, it includes analytics for hashes, sessions, and devices, CPU mining, mining speed slider, and more.
Get Your Head in the Game
There you have it. These are the most popular ways you can use to your benefit. Learn them carefully and give it a go. You can take the best of several ways and combine them to make one amazing way of monetizing your cryptocurrency WordPress website.
Recap:
Save 4 Later
Email liked links to yourself