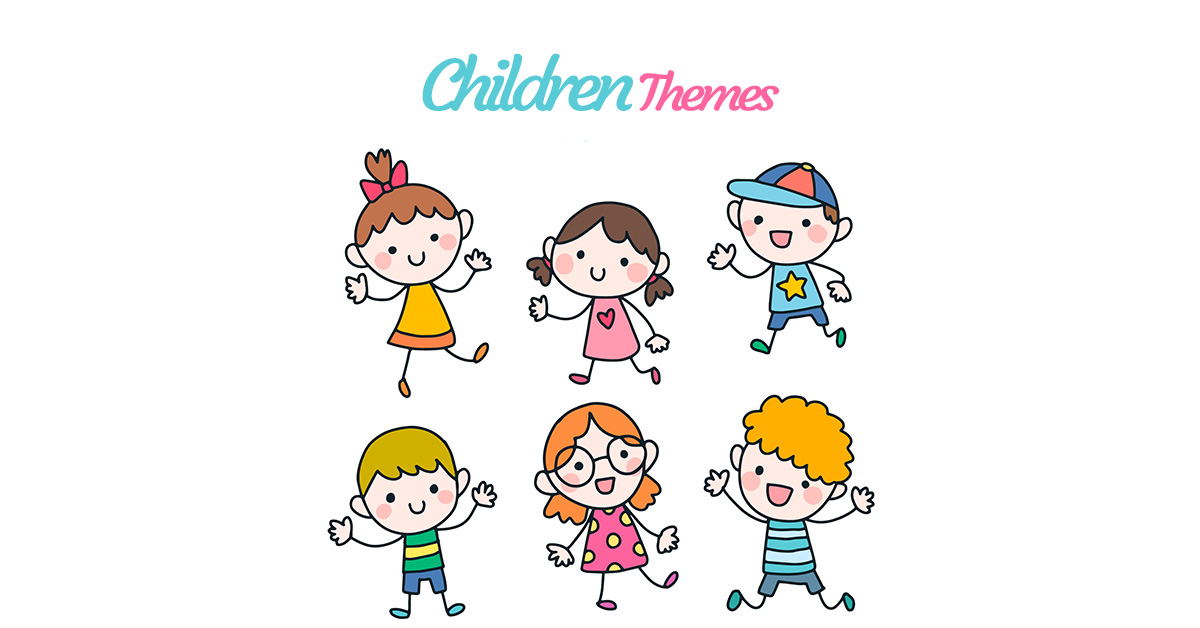 10 Best Children WordPress Themes Compared - 2023
Last modified: May 28, 2023
If you run a business that offers services for parents and their children, then you're going to need to get your business noticed. In many locations, you can have a lot of competition. This can be really good for the quality of the service, but it can make it difficult for you to make a comfortable revenue stream. Using one of the best Children WordPress themes can be a great way for you to get noticed online and drive parents to use your services for their children.
Why Do you Need One Of The Best Children WordPress Themes?
There are many reasons why your website needs to use one of the best Children WordPress themes. The number one is the potential difference in the user's experience. Research has shown that when users have a better time on your website, they are more like to purchase products and services from you.
There are numerous ways that a user rates their experience on your website. The top priority is speed. Websites that are slow can lose significant traffic. Just a four second delay can result in you loosing more than a quarter of your traffic. Other statistics have shown that for every second, your business loses about 7% of its revenue. In 2018, the average website in the US loaded within 8.33 seconds. So the average website is losing 58% of their potential revenue.
Another aspect is getting your website to match the expectations of your audience. For a children's website, you would expect pastel coloring themes, more Crayola style lettering and lots of images. In addition, you might need other aspects such as a portfolio or perhaps a place to display your staff pages.
When you use one of the specific Children WordPress themes, you will get a design that will have all of these considerations. They will be designed for your business' niche and will likely have demo sites that can have you up-and-running quickly. Finally, they can come at a good price with excellent features to help you market your website.
However, there are lots of great WordPress themes for children's services websites to chose from. Here are our pick of the best.
| # | Name | Image | |
| --- | --- | --- | --- |
| 1 | Astra | | More Info |
| 2 | Divi | | More Info |
| 3 | Jevelin | | More Info |
| 4 | Kids Play | | More Info |
| 5 | School | | More Info |
| 6 | Play School Kindergarten | | More Info |
| 7 | Creativ Kindergarten | | More Info |
| 8 | Kiddy - Children WordPress theme | | More Info |
| 9 | Peekaboo - Children WordPress Theme | | Not Available |
| 10 | Peggi - Multipurpose Children Theme | | More Info |
Show More
* This button will show the rest of the post and open up an offer from a vendor
Filter between free and paid
Astra
Astra is a great, versatile premium theme you can use for businesses that offer services for children. There are lots of great features that make it easy to customize, update and maintain. Even those with the most basic understanding of WordPress will find this a great theme to use.
To help you out, there are lots of great demo sites. These can be uploaded to your site within a few clicks and then be altered as you require. This includes adding new text, changing text properties and adding in your own images that are more relevant to your business. This can all be done with the excellent editor that means you don't need to know any coding.
Astra is a light-weight WordPress theme. This makes it fast, so users won't be waiting around for your site to load, regardless of their device. The look on both mobile and desktop is great, allowing for a stunning website that will impress guests and help to convert them into inquiries.
Astra Highlights:
Optimized for search engines, so you can be found on Google.
Enhanced for speed, so your site will load fast.
Lots of demo sites so you can start building your site quickly.
A strong community of support that will ensure you have help when needed.
Divi
Divi is one of the most widely used and highly recommended premium WordPress themes available. There are lots of features that allow it to take this title, including the excellent tools to help you optimize your website to get the most conversions. One of the best features of this theme is the split-testing feature. This allows you to test elements on your website to see which elements gain a better response from audiences. For instance, testing the color of your call-to-action button. When you find one design element is superior to the other, you can keep that one and test another element.
Divi also comes with its own powerful builder that makes building a website easy. No code is needed as you simply drag and drop the page elements into the design. Then you just change the content within the element. It's quick, easy, and even those new to website building can become an expert within moments.
To help you get started, there are lots of industry specific demos. All you need to do is select the one you want to use and then change the text and images for your website and business. If you need further help there is an active community of developers who can help you when you have a problem.
Divi is fully compatible with numerous other plugins as well, allowing you to build a functional and feature-rich website that will impress guests.
Divi Highlights:
Optimized coding so your website will load fast.
The theme is responsive, so it will look great on any device.
Great built-in Divi builder is an excellent website builder making building/customization easy.
Designed to be found on search engines with great SEO potential.
Jevelin
Jevelin is one of the best WordPress children themes available. It is highly customization and offers lots of options for you to create a website that will match you desires perfectly. The website theme is fully responsive, so no matter what device your visitors are using, the website will be viewed perfectly. Add to this, the coding is great, so you can be sure that your site will load quickly and rank well on search engines.
Like some of the other Kids WordPress themes, this one includes numerous demo sites for you to use and customise. In addition, there are other page templates you can use if you want to design certain pages yourself but want some help on other pages. To customize your website, there are lots of elements to add to your website. All you need to do is add the correct shortcode to the website.
The theme is fully compatible with laws across the world, especially GDPR laws that are relevant to anyone accessing your website from the EU, remembering that even if they don't buy from you, these laws are still applicable. Jevelin is also optimized for right-to-left languages, so you can have multiple languages on your website.
Jevelin Highlights:
Optimized for search engines, so you can drive traffic to your website easily.
The theme has clean code for quick loading on any device.
Jevelin has RTL and other functionality making it great for those who need to have their content in more than one language or a language that writes RTL.
Great demo sites to help you get started.
Kids Play
Kids Play is a great theme for those who are operating a pre-school, child care center or any other child-centric business. It has a playful design with lots of special features that enables you to produce a truly immersive experience. There are three sliders included within the theme, so you can create picture stories on any page you want. There is also a visual page builder to help you perfect your website's build and design.
The display of your website will be very impressive with this theme. The responsiveness of the website will allow it to be displayed perfectly on any device or screen resolution with perfect, crisp elements on the page.
To help you maintain your website, you can use the flexible, but highly powerful admin panel. In this, there is a powerful SEO admin section that will help you rank well on Google and other major search engines.
Kids Play Highlights:
Allow those who speak different languages to read your website by easily combining your website with WPML multilingual plugin.
Design the perfect contact us page so you can allow people to contact you exactly how you want them to.
Have automatic backups for your website, so you never lose your data again.
Create a unique website with any color scheme you want.
"

... and Scan WP's recommended web hosting company is... Cloudways (Click for special deal)

"
School
School is a great responsive website that is perfect for businesses and organizations that offer child-based services. It has a lot of impressive features, such as the clean, light design that allows it to be displayed perfectly on any device without the loss of speed. It also has custom post types that allow you to publish galleries to showcase current work. You can also have the option of promoting events on your blog page.
There are demo sites available to help you speed up the construction of your website. All you need to do afterwards is to add your own data to the website and insert your pictures. In just an afternoon, your website could be perfect.
Finally, you can improve the trust visitors have with your brand by adding ratings to your website. Users can rate your educational programs and let you know how you can improve your services.
School Highlights:
Optimized for search engines so your site can be found easily by users.
Fast loading for your users, so their experience is great.
Beautiful blog layouts to impress visitors with your content.
Unlimited color options so your website can match your branding without a problem.
Play School Kindergarten
This SEO-friendly kids WordPress theme is a great option if you're on a tight budget. It is perfect for kindergartens, nurseries, preschools, play schools, schools and other childcare businesses. It can also be used by businesses who offer children's online courses and other e-learning courses. Those that operate other training centers, could also use this theme.
The theme has great, fun images, that you would associate with some of the best Children WordPress themes. There are some great colours that are incorporated into the design of the theme as well, which add a little more attraction to the website, especially for younger audiences. The colour scheme and design are great and look fresh.
To help with design, you can use shortcodes in areas of the site to add your customization. You can also change the background, logo, taglines and colors. You can also connect the theme to your various social media channels.
To help you reach a wide audience, the theme is fully responsive. It can also be viewed on any browser and still have a great look. In addition, it is translation ready, so you can have your website written in several languages to suit an audience from many different demographics.
Play School Kindergarten Highlights:
Fully optimized for search engines so you will be found on Google and other search engines.
Can be viewed on any browser, so you can reach a greater audience.
Lots of great colors and pictures to really interact with your target audience: children.
The theme is good for speed, so user experiences are great.
Creativ Kindergarten
This theme has many features that make it a great option for businesses on a tight budget, particularly those that offers services related to children including care or education. It can also be used for businesses offering services like craft sessions and play centers.
The look of the theme is clean and yet friendly for the intended audience. You can also have a website that is full width, like one of the websites featured here. Or you can have a theme with a sidebar.
Creativ Kindergarten Highlights:
A free WordPress theme, great for those on a tight budget.
Flexibility in the final design of your website: full width or sidebars, the choice is yours.
Clean code, so website can load quickly.
Great design for children, so can be appealing to your audience.
Kiddy - Children WordPress theme
This is a powerful Children WordPress theme that can be used for numerous kid-orientated businesses and websites. It has a colorful design that has flat graphics and lots of white space. The white space allows for your important images and text to standout on the page for users to specifically see the information that you want them to see. This can help you to improve conversions.
The theme is fully responsive and looks great on any device. It has great retina graphics. The design of the theme allows you to choose between various header types, wide and boxed layouts and use any color you want to. The theme also includes a drag and drop content editor, allowing you to easily customize the final site design.
Kiddy, is great for those who want to have a website without the need to know any code. The current code is clean and efficient. Allowing for fast loading speed and higher page ranking. Your site will therefore be found on search engines and give a great user experience.
Kiddy Highlights:
A playful and colorful design that will be perfect for your target audience.
Great SEO and page speed, so your site can be found and provide a great experience.
Customization using any color and lots of options to make your site unique.
Can include a timetable, so you can give lots of information to your audience.
Peekaboo - Children WordPress Theme
Peekaboo is a fully responsive WordPress Children theme that will allows you to build a powerful, colorful and fun website designed to promote your business. The site looks great on any device, whether it is a mobile or desktop. Therefore, even if your audience are on the move, you can showcase your business in style.
To help you design your website, there is a great set of theme options in an easy-to-use admin panel. So, if you don't know any coding, this is a great option for you. There are lots of options when it comes to customization, including unlimited color choices and two great slider options. Finally, add other elements to your website with the help of shortcodes. You can add buttons, tabs, sliders and more with shortcodes.
Peekaboo Highlights:
Great coding, so your website will rank well on Google and load quickly for visitors.
Localization and translation ready, so you can reach all demographics.
Great for those on a mobile and a desktop.
Sticky menu option, so your customers can navigate your website with ease.
Peggi - Multipurpose Children Theme
Peggi is a multipurpose WordPress Children Theme that is great for numerous children based businesses. It has a lot of practical elements, like a search for a service function and user pages. It is fully compatible with numerous other WordPress plugins, so you can be sure that your website can become powerful, full of features.
If you want to take payments on your site there are no problems here. You can take payments for products, services or booking directly on your website, helping you to save time.
The theme is fully responsive and looks great on many devices. In addition, it is coded perfectly for search engines.
Peggi Highlights:
No coding needed, so you can build without any experience.
Slider options available, great for creating interactive content.
Optimized for search engines so your website can be found on Google.
A fast website theme, so user experience is great.
Final Word: The Top 10 Children WordPress Themes 2019
There are lots of great Children WordPress themes. Which one you choose will depend on your needs and budget, but with the list above, you have a wide variety to choose from. Just be sure that you are selecting one that matches the expectations of your audience and can match your brand's look and feel. Which of the themes will you choose?
Recap:
Save 4 Later
Email liked links to yourself