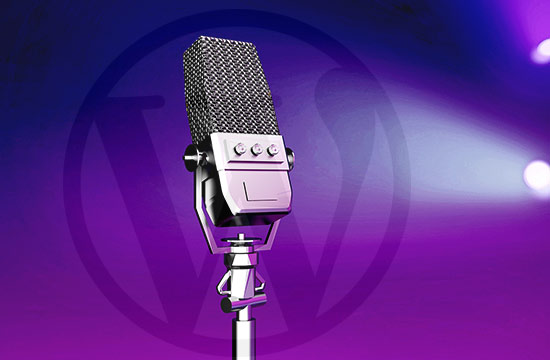 Top 4 Audio Player WordPress Plugins Compared - 2019
Last modified: October 17, 2019
When it comes to adding external files on WordPress websites besides images, we all start to scratch our heads for a minute. We all know that adding video files directly into our WordPress websites is considered bad practice and we've all embedded a youtube video on our site at one point or another. But what happens when it comes to adding an audio file? Is there a plugin that takes care of that or should I use a plugin? Well, it just turns out that there are multiple audio player WordPress plugins out there, so here are the best ones.
4 Must Have Audio Player WordPress Plugins
Filter between free and paid
Disk Audio Player For Wordpress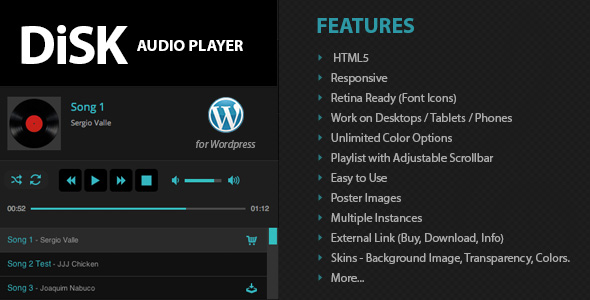 Disk Audio Player is an MP3 player WordPress plugin that can be styled basically any way you want, due to its unlimited color options and if you have the need for it, you can even add a playlist with a nice scrollbar.
Here are some of the features they offer:
Built with HTML5
Built with responsive design
Works on any device (desktop, mobile, tablet, etc.)
Unlimited color options
Playlist with a scrollbar
Can use multiple players on a given page
Autoplay option included
Basically, anything you would need in a audio player WordPress plugin.
WavePlayer - WordPress Audio Player with Waveform and Playlist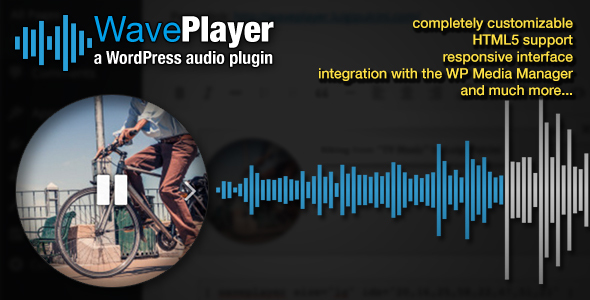 WavePlayer is a successful HTML5 & responsive audio player WordPress plugin which is fully customizable to your own needs. WavePlayer's interface waves change depending on the track that is being played.
WavePlayer allows you to host your own audio files on your WordPress website (unlike a lot of other audio player / mp3 plugins) and customize it accordingly.
WavePlayer Features:
Works for music / podcasts or audio tutorials
Responsive and stylized interface
Add audio files with WordPress' media manager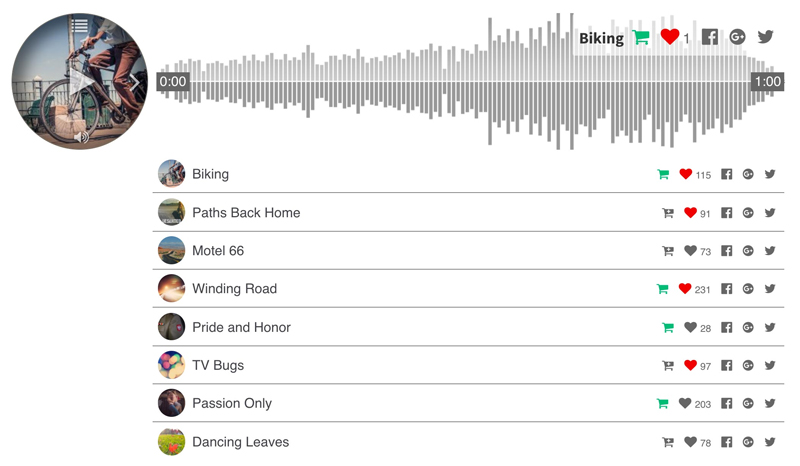 The usage of WavePlayer is really simple. In order to create a new player on a post or page, all you need to do is add your audio file to WordPress through the media manager, on the left sidebar you will see a "create Waveplayer" button, when there just add the relevant files and save your post / page.
Simplicity at its finest!
Compact WP Audio Player
Compact WP Audio Player as its name suggests is a small but efficient Audio player for your WordPress website. It's an HTML5 & flash hybrid which in itself is not the best option these days but for an audio player plugin it will do. Especially since it's a free plugin. The plugin supports:
Features:
Light weight
HTML5 – works on IOS devices
Works on all modern browsers
Responsive design
Usage via shortcode
Autoplay option included
Here is how the plugin looks in action:
Hero - Radio Player With History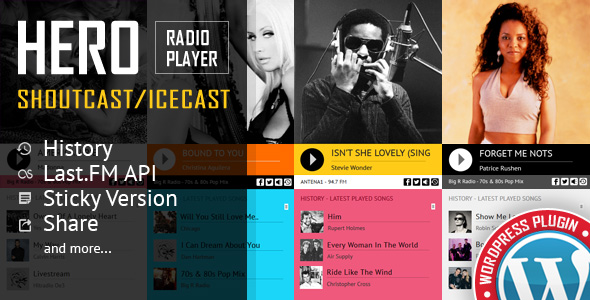 Hero has an added value in terms of playing audio files, it can stram radio too. Hero will play ShoutCast and IceCast streams directly on your WordPress website.
Here is a video tutorial about how to use the Hero plugin:
Leading Audio Playing Features:
Shoutcast & Icecast radio streaming support in mp3 format (AAC is also  enabled but only on browsers that support it)
No need to manually add the track name or image, it all happens automatically
Responsive – works great with all browser and device sizes
Compatible with both IOS and Android devices
Fully customizable
Sticky audio player version included if you want
Includes Shoutcast & IceCast history plays
Hide the history if you want
Add as many players on a page as you want
Show or hide any button you want
Conclusion
The above 4 audio player WordPress plugins are all you will ever need in terms of playing audio on your WordPress website or in terms of streaming radio on your site. These 4 plugins have you covered. Take a look and see which one fits your specific needs and go with it.
Have any other options? Share them in the comment section.
Save 4 Later
Email these links to yourself