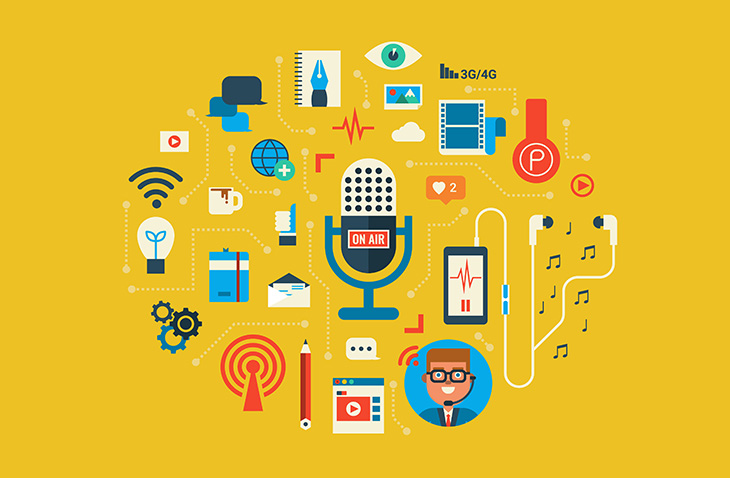 10 Best Podcast WordPress Themes Compared - 2023
Last modified: May 28, 2023
Podcasting is a very popular way for you to get your main message to your audience. The audio aspect of podcasting is super easy for audience consume on the go via their phone or recording them on tapes/discs to listen in the car or on other home devices. However, to make sure that you're promoting your podcast correctly, you need to avoid relying on your hosting service. You need a website that has one of the great Podcast WordPress themes on it.
Why Do You Need A Website With One Of The Best Podcast WordPress Themes?
You might wonder why you need a website with a great Podcast WordPress theme when you're podcasting. The first thing to note is that your podcast host, whether apple or another brand, is going to do little to promote you. That is, unless you become popular. And once you've got to that point, the impact of their promotional efforts is minimal as your audience already knows you.
The main purpose of the website is that you are able to use it as a way to attract audiences through SEO. Google can't analyze spoken word within podcasts. Therefore, you need to use text for SEO, as well as other elements, which requires a good website. WordPress is a very popular website building platform because it is so versatile and with the best Podcast WordPress themes on offer, you could create a site that can promote your podcast.
So which themes do we recommend for your new project?
| # | Name | Image | |
| --- | --- | --- | --- |
| 1 | Astra | | More Info |
| 2 | Divi | | More Info |
| 3 | Podcaster - Multimedia WordPress Theme | | More Info |
| 4 | Castilo - Audio Podcast WordPress Theme | | More Info |
| 5 | Viseo | | More Info |
| 6 | WpCast | | More Info |
| 7 | Podcaster SecondLine | | More Info |
| 8 | Podcast | | More Info |
| 9 | WooStroid2 | | More Info |
| 10 | Singum | | More Info |
Show More
* This button will show the rest of the post and open up an offer from a vendor
Filter between free and paid
Astra
This is one of the most versatile themes available for WordPress. It can be effortlessly made into a Podcast promotion platform with the podcasts able to be integrated into the website, so users don't need to go to the host to listen.
When creating your website, you can use one of the many demos that are available. Some of these have been created by the developers, others by the supportive community. Or you can create your WordPress website from scratch. Once you've got the basic design, you can customize the final look of your website with ease thanks to the excellent WordPress customizer.
The theme is super-lightweight. This makes it fast, which is useful with audiences these days. If your site doesn't load within four seconds, you're likely to lose about a quarter of all your visitors. Plus for every second that your website takes to load, you'll lose 7% of your revenue.
In addition, this theme has been optimized perfectly for search engines, so you can be sure you can be found on the Google.
Astra Highlights:
Fantastic theme that is super-fast for better user experience.
The theme is perfect for search engines, with optimized code for ranking.
High level of customization options that allow you to create the perfect website.
Is compatible with lots of the best WordPress plugins so you can make your website super functional.
Divi
If you want to use one of the most popular WordPress themes, then you should consider Divi. Many premium brands use this theme in their website design and there are many reasons why this is so. Firstly, it is super-easy to use and customize. There is the Divi Website builder, that offers you lots of great additional functionality. If you need some help with the design, then there are demos you can use on your website. Or you can reach out to the community that will help you.
Divi has lots of great functions for a podcasting website. Including ways in which you can integrate your podcast into the website design, to allow guests to listen or download your podcast on your website. Divi is also a fast theme. Therefore, customers won't abandon your site. This helps with user experiences and Google rankings.
Divi Highlights:
Great ranking potential with the right keywords and SEO technical skills.
Highlight customizable theme that includes lots of elements to help you create the perfect WordPress website for your next project.
Incorporate your podcasting (and videos) directly into your website.
Can be used in 32 different languages and can support RTL languages.
Podcaster - Multimedia WordPress Theme
Podcaster is a one the best specialist podcast WordPress themes available on the market. It is simple to use and you can upload and manage your podcasts in one place. There are four main styles for you to use when building your website so you can start building your website with a look and branding you want. Personalization is really easy for anyone, even those without any technical knowledge. You can change fonts, colors, logos and the header section of your website.
On the home page you can add links to your archive of episodes and promote the latest episodes all in one place. This helps you to increase the number of people who start listening to your podcast by reducing the number of people who abandon before starting an episode. Your main page can also include a feed for your blog articles, to help people start reading your content. Finally, you can custom build a footer section to direct visitors to key pages on your website.
When uploading a new podcast episode, you can add a feature episode image, description of the episode and any show notes. To help with your podcasting, the theme has been optimized to be used with most premium and top-used podcasting plugins. The theme developers recommend Seriously Simple Podcasting.
Podcaster Highlights:
Optimized for SEO and speed.
Can promote podcasts on the front page.
Great optimization options to create a great brand.
Works with all the major podcasting plugins for WordPress.
Castilo - Audio Podcast WordPress Theme
Castilo is a theme that was designed specifically to help entrepreneurs, like you, to launch a WordPress website when it is associated with a podcast. It is designed to specifically act as a host and publisher of your podcast. There are lots of great features to help you including a full RSS feed support to enable you promote you website to audiences over a longer period of time.
One of the best features for this theme is that it allows you to import episodes of your podcast that have been published elsewhere. This is great if you don't want to handle the hosting of your podcast, but would rather like to have your website as a marketing platform for it, you've got that option. This process can be completely automated, so you don't need to do much once you've set the settings.
The design for the theme is aesthetically pleasing. Audiences will be impressed by any of the many template covers that are available in the theme. The stylish podcast player looks amazing and makes it easy for your audience to listen to your episodes no matter what device they're on.
Castilo Highlights:
Social media integration is included within the theme.
You can add email newsletter signup forms to help customers subscribe to your emails.
A visually impressive theme design.
Host episodes on your own website or import your episodes from another host.
"

... and Scan WP's recommended web hosting company is... Cloudways (Click for special deal)

"
Viseo
This is a great flexible WordPress theme that is perfect for many media projects, but is one of the best podcast WordPress themes available. The demo site used for the theme can be imported directly into your website, making it a quick and easy to setup WordPress website, perfect for those who aren't very technical or want to build a website in minutes.
One of the main features you'll notice on the theme's demo site is that it has a full screen slider. It is designed to preview you latest episodes or most popular episodes. The homepage slider is great at grabbing attention straight away as the visitor lands on your website.
Below the slider, you can add excerpts from the latest articles in your blog or news sections. This can include a featured image, date of publication and author name. You can also add in category sections that help visitors to search for content that they're more interested in. For instance, if you're marketing podcaster, you can split episodes into email, blogging and social media categories and have these on the front page.
To help you customize the website, so you get a more unique feel to the website, you can use the included drag-and-drop page builder to change the look of the website. This can also help you create a web design from scratch if you have the confidence. Customization includes the color schemes, so you can make your website match your current branding.
Viseo Highlights:
Optimized for all people who publish media content like podcasts and videos.
Search engine optimized to help you be found on Google and other search engines.
Clean code to help you have a fast website.
Display your best/latest episodes directly on the front-page of your website.
WpCast
WpCast is a great purpose-built podcast WordPress theme. It has great support for the best podcast networks, so you can host your podcast on other sites and market it on your own website. The theme can integrate with Apple Podcast, Google Podcast plus other platforms and it take just moments to publish episodes on these sites onto your website.
As well as collecting episodes from these hosts, you can also inform these hosts that you've published another episode on your own website.
This theme is compatible with many of the top podcasting plugins including PowerPress, Libsyn and Blubrry. Therefore, you can create a great platform for your podcast.
The designing elements of this theme are great as well. There are two key homepage layouts, they look aesthetically pleasing. If you're using the default configuration, you can even promote numerous episodes of your podcast directly on the front page thanks to the large podcast slider. The episodes that you promote can be your best, most listened to or the latest episodes.
If there are numerous members of your podcasting team, then you can promote them as well with the team member profile areas. Customization of your website is easy thanks to the drag-and-drop page builder that is integrated into the theme.
WpCast Highlights:
Apple and Google Podcast ready.
Lots of features to help you promote your podcasts on the website.
Search engine friendly so your site can be found on Google searches.
Series manager to help you organize your episodes on the website.
Podcaster SecondLine
Podcaster SecondLine is a great theme for those who are on a tight budget. It is free but still has many features that will help you promote your podcasts to a larger audience.
The theme allows you to share many different media including audio and video.
Podcaster SecondLine Highlights:
A free WordPress theme to help you get your podcasting WordPress website off the ground.
SEO friendly.
Optimized for speed for better user experience.
Developers offer technical support.
Podcast
This fun, good looking theme is great for those who want to use one of the best podcast WordPress themes, but are tight on funds. The free theme is specifically designed for podcasters, YouTubers and others who work with media. The theme comes with lots of color options including: black, blue, green, orange, purple, red and teal. Therefore, there are lots of options to help you match your website to your current branding.
In addition, you can customize the location of the sidebar. Place it on the left or right of the screen, depending on your preference.
Podcast Highlights:
A fun, free podcasting WordPress theme.
Lots of color options for you to help you match your brand.
Change the position of your sidebar, position it on the left or right of the screen.
Optimized for speed and search engines.
WooStroid2
One of the great things about podcasting is that it can be used for helping to promote other business activities. Many brands use podcasts to help sell services and products. One of the best WooCommerce themes that can also be used for your podcast marketing WordPress website is WooStroid2.
This theme has lots of different templates that can be used for your design that are easy to customize, but are also very aesthetically pleasing in their own right. You can customize your website thanks to any one of the WordPress page builders that are available. Therefore, you can create a unique look and infuse both podcasting and your other business aspects together.
This theme has numerous functions and features that make it a great option for your website project. It is WooCommerce compatible and can be used with the Professional Jet plugins. This great plugin can help you with your SEO, security and other aspects of your website management.
Woostroid2 Highlights:
Can also be set to a full width website, allowing you to create a great looking website.
Great support from the development team, so if you have a problem, it can be resolved quickly.
Get the right skin applied to your website with just a few clicks. Numerous options available.
Get your website discovered on Google and other search engines thanks to the SEO-friendly code and design.
Singum
A great WordPress theme that is designed specifically for podcasters. There are lots of great features for your website that make it perfect for hosting, publishing and marketing your podcasts. The theme creates lots of pages that specifically designed for certain pages on your website. For instance, there are about, episode, author, news and contact pages that are visually stunning and highly functional.
To customize the website, you can use the Elementor page builder to drag-and-drop elements on to your pages. To help you rank and for user-friendliness on mobile devices, all finished designs are mobile-first.To help you succeed on your website, you are given tons of free images that are applicable to many different niches. You also get the Jet Elements plugin included.
Singum Highlights:
SEO-friendly design that will help you want on Google and other search engines.
Valid and clean HTML code that helps with search rank, speed and user experiences.
One-click installation to help you build your website within minutes.
Visually impressive designs to help you grab the attention of your audience quickly.
Final Thoughts: What Are The Best Podcast WordPress Themes?
There are many great podcast WordPress themes that you can use to help promote your podcast episodes across the internet. It is important to have a WordPress website to do this because you can't rely on third parties to do this for you. By using a website, you can link email marketing, SEO and social media campaigns to a website that will help keep your episodes in the mind of your audience. Plus, you can use your website to sell products/services or ad space to help generate a revenue stream that can make your podcasts more profitable.
Which of our selection of podcast WordPress themes will you use?
Recap:
Save 4 Later
Email liked links to yourself