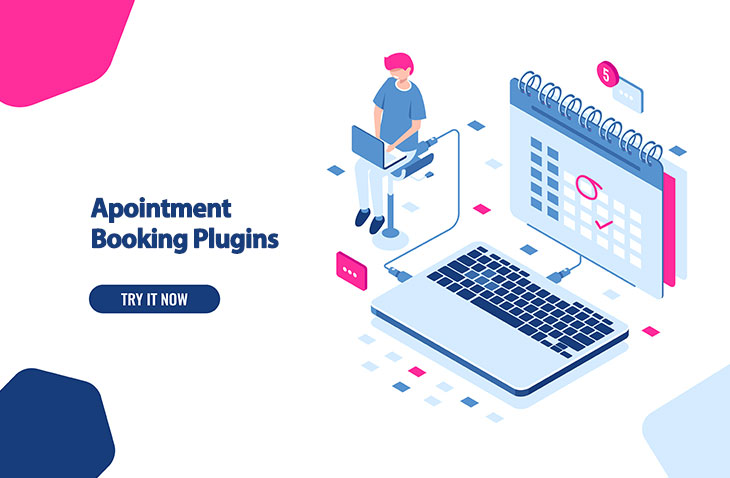 The Top 10 WordPress Appointment Booking Plugins Compared - 2020
Last modified: January 13, 2020
There are many businesses that need customers to book appointments. This might include masseuse, fitness coaches, business coaches and others. Appointments can be managed manually, by taking bookings over the phone, but this can sometimes cause challenges and the chance of mistakes is high. However, there is another option, and that is to use one of the many WordPress appointment booking plugins.
What Can WordPress Appointment Booking Plugins Do For Your Business?
There are many ways that your WordPress website can be improved by one of the WordPress appointment booking plugins. Firstly, it can make management of your schedule easier. No longer do you have to rely on entering information individually. Instead, you can have your website do the hard work for you. In addition, some of the best plugins can be compatible with WooCommerce to take payments. Some can do it themselves.
Another benefit is that it can be a way to showcase how popular you are. If you have some spaces booked up it creates a social proof that your services and time is valuable and others want it. Therefore, this can help to increase conversions. The more you're booked up, the higher the urgency you can create for your services and the higher your conversion rate will be.
There are numerous options available for your business if you need a WordPress appointment booking plugin. So, here are some of the best available and our thoughts on them.
Filter between free and paid
Booked
Booked is a simple plugin that will enable bookings to be made on your website with ease. Recent updates to the core code have also made this plugin one of the most versatile and effective. You can now take payments via WooCommerce. This can be a great feature as those who have paid are less likely to not turn up and it ensures that you're being paid for time that you're reserving for customers.
In addition, if you have booking agents, they will have their own profile screens in which they can manage their incoming appointment requests. Each booking agent can have their own calendar and each calendar can have its own unique color scheme for ease of management or just for aesthetics.
When it comes to managing your appointments, this plugin has some great options. Firstly, you can see everything on a variety of apps including Apple Calendar and Outlook. Those who want to book appointments can do so by registering on the site or doing so as a guest, making it easier for your customers. If they do register, they can have a profile to help you manage the services offered to them better.
Booked Highlights:
Get custom dates/times for available booking slots.
Customer profiles.
Take payments when the customer books their appointment.
Allow staff to have their own calendars and take their own books.
TeamBooking
This is a great little booking plugin that has lots of features to make your website highly functional and make appointments a profitable business for you. You can use Google Calendar to create your availability, and manage reservations, while these are promoted and booked by users on your website. There is a function where you can collaborate with other users, which is great if you have staff or others who use the same room, equipment, etc..
There is a lot of customization on this plugin including setting the behavior of the booking process, the style of the calendar and other details for you to look at. When inserting this information into your website, the ease at which it can be done is excellent. There is very little hassle in the input and users will find it easy to request an appointment with you.
In addition, you can take payments via PayPal and Stripe, making it easy for you to earn a significant and reliable income from your appointments business.
TeamBooking Highlights:
Create your own reservation form to fit your brand and request only relevant information.
Offer promotions and discounts on your appointments.
Time zone conversion for those who want to operate an international appointment setting.
There is a complete notification email system that can be customized to your specific requirements.
Bookmify
Bookmify is a simple, but functional and powerful booking plugin for your website. There is a free version of this plugin, but we're highlighting the Pro version because it is a much better offering for most businesses. The pro version can be used in many different industries and for many niches due to its modern versatility that offers plenty of options but also powerful functionality.
For instance, you can set up email notifications and reminders for both customers and staff, which is very good if you're managing a large set of employees who have a lot of different appointments. This is done automatically, so you don't have to press anything to send out the information. Employees can also have their own login details so they can manage appointments better, and also any time off that they have.
Your customers will also appreciate the easy-to-use booking forms that can be customized. You can also increase the value of appointments by offering an unlimited number of add-ons to the services being booked.
Payments for appointments, and any add-ons, can be made via PayPal or Stripe, making it a great option to get paid early without a high payment processing charge.
Bookmify Highlights:
Request the information you want with custom fields in the booking forms.
Manage multiple locations and assign employees to appropriate locations.
Sync bookings with Google Calendar.
Scalable so you can have unlimited employees, users and resources.
Book an appointment online Pro
Book an appointment online Pro is an excellent WordPress appointment booking plugin that incorporates some of the best features into one nice package. Its modern design will impress guests to your website with the aesthetically pleasing design as well as the ease in which they can book an appointment. Like many other booking plugins, this one gives you the ability to setup staff profiles and individual appointments. This can allow customers to book with their favorite person and for staff to manage their time off.
The design is completely responsive, so will work well on mobiles as well as desktop. The plugin is also great to use with sites that require RTL functionality. If you operate numerous branches, you can also manage these and the staff who work within them.
To prevent double bookings from occurring, the software checks, and only offers, available time-slots. You can also set several types of working schedules such as regular working hours or shift work. Hours can also be displayed in 12 hour or 24 hour format.
To help remind staff and customers about appointments, this system not only includes email reminders, but also SMS notifications. So, this is a great plugin for those who are on the go. Payments can also be taken on your website via PayPal.
Book An Appointment Online PRO Highlights:
Responsive design so will look great on any device or screen size.
Easy to use for you, staff and customers.
Manage multiple locations and staff in one dashboard.
Staff can mark holidays and time off.
WP Booking Calendar
For those looking for a more basic plugin, this might be the solution for your website. It makes any available time slots for a venue or your services visible to the user. The user can then reserve a time slot, or more than one, if they would like. As an admin, you can set numerous calendars for different venues or activities so you can separate what is necessary. Time slots can be set and each one have a specific duration, so if aerobics is half-an-hour but cross-fit is one hour, you've got the option to set those.
In addition, you can set days which you aren't offering services so users can book. And to make sure that you aren't being booked too far in advance, there is an option to restrict how far in the future people can book services/rooms.
Verification of bookings is also a pretty big part of managing your time. Luckily, this plugin offers you various methods for verification such as email or manually over the phone. The plugin is very easy to use and those with no coding experience or expertise should be able to manage the plugin without a problem. You should also be able to easily set up payment for books through PayPal.
WP Booking Calendar Highlights:
Customize the number of reservations available per time slot, perfect for those who operate a class system.
Set mandatory fields on the booking form.
Prevent spam bookings with the Captcha.
Confirm booking with emails or SMS.
WooEvents
If you host events and want people to book on them to ensure that you aren't overcrowded, or to charge an entrance fee, then you could use the WooEvents plugin. This plugin connects with the popular eCommerce plugin WooCommerce to sell tickets and bookings through multiple payment interfaces. The advantage of this plugin is that it is great if you have a venue that others can host events at, or if you want to host a website that advertises other events across the country and people can sell tickets through your system. This is because users can submit their own events for your approval and you take a commission of the sales.
However, there are many options that make it perfect for a small business who wants to take bookings for its own facilities/staff. For instance, you can limit the number of bookings for a specific event/time slot. You can also add urgency by stating the number of people who can attend and how many spaces are left for particular events. And you can list past and future events with ease, so people can see if there are other times which they might be able to make it, should they be unavailable for certain time slots. If you host free events, this is supported too.
Place the calendar for the events/available sessions anywhere on your website with the use of the shortcode. This can include in the widget area, though the sizing might make it harder for some users to read.
WooEvents Highlights:
Modify the look of certain aspects with Visual Composer.
Send confirmations of booking success or cancellation.
Create events with high profile speakers to improve interest in them.
Increase conversions with urgency by limiting number of visitors allowed and showing a warning of how many spaces are left.
Booking Calendar
One of the most used booking plugins by sites online, this is one of the versatile free plugins that you can have. All you have to do is to place your availability and advertise your business and you can take books for your service immediately. And all of this is within a clean and smooth interface that won't slow down your website.
It only takes a minute for your website visitors to check the availability of your services and then make a booking. There are also different ways you can extend the functionality of this plugin to make it more aligned to the needs of your business.
The interface and control is great, especially for a free plugin. You can set what days aren't available and configure the style and colors of the calendar very easily. The plugin can also be integrated into any page or post, so you can advertise it anywhere you want with a simple shortcode.
Booking Calendar Highlights:
Free basic plugin to help you manage your appointments easily and cost effectively.
Premium addons available to extend the functionality of your website.
Supports Captcha to prevent spamming of the booking system.
Redirect those who have completed the booking process to a unique thank you page.
Booking Package
This free WordPress appointment booking plugin is a great choice for those who want to manage their bookings in a timely and effective manner. You can create an unlimited number of booking calendars for your site, so if you offer more than one service or have staff members, you have a simple way to control who is available and who is not. In addition, if a mistake has been made and the customer contacts you, there are options to enter a booking and make changes to the details.
When a booking is made, the customer will receive a confirmation email and you will be informed by an automatic email too. This also happens should someone cancel their booking. If the customer also wants to make another booking after one appointment, they don't need to log on. They can tell you and you can make the booking for them through the admin dashboard.
In addition, if you want to limit people booking too close to a potential appointment time, you can set a deadline for bookings. Finally, you can set the thank you page for when a booking is made that the visitor is directed to.
Booking Package Highlights:
Get paid for bookings as they are made.
Free WordPress plugin to help manage your schedule.
Take manual bookings in person or on the phone as well as taken directly on the internet.
Registered users can save time when booking future appointments.
AppointFox
AppointFox is a great WordPress Appointment booking plugin for businesses who want customers to book appointments. All the aspects of the appointment booking is automated. The booking form is easy to use for yourself when setting it up, and also for your customers using it. There is easy integration with Google, allowing you to sync the appointments with Google Calendar so you can avoid double booking.
You can take group bookings and payments without too much trouble online. The plugin has a sleek design that is highly responsive so can be used on mobiles and desktops.
AppointFox Highlights:
Group bookings available.
Sync bookings with Google Calendar.
Take payments via PayPal.
Is ready for translation if needed.
Webba Booking Lite
This simple, and easy to use, booking system is perfect for professionals to manage their time better. It allows customers to book online with ease, without too much hassle or configuration on your part.
However, there are lots of ways to customize the look of your booking system. There are 80 appearance options for your business and 79 design presets. The calendar is fully responsive, so it will appear great on any device. Business owners can also deny appointments by clicking on a single link within the notification email sent automatically.
Webba Booking Lite Highlights:
Free WordPress plugin to help you start collecting bookings immediately.
Can reject requests for appointment from within notification email.
Responsive so will display well on any device.
Can add appointments directly into the backend, so you can take telephone and in-person bookings too.
Final Thoughts: The Best WordPress Appointment Booking Plugins
There are many different WordPress Appointment Booking Plugins that you can use. All have different advantages that might take your business to the next level. What you need to be sure of is that you are using the WordPress appointment booking plugin that is best suited for you and your customers.
Save 4 Later
Email these links to yourself