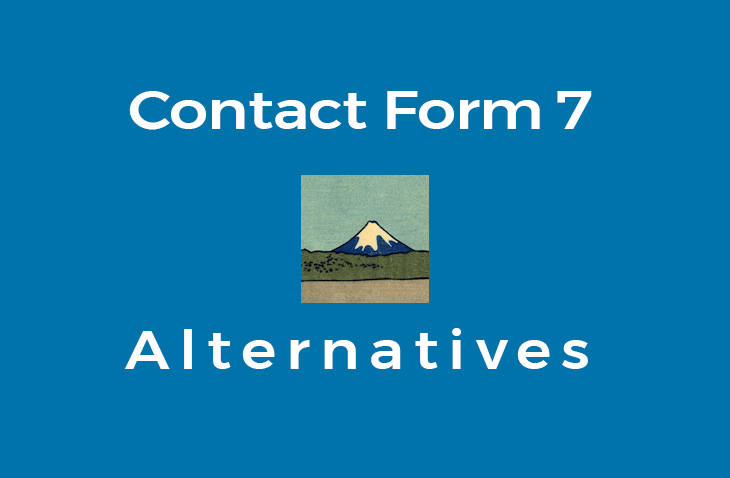 Best 12 Contact Form 7 Alternatives (CF7) Compared - 2023
Last modified: July 18, 2021
If you are reading this post then you probably already have a WordPress site that is up and running and operational. As people built their websites and launch them they start to realize they want or need more tools and elements. For instance, maybe you want more security or maybe you want to add an eCommerce section on your site. Well what do you do if you need extra tools? You add a WordPress plugin. And next to WooCommerce (for your eCommerce needs) and WPML (for any translating needs you may have), contact form plugins are almost equally popular and important.
Now if you are already familiar with WordPress you have probably explored and heard of some different options. For instance, Ninja Forms and of course Contact Form 7. Contact Form 7 is probably the most popular WP plugin that is specific for just creating forms. But what if you want something a little different from the mainstream? Well that is why we have created this list of Contact Form 7 Alternatives, just so you can see what else is out there.
Contact Form 7 Alternatives Can Create Stunning Forms
Now just because a plugin isn't popular doesn't mean it isn't as good as another. Contact Form 7 is a super popular plugin but it just may not be the right fit or what someone is looking for. If your tech skills aren't so good you will need a plugin that is easier to use than someone else or if you need multi page forms it is possible that not every plugin will be able to help you create them. Since there are so many options, we wanted to make your life a bit easier and bring them all to you in one spot. So, let's now check out these Contact Form 7 alternatives so you can start creating your forms.
| # | Name | Image | |
| --- | --- | --- | --- |
| 1 | RegistrationMagic | | More Info |
| 2 | Gravity Forms-Powerful Form Builder | | More Info |
| 3 | WPForms-Drag and Drop Form Builder | | More Info |
| 4 | Visual Form Builder-Free Form Builder | | More Info |
| 5 | Form Maker-Drag and Drop Contact Form Builder | | More Info |
| 6 | Formidable Forms- WP Form Builder | | More Info |
| 7 | Contact Forms Builder-Fully Responsive Contact Form Builder | | More Info |
| 8 | Form Craft-Drag and Drop Form Creator | | More Info |
| 9 | Contact Form-Create Unlimited Contact Forms | | More Info |
| 10 | Happy Forms-Encourage Conversation | | More Info |
| 11 | Ninja Forms-Powerful Forms Builder | | More Info |
| 12 | Quform-Powerful Form Builder | | More Info |
Show More
* This button will show the rest of the post and open up an offer from a vendor
Filter between free and paid
RegistrationMagic
RegistrationMagic is another great WordPress form builder and user registration management plugin. This registration form plugin comes with multiple unique features. The plugin is easy to use and set up. In addition to that, it requires zero coding to set up and publish the forms. Using RegistrationMagic you can create WooCommer forms, Payment froms, Contact forms, Registration Forms, Pop-up Forms, and more. Further, the plugin is loaded with 90+ Powerful Standard Features and 50+ premium extensions.
You can customize form fields, create new fields, add a payment option to forms, and much more with this plugin. The plugin is exceptionally user-friendly as well. RegistrationMagic also comes with various integrations such as ProfileGrid Integration, EventPrime Integration, PayPal, Stripe Integration, and more. It also has a set of 56 custom field types to choose from.
RegistrationMagic Highlights:
SEO optimized
Form Analysis
PDF Branding
Multi-Page Form
Customizable MagicPopup
Default Forms
User Directory
Gravity Forms-Powerful Form Builder
First up on our list of Contact Form 7 Alternatives is a plugin you may already be familiar with, Gravity Forms. Gravity forms is jam packed with tons of tools and features for you to quickly and easily make your own WordPress forms. All you need to do is: select your fields, configure your options, and then embed your forms into your WP powered site.
Gravity Forms also has tons of addons that can be integrated with it such as: PayPal, MailChimp, Authorize.net, Stripe, Coupons, Survey and many more. Having a professional contact form can help grow your business so checkout Gravity Forms to get your contact form up and running.
Other Features of Gravity Forms Include:
Conditional logic
Responsive design
Email notifications
File uploads
Calculations
More than 30 ready to use form fields
WPForms-Drag and Drop Form Builder
We move on to a free form creation option called WPForms. This form builder is also a very powerful choice form creating forms for your website. What is so great about it is that WPForms has a drag and drop tool that you can use to build your own unique forms. All you have to do is drag items around and drop them wherever you want to on your form, it is actually that simple.
You will have the ability to create different kinds of forms such as: subscription forms, payment forms, contact forms, and many more. WPForms is considered to be one of the most user friendly WordPress form builders available due to its pre-built form templates and workflows. This form builder is totally mobile responsive which means that it will be able to work correctly even on teeny tiny mobile phone screens.
Other Features of WPForms Include:
Search engine optimized friendly
Surveys and polls available
Smart conditional logic
Spam protection
Multi-page forms
Post submissions
Visual Form Builder-Free Form Builder
The Visual Form Builder is another free WordPress plugin that can, as its title suggests, help you to build forms visually. It will give you the tools to manage and build all different kinds of forms on your WP site in one place. Similar to WPForms, Visual Form Builder does have a drag and drop functionality but this one is just for reordering elements on your form. You will be able to do things such as create customized confirmation messages and email notifications.
And while in order to use this plugin correctly and successfully you do not need to have any coding knowledge or experience, you can still use your own CSS if you want to. It has a shortcode as well that will allow you to include your form on any post or page on your website. With this plugin you can also do one click form duplication to easily copy a form you have already saved.
Other Features of the Visual Form Builder Plugin Are:
Confirmation email receipt to user
Redirect to a WP page or URL
jQuery form validation
Export entries to a CSV file
Multiple field layout options
Pro  version available if you need more features
Form Maker-Drag and Drop Contact Form Builder
Next up of our Contact Form 7 alternatives we have the Form Maker. The Form Maker WordPress plugin is jam packed with tons of amazing features and is also a very user friendly form builder plugin. Form Maker is great because it also uses the drag and drop interface so you will be able to build forms simply by moving things around and placing them wherever you want.
The forms you create will also be responsive, meaning that they will be able to format to fit different screen sizes, even small mobile ones. You will be able to create pretty much any kind of form that you want, even a multi-page application or registration survey or questionnaire. The great thing about creating contact forms is that it lets you stay in touch with your users but you can also gain feedback from them and improve your website.
Other Features of Form Maker Are:
15 customizable themes
Custom CSS editor
Pre-built templates
Conditional fields
And for more info you can check out this video.
"

... and Scan WP's recommended web hosting company is... Cloudways (Click for special deal)

"
Formidable Forms- WP Form Builder
We have arrived at number five on our Contact Form 7 Alternatives list with the Formidable page builder plugin. This plugin was built to be the "first ever solutions focused WordPress form plugin" available. You will be able to create tons of things like: surveys, contact forms, registration forms, quiz forms, purchase forms, email marketing forms, and the list goes on and on.
The Formidable Forms plugin is completely mobile responsive so even on those small mobile screens your forms will still look great. When creating a form you will have the option for using a pre built template or create your own from scratch using the handy dandy drag and drop form builder interface. It has integration with various payment methods such as: PayPal and stripe so you can receive payments if you send out a payment form.
More Features of the Formidable Forms Plugin Are:
Totally GDPR friendly
Export contact form leads to a CSV
Integration with email marketing services such as: MailChimp, MailPoet and Hubspot
Contact Forms Builder-Fully Responsive Contact Form Builder
Next we have a Contact form 7 alternative with a very literal name, Contact Forms Builder. This WordPress contact form plugin will allow you to make, you guessed it, contact forms. It is a responsive plugin which is great because that means that the content you make using this plugin will be able to format itself to fit any size screen from large desktops to small mobiles and everything in between.
It is super easy to install and use so even those of you who may not be super computer savvy, should still be able to make contact forms with this plugin. There is a pro version of the Contact Forms Builder plugin should you want to upgrade an have access to more tools and features.
Other Features of the Contact Forms Builder Plugin Are:
16 different field types
Works with all versions of WordPress
Easily move field options
Submissions export to CSV
Form Craft-Drag and Drop Form Creator
The WordPress Form Craft contact form builder is a great option for making contact forms super easily. Just like some of our other contact form 7 alternatives, this plugin also has the drag and drop tool for incredibly simple and easy form building. Your forms will be responsive so no matter what kind of device your user is using (or how small the screen is) when viewing your forms, they will always look great.
A nice perk of this plugin is that it is translation ready so you can have the ability to translate the content you create with this plugin into other languages which can help broaden your audience. The Form Craft plugin is also lightweight and fast so it will load quickly and work smoothly when you are using it and when a user is using a form. This plugin has a premium version as well which you can purchase to get more features.
Other Features of the Form Craft Plugin Are:
Form validation
Export and import form templates
Use the shortcode to embed forms
Contact Form-Create Unlimited Contact Forms
The WordPress Contact Form plugin is a great option if you want to have your users' messages sent directly to your email account. You can use this on any page or post or widget, simply by using the shortcode that comes with this plugin so your forms can be displayed all over your WP site. The layout of this plugin is responsive so the content you create with it will always look great from desktop to mobile devices.
This plugin is not just multilingual ready but it is also RTL (right to left) language ready as well so your content can even be translated to languages like Arabic and Hebrew. You can also protect your forms from spam with this plugin by using CAPTCHA or GoogleRECAPTCHA. Like many of our other options so far, there is a Pro version you can upgrade to if you find yourself needing more tools and features.
Other Features of the Contact Form Plugin Include:
GDPR compliant
Data validation before the submission
Add unlimited contact forms
Required fields
Happy Forms-Encourage Conversation
The Happy Forms will allow you to manage and respond to conversations with your customers. It is super easy to set up, shouldn't take more than five minutes to get going. A great feature of this WP form builder is that it has a live preview form builder this means that you will be able to see you form being create right before your very eyes, you will not need to first save and then view to see what the final result will look like.
You also won't be bothered with spam messages as Happy Forms has built in HoneyPot as well as Recaptcha spam protection for messages. A nice perk of the Happy Forms forms are that they encourage conversation with your site visitors so you may be able to get valuable feedback and info about what people think of your website.
Ninja Forms-Powerful Forms Builder
And we have come to the tenth of our Contact Form 7 alternatives with the Ninja Forms WordPress plugin. "Ninja Forms is the ultimate form creation tool for WordPress." It has a very easy to use drag and drop form creator so just move your items around the page and drop them wherever it is you want them to go. By having the drag and drop feature, even those of you with absolutely no coding skills can create forms all on your own.
A nice perk of the Ninja Forms WP plugin is that it allows you to build a mailing list with the mailing list tool of your choice such as: Constant Contact, MailChimp, MailPoet, and more. You will even have the ability to collect payments through either: Stripe, PayPal express, or Elavon. There are also special tools for developers including: filters, utilize build in hooks, and custom field templates.
Other Features of Ninja Forms Are:
Endless forms can be made
Form submission via AJAX
More than 40 addons are available
Quform-Powerful Form Builder
And last, but certainly not least, we have the Quform plugin. This is one of the most advanced page builders on the market so if you re looking for something feature packed then you have come to the right form plugin. Quform recently had an update and is now better than ever for creating forms without needing to know even one line of code.
Quform can do it all, from a complex quote to a simple, plain old contact form, this plugin has you covered. It has the popular drag and drop functionality to help you build you forms with extreme ease. It is fully translatable which is great because more people can read and use you forms which could improve your business. It comes with three different spam protection options: Honeypot, image and Recaptcha.
Other Features of Quform Are:
Multi page forms
Conditional logic on notifications
Kendo UI timepicker and datepicker
11 themes included
3 label layouts
Pre-built Bootstrap theme
Final Thoughts
Hard to believe that there are so many different plugins to help you build forms, right? These choices are all good Contact Form 7 alternatives, which one you choose really depends on what you need to use it for. So read through their features carefully and decide which of these plugins is the right one for you.
Recap:
Save 4 Later
Email liked links to yourself