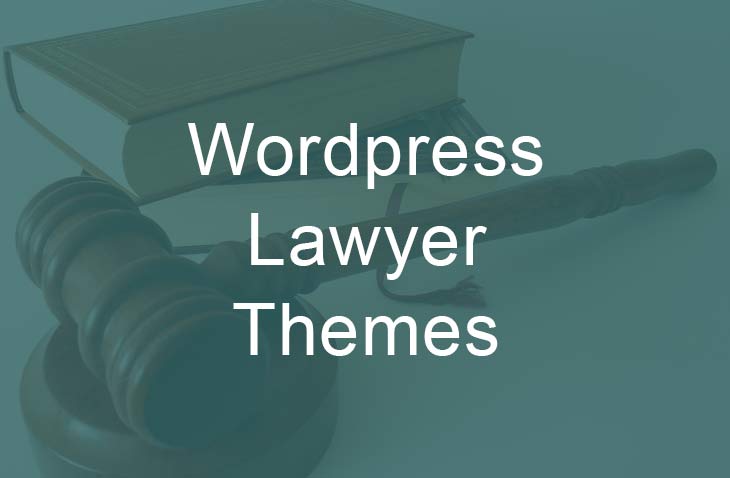 3 Lawyer WordPress Themes Compared - 2022
Last modified: January 13, 2020
There are many aspects of being a lawyer that require intense organization. From case histories to financials, the latest lawyer WordPress Themes have you covered. You have to be ready for your day in court, and that takes preparation. Get all of your data in one place with the right theme.
Prepare Your Cases: Lawyer WordPress Themes
Lawyer WordPress Themes can help to get everything ready for you to take new clients, and organize the old ones. A proper website can benefit individual lawyers, as well as an entire practice. Clients can gather information they need and leave contact information to speak with a lawyer on duty. Many times, lawyers do not have the time to talk on the phone for long periods of time. A great website can help to get the preliminary information out of the way. Themes for lawyers may be more intricate and have many different sections to house information. They can help a lawyer and client get on the same page about court procedures, billing, and background information. Practices can highlight their entire team with individual profiles. This can help potential clients choose the best lawyer to fit their needs.
| # | Name | Image | |
| --- | --- | --- | --- |
| 1 | TheGem | | More Info |
| 2 | Lawyer Base | | More Info |
| 3 | Etalon | | More Info |
Show More
* This button will show the rest of the post and open up an offer from a vendor
Filter between free and paid
TheGem
The Gem is not only technically superb, it presents with the sophistication that you should expect from a professional site. The aesthetics alone make it impressive to look at. It takes the complex business of a legal practice and simplifies it. The drag and drop options make it easy to shape the pages in a way that works for your unique business methods. Customizable features are a necessity for lawyers, as each professional has their own priorities. The features available for customization are in the hundreds. There are 20 layouts to choose from, so there should be no problem finding one that fits your organization preference. Your clients are sure to appreciate the clean lines and easy to navigate structure of TheGem.
Lawyer Base
Lawyer Base takes your website one step further by allowing for an entire financing site if desired. It also makes it easy to showcase individual profiles for various lawyers. This makes it perfect for an entire practice. WooCommerce compatibility makes it easy to run the financial parts of your business online when necessary. This is a premium plugin aimed at making your practice more successful and accessible. The slider feature makes it easy to present a variety of pictures and resources without taking over the entire homepage. Look forward to five unique layouts, easy navigation, and drag and drop technology. The theme is also compatible with WPML, making it easy to work with multilingual clients. This extremely detailed site looks complex, however, it is structured to make setup easy.
Etalon
Etalon is a versatile site than can be used for a variety of business models. Its flexibility makes it great for lawyers who want something easy for clients to look through. Features like team member profiles, business background, and simple hours of operation make the site comfortable and familiar for professionals and clients, alike. The availability of pricing tables makes information easy to find and straightforward for visitors. A FAQ and testimonial section make this theme easily manageable for new clients, as well. You get more for less with Etalon. Other themes may charge a lot for the plugins that you get for free on Etalon. Clients can get on your site from any browser and have it work perfectly. Ongoing support when questions arise make this theme an excellent option for a full-service website.
Final Thoughts
Lawyer sites need to be extremely professional and usually house large amounts of information. Lawyer WordPress themes meet the specifics required from individuals that work in this field. These themes offer things like extra layouts, customizable details, and multilingual availability. Clients and lawyers, alike need to be able to navigate the website easily. Cooperation between lawyer and client often begins on the website. Meetings may not be planned until after the basic details of a possible case have been considered. An informational site can easily help clients figure out if they have found a good match to handle their situation. An organized and versatile theme can make all the difference.
Recap:
Save 4 Later
Email liked links to yourself