13 WordPress Live Search Plugins Compared - 2021
Last modified: January 3, 2021
As you are probably aware from just exploring different sites on the world wide web, most websites have some sort of search feature on it. If it is a news site people can search for an article title or maybe an author, if it is a clothing site people can search by designer or product type like a shirt. Having a search feature on a website is very important for people to be able to easily search through all of your site's content in an efficient manner. But sometimes having a regular search is not good enough. By just having a normal search people would need to fully input their search, and most likely need to spell it correctly as well, before getting any sort of results. The difference between that kind of a search and a live search, like the plugins in our list, is that with a live search results will begin to show up as soon as people start typing in what they are looking for. This will allow them to possibly see the result they want before they complete typing.
WordPress Live Search Plugins Can Help You Users
So now that you realize how incredibly important it is to have not just a search on your WordPress site, but a live search, you can now start to figure out what kind of features you would like to have from including a live search plugin on your website. Some of these plugins have more customizing options than others, some are free and some are paid, so depending on how much of an intensive plugin you want will depend on which one from our WordPress live search plugins list. So let's check out the following thirteen plugins to see if one of them is what you are looking for to add to your own blog, newspaper, eCommerce, or whatever kind of website you have.
Filter between free and paid
Dave's WordPress Live Search-Live Search Plugin
The Dave's WordPress Live Search plugin adds the live search functionality to the WordPress site you have created.  It is incredibly easy to set up and it is easy to use as well. How it works is that as visitors of your site type words into your WordPress site's search box, this plugin will constantly queries WordPress looking for results that match the words your user has typed in. Having the live search means that people should find what they are looking for before needing to type in everything.
However, in order for this functionality to work Javascript is required but the search box alone still works if Javascript is not available. The Dave's WordPress Live Search plugin can also work with the WPML plugin for and the xLanguage plugin for internationalization search results.
SearchWP Live Ajax Search-Customizable Live AJAX Search Plugin

The SearchWP Live Ajax Search WordPress plugin, as you can maybe tell from its name, uses "AJAX powered by live search for your search forms". With this plugin you can actually customize almost everything about it so if you are a developer this may be a good choice for a live search plugin for you.
It has been designed to work without any WordPress theme and uses a template loader to show the results. By using the template based approach you will be able to easily customize your SearchWP Live Search implementation without needing to touch and deal with other options. The SearchWP Live Ajax Search plugin works by with SearchWP but it is not necessary. However by using SearchWP with this plugin it can be "customized to use any of your search engine per search form". There is widget support as well with this plugin.
AJAX Search for WooCommerce-WooCommerce Search Plugin

With the next of our WordPress live search plugins your customers will be able to search for products quickly and easily. The results of the search will be shown instantly as your user is typing in the input box. You can also show this WooCommerce search form anywhere on your page. All your users have to do is start typing in the input box to look for a product and all of the similar search results will start showing up as they type.
The suggestions from the search results can be shown in a simple form (like only name of the products) or it can be in the extended form, which would show things like pictures, descriptions, prices extended info, etc. This plugin can work with the WPML WordPress plugin to help you if you need to translate your site into a different language.
More Features of AJAX Search for WooCommerce Are:
SKU can be shown for each suggestion
Price can be shown for each suggestion
WP Tao integration
Categories and tags as suggestions
Search Live-Live Search WordPress Plugin
With the Search Live WordPress plugin you will be able to have effective integrated live search facilities and advanced search features. It has a smooth and interactive experience and provides immediate search results for your users which makes it easier to find the right results. This plugin will give instant live search results along with thumbnails where matches are found for one or several search keywords in titles, excerpts or content.
There is also a flexible shortcode so it can be placed anywhere to give an interactive search form and a widget so it can be used in a sidebar. There is also full multi language support and it can work with WPML so pretty much all of your translation needs will be able to be met. With this plugin you can also do things like determine the number of search results shown and whether to search in any combo of titles, contents or excerpts.
WooCommerce Predictive Search
And we have come to number five of our WordPress Live Search Plugins list with the WooCommerce Predictive Search plugin. The WooCommerce Predictive Search will give your users instant and changing results, as they type their searches, in the dropdown which will show the product thumbnail, product title and a description of the product.
Users can also the "click through from the dropdown to the All Results Search Page that features endless scroll". There is also a  WooCommerce Predictive Search widget that will let you do various things such as: choosing which objects should be included in the search, option to show or not show prices, set a placeholder text that shows in the search box on front end, and more.
More Features of the WooCommerce Predictive Search Are:
Click through to see all search results on a designated page
Search by product name, post name or page name
Super fast results even on a large site
Eonet-WordPress Live Search Plugin
Next up we have the Eonet live search WordPress plugin, which is another free plugin on our list. You can add it to any search field and as people type in their searches it will display search results in real time. This plugin can also work well with BuddyPress which can help with your social networking and there is BuddyPress members integration, BuddyPress groups integration, and BuddyPress activities integration.
Eonet can also work with WooCommerce as well which can be use for creating an online shop section on your WordPress site. This plugin has an options panel as well which can help with customizing this plugin to maybe better suit your needs and wants. The Eonet WordPress plugin can work with any custom post type and it is AJAX powered as well.
Ajax Search Pro-Live WordPress Search and Filter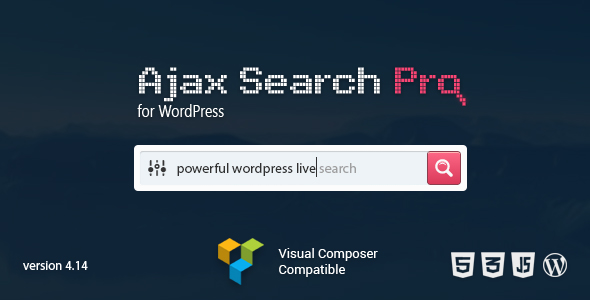 The Ajax Search Pro plugin is a highly customizable plugin so if you like making things exactly to your specifications then this plugin may be a good choice for you. You will be able to adjust almost everything in the back end to fit your personal needs. You will be able to replace the WordPress search bar with a more efficient search engine. It has a responsive layout so this plugin will work on any device and any screen size no matter how big or small.
The search results that users will see will be accompanied by images as well. The search will be able to give results for tons of things like: posts, pages, any custom post types (WooCommerce, BBPress forums, topics, replies), categories, custom taxonomy terms, users, BuddyPress groups and BuddyPress activities. Searching media attachment like CSV, PDF, RTF, Excel, etc. are also possible with this plugin. It can work with the Visual Composer page builder and there is support for qTranslate and WPML.
SEOStack-Live Search Plugin
By using the SEO Stack plugin you will be able to improve your site's internal search. In addition with this, it can also do live search as well as integrate with the default search widget and your theme. What is good about improving your site's internal search is that it will give your users a better experience on your site and of the users can find what they are looking for then the CTR and conversion rate will most likely increase as well.
How this plugin works is that when it is activated it will use the default search widget on your website. You will also have the ability to change the colors of the live search box so it can blend in and integrate with your site easily. The SEOStack plugin will integrate with custom post types which are publicly available on your site. It can integrate wit the WooCommerce plugin as well if you want or need to have an eCommerce.
WP e-Commerce Predictive Search
This WP e-Commerce Predictive Search WordPress plugin will query all of the products in the database as you type your search. By having this plugin, users will be shown instant and changing results in the dropdown as they continue to type and it will show the thumbnail, description and product title.
Users can also click from the dropdown to the All Search Page that features endless scroll. There is also site search optimization which gives your site features such as: integration with SEO plugins, the ability to exclude any product, post or page from predictive search results, supports YOAST SEO and All in One SEO plugins, and more. This plugin has many features to help improve the search functionality of your website.
Some Features of WP e-Commerce Predictive Search Are:
Several shortcodes
Google Analytics site search
You can set the number of product results to show in the dropdown
Predictive search meta section on each page, product page and post
I-Search-Advanced Live Search Plugin
And we have come to the tenth of our WordPress live search plugins with the I-Search WordPress plugin. With this plugin your users will be able to do an advanced live search. They will be able to search in any post types, custom fields, meta keys, taxonomies, ACF fields, WooCommerce products, categories, etc. This plugin can also work with several other plugins such as: WP Bakery, Advanced custom fields, WooCommerce, WPML, and Max mega menu. With the I-Search plugin you can also change settings for mobile like: hiding images, hide badges, hide excerpts, hide price, and hide categories as well.
More Features of the I-Search Plugin Are:
Multiple search instances
Taxonomy meta box settings
Post metabox settings
Content builder
Flora Live Search-Live Search Plugin
The Flora Live Search WordPress plugin is kind of interesting because it has two different search modes. By having two search modes you will be able to get the most accurate results for your needs. This plugin has full customizable styling so the admin can easily customize the styling and make the Flora plugin according to the theme.
There is also wide content support so "any post types enclose or eliminate easily from Flora Live Search" just by dragging. There is easy image adjustments so you can change image parameters in your search results. It has easy integration as well because it can smartly integrate with your website by enabling an auto detect feature or place the shortcode wherever you want.
WP Live Search-Simple Live Search Plugin
We now move on to the WP Live Search plugin which is a WordPress search plugin, just like our other ones, and it returns results to the user as he types in what he is looking for. As of now it can support pages, posts, post types, multiple post types and design models. With the WP Live Search plugin comes shortcodes for you to insert into a page.
With the shortcode comes several shortcode attributes that your can use. You can also place this WordPress search plugin in a header widget. So if you are looking for something pretty straight forward and very easy to use, you may want to start out with the WP Search Live plugin.
WP AutoComplete Search-WordPress Live Search Plugin
And last but not least we have the WP AutoComplete Search plugin which is a "WordPress live search and auto complete search plugin with custom post type and custom taxonomy type". By using this plugin you will be able to give your users with auto search suggestions that are based on the info they had entered in the search area.
This plugin will also display the content of your WordPress site as one types them into the search and the results are shown in a dropdown list with featured an image, date, and author name. This plugin is able to handle custom post types like: posts, pages, property, portfolio, products, testimonials, FAQ, and several others.
More Features of the WP Autosearch Plugin Are:
Cross browser compatible
Full search options
Keyboard and mouse support
Drag and drop widget
Supports the WPML plugin
Final Thoughts
So now that you have looked through all of these WordPress search plugins we hope you have found one that suits your needs and your business. Remember that this is an important element of your website and it should make the user experience easier.
Save 4 Later
Email liked links to yourself