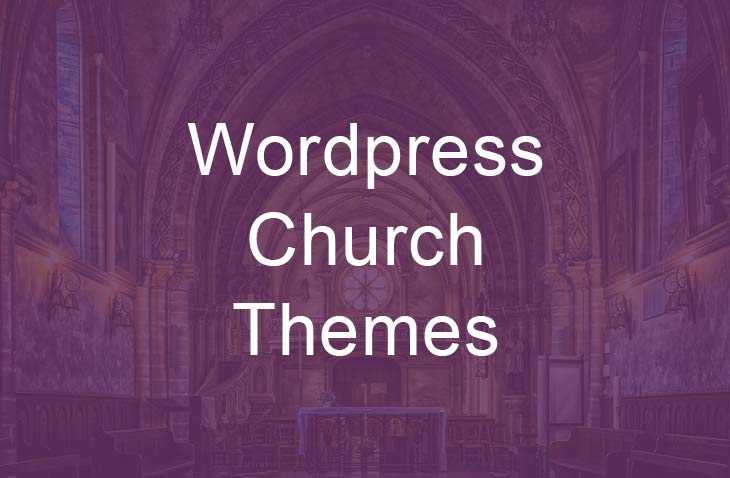 4 WordPress Church Themes Compared - 2022
Last modified: July 19, 2021
Church websites are a great way to keep members informed of events and share inspirational thoughts. WordPress church themes are aimed at keeping certain beliefs and morals running throughout the text and images.
WordPress Church Themes: Bring Your Congregation Together
The best way to implement an organized church website is to find an appropriate WordPress Church Theme. These are dedicated to keeping your church organized. Information must be available for members and newcomers, alike. Things like service schedules, group activities, and volunteer opportunities can become overwhelming if not organized properly. The website also has a responsibility to remain conservative and respectful of the core beliefs of the church it represents.
| # | Name | Image | |
| --- | --- | --- | --- |
| 1 | Resurrect | | More Info |
| 2 | Evangelist | | Not Available |
| 3 | Church Plant | | More Info |
| 4 | Credo | | Not Available |
Show More
* This button will show the rest of the post and open up an offer from a vendor
Filter between free and paid
Resurrect
The Resurrect theme is a great representation of the urban area. Many churches are a part of a big city and aim to minister to large groups. Those in big cities may appreciate the graphics on this site. Church members often like to refer back to older sermon or watch the weekly sermon online if they cannot get to a live service. A well-organized site has sermons listed by subject and date, for easy access. Multiple formats are available for uploads, including podcasts. A church site wouldn't be complete without a blog. Resurrect allows for a fully functional blog section, as well. Event management, staff profiles, and galleries, are all a part of this design.
Evangelist
The Evangelist theme has a welcoming design and detailed features to accommodate a variety of needs.  The events slider makes sure that all up and coming activities are shown clearly. This allows for activities of multiple groups to be displayed all at once, and at first glance on the homepage. The admin feature is highly functional, yet is not too complicated for new users to manage. This allows you to change the theme as needed to fit your specific church. Accessibility of sermons is a big deal on church websites, and Evangelist accommodates this need extremely well. Inspirational or biblical literature, and videos, can also be implemented into the site easily.
Church Plant
Church Plant is a unique theme that focuses on new churches and enables their progress to be documented. It has many of the same features that long-standing churches use. The features you need are available for use as the establishment grows. The site can be kept simple at first and focus on minimal activities. Later on, the features are present to share sermons and staff information. Staff profiles are an important part of church sites because they allow for members to get to know their church family. There are a variety of page layouts that allow for change over time. The main point of this website is to support growth.
Credo
Credo is a beautifully designed theme with graphics available of traditional churches. The quiet of reflective thought is also represented in the available graphics. Social media integration makes this theme a little more updated than some. This is especially helpful for younger members, who like to get their information from social platforms. This site is compatible with WPML, allowing for the integration of multilingual parties. The usual features are also available. These include sermon storage and event management. This site has one of the largest color varieties of the sermon sites, offering many artistic options for the layout design. Credo is a great way to implement creativity with traditional church needs.
Final Thoughts
WordPress church themes have many features to support a community. Church groups like to stay in tune with many members of the congregation. Churches also have many different types of groups, many of which are divided by age. Each group within the church has its own events and meetings that must be organized and presented on the website. A good theme is able to show a peaceful presentation while keeping a multitude of items organized. Ease of navigation is also a key feature that helps members find what they are looking for on the site. Church themes are custom designed with the church in mind. Church sites are more than company websites, they are a place to go for inspiration and support. These WordPress themes get the job done.
Recap:
Save 4 Later
Email liked links to yourself