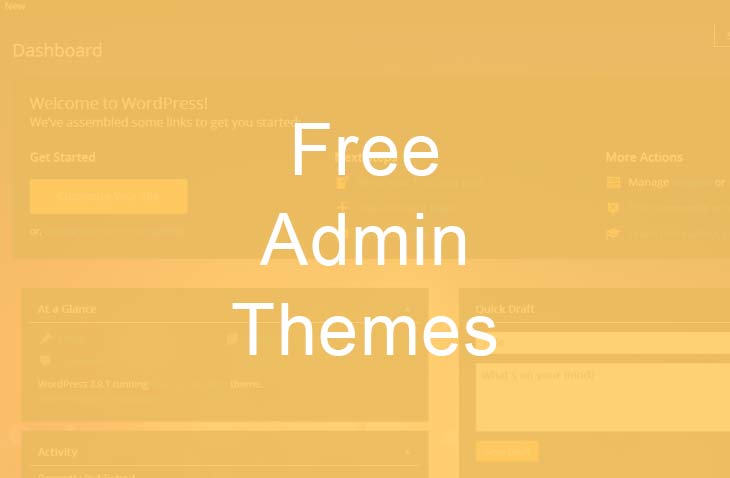 5 Free Admin Themes for WordPress Compared - 2023
Last modified: July 19, 2021
Admin pages can easily start to all look alike. An admin page, however, does not have to be boring nor difficult to change. There is more to adding variety than simple color schemes. Organize your admin page with a free admin theme to make it work for you.
Free Admin Themes for WordPress: Make a Positive Change
As an admin of your website, you may spend a lot of time on a page that few others ever see: the admin page. This page is all business, all the time. Since it is not accessed by the public, many people just accept it as it is. However, you may find that after spending hundreds of days staring at the same colors or layout that you are unsatisfied with the organization. Admin WordPress themes are more than just color varieties. You should have a layout that is easy for you to work with, as well. A new theme can make your admin page easier to navigate and more attractive. Initiate a change today.
| # | Name | Image | |
| --- | --- | --- | --- |
| 1 | Reimagined Admin Theme | | More Info |
| 2 | Admin Color Schemer | | More Info |
| 3 | Blue Admin | | Not Available |
| 4 | Slate | | More Info |
| 5 | Fancy | | More Info |
Show More
* This button will show the rest of the post and open up an offer from a vendor
Reimagined Admin Theme
This choice is far from boring. The Reimagined Admin theme may beckon you to work on the page even when there is nothing left to be done. The bold colors add new life to an otherwise mundane work area. Everyone works differently, and you may feel more efficient with a different layout. You can use this site to reorganize your admin page to suit your needs. Remove defaults, customize icons, and switch out the login screen logo. There are a ton of ways to make the admin page your own.
Admin Color Schemer
Admin Color Schemer is unique in that it is not a theme you can choose from WordPress. It is, however, compatible with WordPress through an interface that promises ease of use. The best part of this free admin plugin is the extensive color combinations. Who can resist the temptation to mix your own colors for your dashboard? You can make every day exciting, or set up your admin page to correlate with holiday seasons. Your personal creativity is the only limit.
Blue Admin
This theme is for those who like to keep it simple. The Blue admin theme name pretty much explains itself. The traditional blue and white page is waiting for you when you choose this theme. Many people like to know what to expect on an admin page, and this theme accomplishes the task. The one variation that helps to differentiate parts of the page is the fact that the right side bar is switched to the color white. This gives a little more definition to the traditional look.
Slate
The Slate admin theme is a great in-between color scheme. It is a little different with its brown hues, but also relies on the traditional blues in many areas. The combination gives the page an earthy look. A crisp, clean image is not all that Slate has going for it, however. The goal of the Slate theme is to keep your admin area simple so that content is a main focus. So, for those who like to have a nice looking admin page with a quick access and easily organized tabs, Slate is for you.
Fancy
While this page is primarily shown in the customary blue and white, the ability to change colors is available. This theme accomplishes what all admin themes should: simplicity. This is the page where you conduct all of your website business, and you shouldn't have to feel lost on it. Great organization is a key component of the Fancy admin theme. The soft grey menu ads a subtle softness to this page, as well. Accessibility is enhanced with this theme, making your job even easier.
Final Thoughts
The admin page of a WordPress site is often overlooked. Admin pages are a necessity, however, people tend to focus on the pages that guests see first. When your admin page is attractive and organized, however, it is much easier to get the admin work done and return to the fun part. Your entire page can benefit from an admin page that is easy work on. There is no reason to deny a positive change to your admin page, especially since all of these attractive options are free.
Recap:
Save 4 Later
Email liked links to yourself