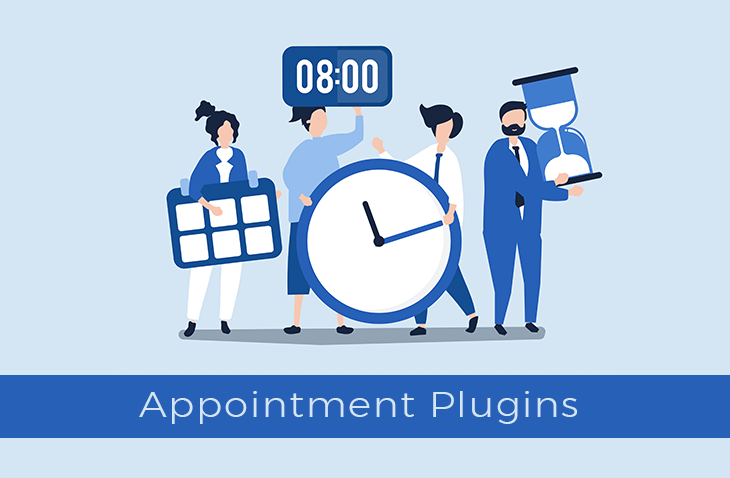 Best 13 WordPress Appointment and Booking Plugins Compared - 2021
Last modified: September 9, 2021
WordPress plugins are a very critical part of all of the great things WordPress has to offer. Plugins allow people to have more specific tools and features on their site that could be very useful to them. WordPress is known for being (overall) very simple and easy to use so that really anyone that is interested in building their own website will be able to do so without enormous expense and headache.
WordPress has tons of various plugins you can incorporate with your website which will allow you to have more elements, tools and features instead of relying only on the elements of the theme you choose to use. For example, maybe you want more security for your site or you want to have some sort of retail aspect, you would be able to do this by adding a plugin. And today's plugin topic is WordPress Appointment and Booking Plugins to make creating appointments much easier for both you and your user.
WordPress Booking Plugins Can Make Your Business More Organized
If you have a website for a business that requires people to make appointments using one of these WordPress booking  plugins will make your life so much easier and more organized. By setting up a system on your website your customers can book appointments at any time of day and not have to bother you or your employees during work hours to schedule a time. All they have to do is go on your website, see what dates and times are available and choose which ever is best for their schedule. Each of these WordPress appointment plugins all have similar features but it is up to you to decide which one will be the best match for your business and website. So let's check 'em out so you can have your business running even more smoothly ASAP.
Keep Reading
* This button will show the rest of the post and open up an offer from a vendor
| # | Name | Image | |
| --- | --- | --- | --- |
| 1 | JetAppointment | | More Info |
| 2 | Bookings Calendar-Allow Your Customers to Book Appointments | | More Info |
| 3 | WP Simple Booking Calendar-Show Your Summer Home's Availbility | | More Info |
| 4 | Easy Appointments-Manage Your Bookings | | More Info |
| 5 | Team Booking | | More Info |
| 6 | BirchPress Scheduler-Book Appointments Online | | More Info |
| 7 | HBook-Hotel Booking Plugin | | More Info |
| 8 | WPForms-Form Builder | | More Info |
| 9 | Amelia-Booking Manager | | More Info |
| 10 | Bookly Pro-Appointment Booking WP Plugin | | More Info |
| 11 | Booked | | More Info |
| 12 | Sagenda | | More Info |
| 13 | Webba Booking-Appointments and Reservations Plugin | | Not Available |
Filter between free and paid
JetAppointment
This WordPress appointment plugin is JetAppointment. Guided wizar will help you to set up appointment website effectively. You can create simple and complex appointments for any website type: spa, fitness, barbershop, medical, etc.
Your visitors will be able to check available hours, service/s, fill out the appointment detail. Otherwise, the workers will be able to check all appointments in one neat dashboard, edit or add new appointments, and filter all requests by service or provider.
More Features of the JetAppointment Are:
Clean dashboard
Multi-booking
Easy-to-use installation wizard
Extended forms functionality
WooCommerce integration
Smart notifications
Check out JetAppointment tutorial in this video.
Bookings Calendar-Allow Your Customers to Book Appointments
We are getting our WordPress Appointment and Booking Plugins list started with the Booking Calendar plugin. This plugin will allow you to have a booking system for your website. All you have to do is show your availability and people can create bookings for your property or service.
The visitors of your site will be able to do things such as: check availability of a property, or a service you offer, etc. and then book an appointment. Your customers will be able to: choose a day or days in the calendar, fill in booking form fields, and submit a booking. You, as the administrator, will receive an email notification about a new booking and choose to approve or decline the booking.
More Features of the Booking Calendar Plugin Are:
Flexible functionality
Calendars are customizable
Easy to install and integrate
Responsive front end and back end design
Timeline
Booking calendar blocks
And for more info check out this video.
WP Simple Booking Calendar-Show Your Summer Home's Availbility
The WP Simple Booking Calendar plugin is all about displaying the availability of whatever it is you are offering. For instance if you are showing the availability of your summer home or bed and breakfast or your moving truck, etc. you can do it with this plugin. This WP plugin also recently had an update and it is now better than ever.
The focus of this plugin is really to show when your holiday home, or something similar, is available for rent. However, the WP Simple Booking Calendar plugin can also be used as a shift calendar or for showing the availability of a room, etc. A really great and useful feature of this plugin is that you can "easily export the data from your calendars to Airbnb, Flip Key, Google Calendar, and other websites". There is a premium version available as well should you decide you need or want more features.
Other Features of WP Simple Booking Calendar Are:
Create one calendar
Simple user friendly interface
Displays availability
Language translation options using PO files
Easy Appointments-Manage Your Bookings
Next up of our WordPress booking plugins is the Easy Appointments plugin. This plugin is jam packed with tons of incredibly helpful tools, so many you may not know what to do with them all. All you have to do is add this plugin to your site and you will be able to manage your appointments with ease. A great feature of this plugin is that there is support for translations so you can either create your own, or use one that already exists such as: German, Polish, Brazilian Portuguese, Romanian, Finnish and Portuguese.
There are extension plugins you can buy to use with Easy Appointments as well, including: PayPal, WooCommerce, iCalendar, Google calendar, and Twilio SMS notifications. There is also a resposnive layout for the appointment form so no matter what kind of device your user is viewing the form on, it will always look great.
Other Features of Easy Appointments Include:
Custom form fields
Labels
Email notifications
Custom admin email
Flexible time table
Team Booking
Team Booking is an innovative WP booking plugin and is the only booking plugin that will let you use Google Calendar for scheduling an availability. This plugin works in three easy steps. First, you need to make an event in Google calendar, then in your site it will become a free slot and lastly once it is booked the event is updated.
You can choose two different payment gateways with Team booking, PayPal and Stripe. There is also incremental pricing as well as discount coupons and campaigns for you to use if you like. You can also create customized email messages for when customers or admin get email notifications. This plugin has .PO files as well as WPML compatibility so you can translate your content into almost any language you may want or need.
Other Features of the Team Booking Plugin Are:
Responsive layout
Timezone conversion
Google calendar integration
Reservation form builder
BirchPress Scheduler-Book Appointments Online
We have come to number five of our WordPress Appointment and Booking Plugins With the BirchPress Scheduler. This is a premium WP appointment booking plugin for you to use with you WP website. It has a booking form which can be embedded into either a page or a post by using the shortcode.
This will allow site visitors to check availability and book appointments or make reservations online. The booking form is customizable so you can design your form just the way you want. A really helpful benefit of the WordPress BirchPress Scheduler plugin is that it can sync with the calendars you already have and use so whether you use Google, iPhone, iCal, Outlook, etc. you can still use the BirchPress scheduler with it.
More Features of the BirchPress Scheduler Are:
Email notifications and reminders
Developer friendly
Accept online payments with PayPal or other payment gateways
"

... and Scan WP's recommended WordPress theme is... Astra (Click to try)

"
HBook-Hotel Booking Plugin
The HBook plugin is a hotel booking system plugin. You can use it as a way to manage your online bookings for: bed and breakfasts, hotels, rv parks condominiums, villas, etc. HBook is already translated into several different languages on the back end and front end. On the back end you can choose from: French, Spanish, Italian, German and Dutch, while on the front end you have all of these options in addition to Portuguese.
It can also work with the WPML plugin should you need more translation capabilities. This booking plugin is cross browser compatible so it can work with several popular web browsers such as: Internet explorer, Safari, Opera, Chrome, Edge, etc.
More Features of the HBook Plugin Are:
Gutenberg optimized
Integration with payment gateways
Smooth process to increase sales
ICal Sync
WPForms-Form Builder
Next up we have a plugin that is not booking specific but it can help you with your website bookings.  WPforms is really a form builder that is a very powerful choice for creating forms so you will have the ability to create a booking form. It has a drag and drop tool that will allow you to build your own unique forms with ease. All you have to do is drag items around and drop them wherever you want to on your form, it is actually that simple.
You can create many different kinds of forms such as: subscription forms, payment forms, contact forms, and many more. WPForms is considered to be one of the most user friendly WordPress form builders on the market thanks to its pre-built form templates and workflows. This plugin is mobile responsive so it can work correctly on small mobile phone screens.
More Features of the WPForms Plugin Include:
Search engine optimized friendly
Smart conditional logic
Spam protection
Receive payments for your bookings
Multi-page forms
Post submissions
Amelia-Booking Manager
The Amelia booking plugin is a great booking choice for your company's website. It uses the latest technology to help you get the most out of this booking plugin. This booking plugin is a great choice for anyone who owns a business such as: beauty salon, gym, repair center, spa, etc. There is WooCommerce integration so if you have retail aspects, such as making online payments, you will be able to do that easily with this plugin.
The Amelia plugin is cross browser compatible so it can work on most popular web browsers including: Internet Explorer, Chrome, Firefox, and more. There are three different payment options to use with Amelia, you can choose to use PayPal, Stripe or on-site payments (customers pay when they get there) if you do not want to deal with transaction fees.
More Features of Amelia Are:
Informative backend dashboard
Support for multiple employees
Interactive calendar for scheduling
Ste by step booking wizard
Bookly Pro-Appointment Booking WP Plugin
We have arrived at the tenth of our WordPress appointment plugins with the Bookly Pro plugin. With this plugin comes a fully customizable booking form that has online payments, Google calendar sync, notifications, etc. There is multi-language support as well which is great if you want your content in another language.
This can help broaden your audience and your customer reach. Bookly Pro can also work with WooCommerce for any of your online retail needs. It is mobile optimized so this plugin and the content you create with it will still work great on any size device and screen size no matter how big or small. There is also Google calendar integration as well to help you stay extra organized.
Other Features of Bookly Pro Are:
User friendly admin panel
Easy integration with payment systems
Developer friendly
Built in analytics
Booked
We move on to the Booked WordPress plugin. Booked is an appointment booking plugin that will allow your users and customers to book appointments online and it will also help keep you more organized. This plugin comes with some great add-ons, free of charge: Payments with WooCommerce, for a payment method for customers, front end agents, as well as Calendar feeds to show your appointments on Apple Calendar, Outlook or other similar calendar services.
The Booked plugin is fully translatable as well so you can translate it to almost any language you want or need, which can also help expand your user audience and benefit your business. This plugin can also work on several popular web browsers like: Internet Explorer, Safari, Chrome and Firefox.
Other Features of Booked Include:
Infinite color choices
Custom time slots
Front end calendar shortcode/widget
Customer profile
Sagenda
And last but not least of our WordPress Appointment and Booking Plugins we have come to a free plugin called Sagenda. Sagenda will work with your WP site to allow you clients to be able to book appointments and meetings with you through your website. Since this plugin is an online booking system, your customers can choose a date and time for an appointment depending on their own preferences.
Your customers will have two choices for paying on your website with Sagenda. One, is they can pay through PayPal the other choice is that they can just pay with their credit card and Sagenda accepts several such as: Visa, Discover, American Express, Diner's Club and more. The Sagenda WP plugin does have a shortcode which will allow you to use it in any page or post on your website. Note that you must make a Sagenda account to use the plugin but it is free to create and have an account.
Webba Booking-Appointments and Reservations Plugin
The Webba Booking plugin is used for booking appointments and reservations on your WordPress site. It can work with both the WooCommerce plugin as well as the WPML plugin so all of your eCommerce needs can be met in addition to any translation needs you may have. This plugin can also work on several popular web browsers such as: Internet explorer, Firefox, Chrome and Safari.
Webb Booking has more than 80 different options to customize the design so you can make it unique to you and your website. This plugin's design is responsive so it will look great on any device from large desktop to tiny mobile phones. There are also custom fields available through Contact Form 7 integration. You can also offer your customers online payments with more than 100 payment gateways including PayPal and Stripe.
More Features of Webba Booking Are:
You can use ICalendar and Google Calendar
Email notifications and reminders
79 designs preset
GDPR compliance
Final Thoughts
So now that you see how much easier your life can be by having one of these WordPress booking plugins on your site are you excited to use one? It will allow your business to be much more organized if appointments can be made by your customers themselves on your site. Gone are the days when you need to call or go to an establishment to see what times they have open, now your customers can just go on the web whenever they please and choose the time and date that works best for them.
Recap:
Save 4 Later
Email liked links to yourself