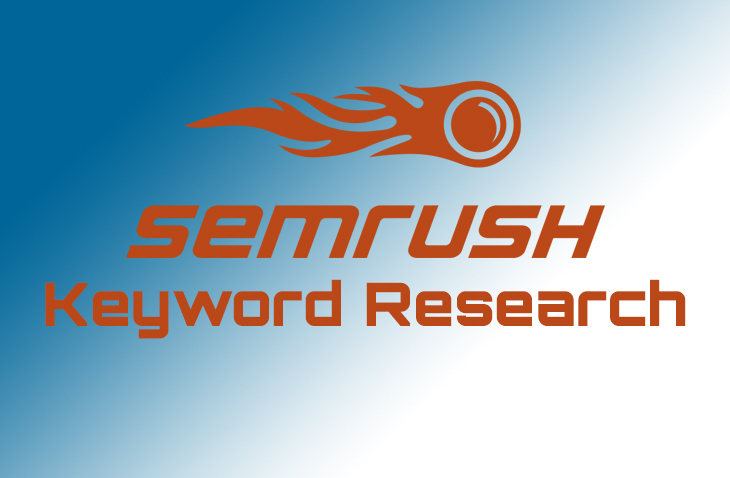 Long Tail Keyword Generator Tool – SEMrush
Last modified: January 13, 2020
When in need for keyword research, The majority of marketers probably go to the Google keyword tool in order to find some interesting keywords for their website. With that said, there are some annoying limitations when it comes to Google keyword tool which is why a very common question in the SEO forums is:
What is a Good Google Keyword Tool Alternative?
One of the reasons so many people are asking this is the fact that a while ago Google changed the way the keyword tool works and now you can see accurate search volume only if you have an active Adwords campaign running. If you don't – you'll see a range. Needless to say, it's very hard to make firm decisions when the data that you have isn't accurate. In comes SEMrush's keyword tool. If you aren't familiar with SEMrush, you can read our SEMrush review here.
Use this link to get a 14 day free trial
SEMrush's keyword tool is very similar to the known Google keyword planner tool, however it gives us more information that Google doesn't. All you need to do is add a starting point keyword and the tool will give you it's recommendations and search volume.
Let's say I search for "WordPress", this is what we will see: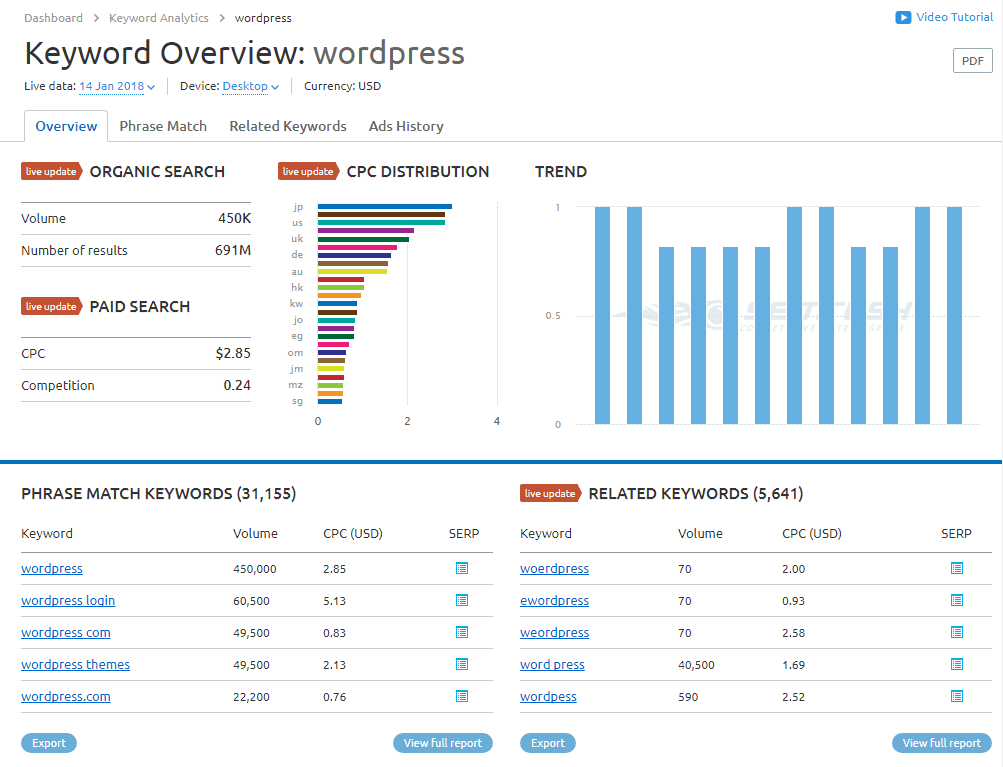 Definitely more than Google. The top area gives us information about the phrase "WordPress" itself.
Search volume
Amount of results
CPC distribution by country
Search trend
Below that we have the beginning of long tail keywords based on our main keyword. These keywords all contain our main keyword in them. Besides that, we have the "related keywords" which are long tail keywords which have similar keywords in them as you can see in the screenshot. This is great for finding typos that you can take advantage of.
Below this section you can see the top 100 results for our query, all the ad copies and the no. of ads historically.
The 2 sections that should interest us most when in need of a long tail keyword generator are:
Phrase match
Related keywords
Clicking the "Phrase match" will show you a table with long tail keywords that contain our main keyword. Note that since it's "Phrase match" it won't show you similar or relevant keywords without the main keyword in them. Below you can see the "Phrase match" for the keyword "WordPress".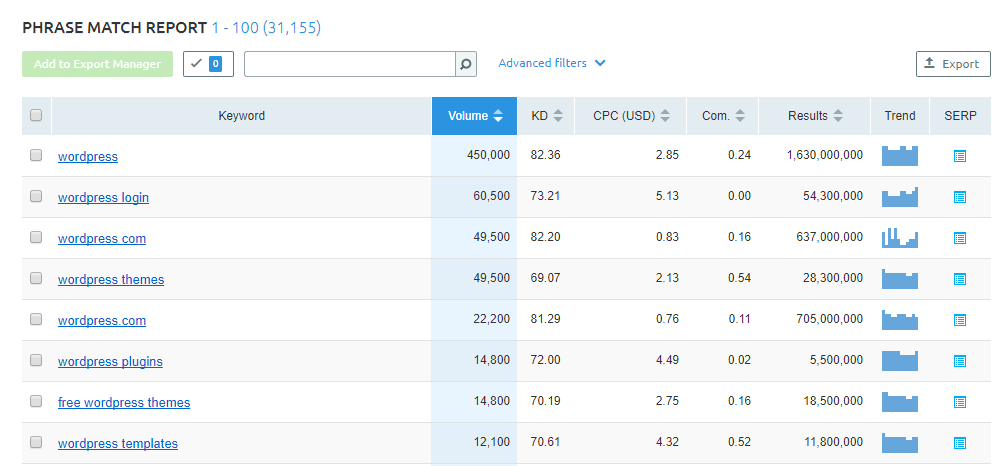 Clicking on "Related keywords" will show you the image below. As you can see, while there ARE long tail keywords that contain the keyword "WordPress", they don't all contain it. Some of them have different spelling options but some are just keywords that are relevant to the main subject which in our case is "WordPress".
As you can see, it's pretty simple. All you have to do is sign up for a free 14 day trial, and start doing some high quality keyword research.
Show More
* This button will show the rest of the post and open up an offer from a vendor
Final thoughts
SEMrush is probably the best alternative to the Google keyword planner tool. It gives you more information than Google and is the perfect tool for keyword research and spying on your competitors. You can either click this link to get 14 days free, or start by using their tool right here:
Save 4 Later
Email liked links to yourself