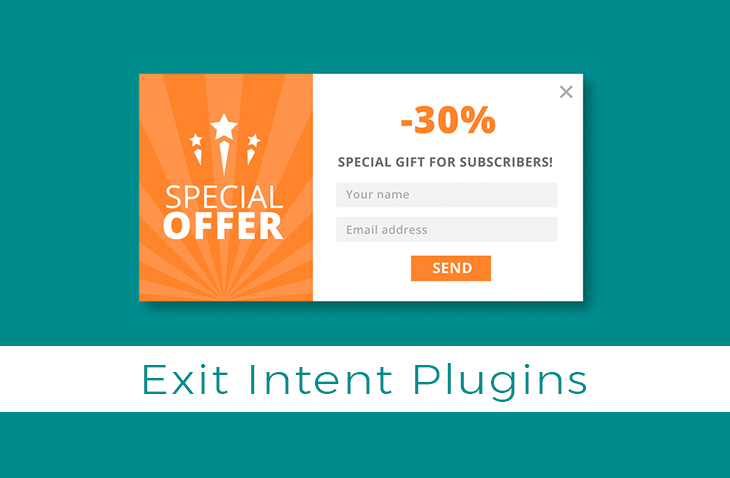 12 Exit Intent WordPress Plugins Compared - 2021
Last modified: January 3, 2021
WordPress plugins were created to add more features onto WordPress sites. People could look for a specific plugin type and choose which one they want and incorporate into their WP theme. They are a very important category of the tools WordPress has to offer. WordPress prides itself on being very simple and easy to use so that anyone who is interested in building their own site will be able to do so, and usually without needing to know any code.
WordPress has different kinds of plugins for almost anything you could think of to want to have on your site. The plugins you choose will allow you to have more elements, tools and features on your website instead of relying only on the elements of the theme you choose to use. For example, if you have a blog but want to translate it into another language, you should use the WPML plugin which will allow you to translate your site into almost any language you want, or maybe you want more security for your site or to add a shopping section. Since there are so many plugins you need to talk about them one category at a time and today we are discussing Exit Intent WordPress Plugins.
Exit Intent WordPress Plugins Can Bring in More Subscribers and Customers
Keeping people on your site is an incredibly difficult task. There is just so much content and options available at the click of a button on the web that keeping people engaged and getting their information can be incredibly difficult. That is why it is so critical to have a popup or something be displayed just as a visitor is about to leave your site. And the way to get them to be more engaged and have them subscribe to your site is with one of these exit intent WordPress plugins
Filter between free and paid
Exit Notifier-Notify Your User When he Leaves Your Site
We are getting our Exit Intent WordPress plugins list start with the Exit Notifier plugin. This is a free plugin that will allow you to have a notification on your site when someone leaves the site. It can work with little to no configuration so if you aren't really tech savvy do not worry, you can still use this plugin easily. Should you want to customize the display of the dialogue you will be able to do so by modifying and adjusting the CSS and you can add CSS classes to select links.
You can edit many features of this plugin such as the body of the exit box as well as the text on the buttons. With the Exit Notifier plugin there is also an option for having a visual indication on your selected links and for when a selected link is opened in a new tab or window. Lastly, you are also able to set a timeout that will either continue or cancel when the time ends "with optional visual feedback".
Lead Captor-Grow Your Subscirbers
Next up we have the Lead Captor plugin. This is known to be one of the best plugins to use if you want to create gorgeous popup forms upon exit intent. The goal of having one of these kinds of plugins is to help turn regular visitors of your site into subscribers. This plugin comes with four different modal forms to help you do that.
How the Lead Captor WordPress plugin works is that when one of your users is about to leave the site, it will show a popup form to have them subscribe into your mailing list. So this plugin is a really great option if you are looking to expand your site's email list. You now also have the ability to integrate MailChimp account and automatically add subscribers to your list.
Other Features of the Lead Captor Plugin Are:
Customize the behavior of the popup form
Export all of your subscribers in a CSV file
4 templates
Exit Intent-Create Popups and Promo Bars
Our next plugin has a very literal name. The Exit Intent WP plugin uses technology that will show an offer to visitors exactly when they are about to exit from your WordPress site. The technology with this plugin can analyze your user's mouse cursor movement and speed and check to see if tabs are not opened (this can also work on mobile). This plugin will allow you to personalize the offer you display and shoe them to different visitor segments.
Exit Intent has a promotional bar as well which is a small bar that is placed on the top or bottom of your website which is supposed to improve your conversion results. And if you want even better conversion results you can also try using a sliding promo bar. You will also be able to track your campaigns in real time with Exit Intent and analyze your results to make improvements. This plugin offers a free 7 day trial but if you would like to continue using it there will be a fee.
Yeloni-GDPR Compliant Plugin
The Yeloni WordPress plugin is a very powerful plugin designed for lead generating that will convert abandoning visitor of your site into new subscribers. It will do this by using forms to grab people's attention before actually leaving your website. You will be able to have a lot of customizing power with this plugin because you can choose from a lot of different configurations, targeting options as well as widget designs to make the forms uniquely yours.
The Yeloni plugin can integrate with several other email marketing services such as: MailChimp, Active campaign, Aweber, and more. There is a paid premium version of Yeloni as well should you need more tools such as reponsive widgets on mobile devices and showing widgets on specific pages instead of all of the pages.
More Features of the Yeloni Theme Are:
It is lightweight
HTML design services
2 different types of widgets
Widget configuration
Poptin-Exit Intent Popup
And we have come to number five of our Exit Intent WordPress Plugins with the Poptin plugin. With this plugin you will have the ability to create popups, opt-ins, and forms in just 2 minutes or less. Poptin is used to help grow you email list by converting users exiting your site into subscribers.
It does this by tracking "the website's visitors' behavior and shows them the right message at the right time". This will help to improve your conversion rate, as well as improve user engagement and recover visitors that are leaving your website with Exit Intent Technology and triggers. The Poptin Plugin now has new integration with email services such as: MailLite, Drip and Sendlane.
Other Features of The WP Poptin Plugin Include:
New, fully implemented editor
Create an automated Whatsapp message
Autoresponder
Track popup analytics
Landing page link
And for more info on Poptin you can check out this video
Exit Popup-Create Exit Popups
Using the Exit Popup plugin will allow you to show a jquery modal window that will be able to include: text, maps, forms, and more before your visitor leaves your site. This plugin is actually pretty smart and can figure out when a person is going to leave your site. It can detect mouse the behavior of the user's mouse and then popup a modal window when your visitor is going to close the web page he is on.
This will help you improve: your landing page conversions rates, newsletter subscribers, etc. From experience with this plugin, the plugin manufacturer can says you can expect to see a 7-12% increase in your conversion rate depending on your audience, traffic quality and offer.
Other Features of the Exit Popup Plugin Are:
WordPress shortcode can be used in the Popup content
Control both height and width of you popup window
Control how often your visitor sees the popup
InkExit-Exit Popup Plugin
InkExit is a Lightbox Exit Popup plugin from Inkthemes. It generates a WordPress exit popup and then shows an overlapping light window on when someone tries to leave your site. In the Lightbox Popup you can show things like offers, and direct ad response and get sign-ups or feedback. When people leave a website they often do not come back because there are so many other distractions on the web.
By having an exit popup you can make them stay a little longer and increase their chances of coming back to your website. The popups that the Inkexit plugin generates are not able to be blocked so your popups will be seen by nearly every visitor so you can create more customers and increase your mailing list.
More Features of InkExit Include:
Offer mailing list subscription
Ask for feedback as part of a survey
Redirect users to desires page
Offer a help desk to answer any questions
WordPress Exit Pop-Turn Your Visitors Into Customers
And the next of our Exit Intent WordPress Plugins is the WordPress Exit Pop plugin. Most people that visit your web store will abandon it and the majority of those people will never return. The Exit Pop plugin will help you to convert visitors into subscribers and/or customer before they leave your site so you can improve your sales. This is a super easy plugin to set up and you do not even need to know any code in order to use it effectively.
The Exit Pop plugin uses exit intent tech that can detect the moment when a user shows intent of leaving your website and encourage the user to stay on the site and make a purchase. With this plugin you will also be able to see the statistics of tracking the growth of your site's sales. This plugin is not free but it does offer a two week free trial so you can use it and figure out if it's a good fit for your WP site.
Ninja Popups-Drag and Dro Popup Builder
The Ninja Popups WP plugin is one of the most popular popup plugins on the Envato market and it recently had an update so it is better than ever. This plugin is designed to have the visitors of your website take an action before they leave such as signing up for a newsletter or using a discount code that you have as a popup when exiting.
A great feature of the Ninja Popups plugin is that it has the ability to integrate with tons of mailing systems such as: MailChimp, GetResponse, JetPack, ConvertKit and much more. An amazing feature of this plugin is that it has a drag and drop visual editor so you can easily create your own popup in seconds. It can also work with the WPML plugin as well as WooCommerce so all of your translation needs and eCommerce needs should be taken care of.
More Features of Ninja Popups Are:
Responsive themes
Social locker
Page level targeting
Various social media support
ThriveLeads-Generate More Leads
The tenth of our Exit Intent WordPress Plugins is Thrive Leads. Thrive Leads is a little bit different from our other plugins so far because it is not exit intent specific. Thrive Leads was designed for lead generation for your WP site and is considered to be a list building solution. It has advanced targeting to target your visitors based on: categories, posts, tags and more.
Thrive Leads has so many different tools you can use to build your subscriber list and create more leads. you can use: In line forms, an opt-in form to insert anywhere you want, Sitcky ribbon, a ribbon a the top of the page that stays even when people scroll down,  Popup Lightbox, Screen Filler Overlay and more.
More Features of Thrive Leads Are:
Advanced A/B testing
Pre-design templates
Mobile specific opt-in forms
Integrates with several email marketing services
Exit Intent-Convert Users into Subscribers
Now I know what you are thinking "didn't we do this one already"? Well, while we did have an exit intent plugin with the same name earlier in this list, this is actually a different plugin but it does a very similar thing. The Exit Intent plugin was designed to "capture abandoning visitors before they leave your site using exit intent technology".
It can also help to reduce bounce rates and increase people's time on the site. The Exit Intent plugin can work on large desktops and tiny mobile screens as well so no matter what kind of device your user is using this plugin should still work. It can also integrate with different email services such as: MailChimp, Campaign monitor, Constant Contact, and several others. Unfortunately, in order to use this plugin you first need an ActiveConvert account.
More Features of the Exit Intent Plugin Are:
Customizable templates
multiple domain support
Page level targeting
MailOptin-Lead Generation and Email Automation
And last but not least of our Exit Intent WordPress Plugins we have the MailOptin plugin. This is both a lead generation and email automation plugin. The MailOptin plugin will automate your email campaigns as well as keep your leads engaged so you can give your attention to your business. It can integrate with tons of different email marketing providers such as: MailChimp, Aweber, MailLite, Drip, and so many more.
It also offers many different locations for you to place popups or other tools to help grow your mail list. You can have: a Lightbox popup over an existing web page, a notification bar, place an opt-in form in the sidebar/widget, put a form before or after a post, use it as a slide in, embed or have a floating notification bar.
More Features of MailOptin Include:
Restrict emails according to various specifications
Supports post and custom post types
Segment your email list
Final Thoughts
Now that you know how important it is to capture visitors before they leave your site have we convinced you to use one of these Exit Intent WordPress Plugins? All of these plugins have the same end goal but many come with lots of extra features and some may be more fitted for you than others. So decide which one you like best so you can start growing your business and email list today.
Save 4 Later
Email liked links to yourself