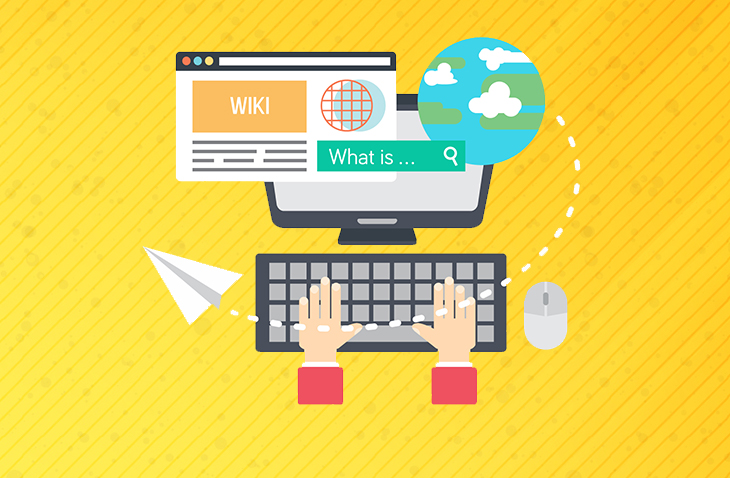 14 WordPress Wiki Plugins
Last modified: April 17, 2019
WordPress plugins. If you are even somewhat familiar with WordPress then you most definitely know about plugins and all the different kinds of features and tools they can give you to enhance your WordPress website. There are plugins for countless different kinds of things that can give you basically any element that you want to include on your site. If you like social media you can add an Instagram plugin or if you want to have a Google map to easily show people directions to your store then you can add one of those as well. You can add lots of different WordPress plugins to your website and they can usually work with each other and almost any theme as well. Today we are taking about WordPress wiki plugins. If you know of Wikipedia, which I'm sure most of you do, then this is probably the first thought that comes to your head when seeing the word Wiki. But some of these plugins to a little more than just bring your info from one of the most search websites on the planet.
WordPress Wiki Plugins Can Bring More Knowledge to Your Site
By using one of these WordPress wiki plugins you will be able to transform your WP site into a wiki style website. Now this may seem like a complicated or difficult task to do, especially if you are not too tech savvy, but by using one of these plugins it will be easy. These different plugins come with some overlapping features but some of them offer very different tools and features depending on what exactly you want to accomplish by making your site into an informative website. So let's check out these fourteen plugins so you can see their different features back to back and deice which one is the right choice for you.
Filter between free and paid
Helpie-Knowledge Base/FAQ Plugin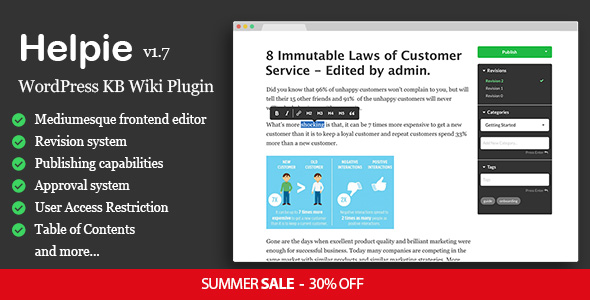 And we are getting our WordPress Wiki plugins list started with The Helpie WordPress wiki plugin. Helpie is a knowledge base plugin to be used for knowledge base, wiki and documentation websites. Like some of the other plugins we have mentioned so far, this one also has the ability for you to choose to restrict certain users from having access to certain content.
There are also voting capabilities so your users can vote if articles and content were helpful or not or if they liked it. This is a translation ready plugin with both support for RTL (right to left)  languages as well as WPML support. It also has a responsive and mobile friendly design so this plugin's content will look great from large desktop screens to tiny mobile ones. It can also work with the latest WordPress and major themes and plugins.
Other Features of the Helpie Theme Include:
Font awesome icons
Page builders integrated
Front end editor and publishing
Advanced search
DW Knowledge Base Pro-Wiki WP Plugin
The DW Knowledge Base Pro plugin is a premium WordPress plugin that is capable of bringing a knowledge base to your website. There is a reposnive design with the DW Knowledge Base Pro theme so no matter how big or small a screen size may be, your content will always look great.
This particular plugin can also work with several different other popular plugins such as: SEO Ultimate, Yoast SEO, Paid member subscriptions, WP members, and All in One SEO Pack. It is also cross browser compatible with web browsers like: Edge, opera, Chrome , Safari and more. This plugin can also work with almost any WordPress theme so if you are already using one you should have no problem using the DW Knowledge Base Pro plugin as well.
Other Features of the DW Knowledge Base Pro Plugin Are:
Quick installation and set up
Several shortcodes
2 preferred layout on Archive page
Category thumbnails
Category descriptions
WP Glossary-Various USE Glossary Plugin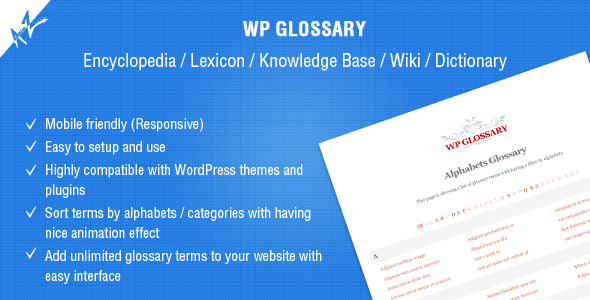 Next up we have the WP Glossary WordPress plugin. With this plugin, as you may have sort of figured out already based on its name, you will be able to build your own glossary for various things such as: Encyclopedias, Wiki, Lexicon, Knowledge base, and dictionary in your WP website.
This plugin does work based on a custom post type which will give you access to a full editor but you do have the option of choosing your existing post type instead if you would like. It has a responsive and mobile friendly design so your content will look great even on those tiny mobile screens. This plugin is cool because it can actually "enhance search engine optimization by auto linking each highlighted phrase or term back to a dedicated term definition page"
Other Features of the WP Glossary Plugin Include:
Fully customizable
Highly compatible with WordPress themes and plugins
Several shortcodes
Pixel Knowledge Base-Knowledge Base/Wiki Plugin
The Pixel Knowledge Base WordPress plugin is a feature packed plugin to add to your WP theme. This plugin has front end submission abilities, this means that your users can submit new posts on the back end part of your site. There is also a interactive voting experience element which will allow you users to vote if something was helpful or not helpful to help others coming to your website.
You will also be able to restrict certain knowledge content to certain user roles. For example, if you run a membership service but have different levels of membership, you do not want everyone to have access to all the same content. This features allows you to set who will have access to what info.
More Features of the Pixel Knowledge Base Plugin Are:
Smart Ajax live search
Localization support
Set knowledge base category colors
Wikiomatic-Automatic Post Generator
This next plugin is an interesting one. The Wikiomatic plugin is a Wikipedia to WordPress and WordPress to Wikipedia post importer plugin. This is an ideal plugin to use for auto blogging as well as automatic Wikipedia post publishing. Now how exactly does that work? Well, this plugin uses both Wikipedia API along with Google Knowledge Graph API to transform your website into an auto blogging site by automatically generating posts based on predefined rules.
The Wikiomatic WP plugin come with Google Translate support so you will be able to choose whichever language you want to have each of your posts translated to. There is also support for Text Spinner so  it can automatically alter generated text like changing words with their synonyms. This could lead to improved SEO as well.
Other Features of the Wikiomatic Plugin Include:
Random sentence generator tool
Automatically generate a features image for a post
Define publishing constraints
KnB-Knowledge Base and Wiki Shortcode
We have arrived at number five our WordPress Wikipedia Plugins with the KnB plugin. This plugin will allow you to add a knowledge base, Wiki or FAQ page to any part of your WP site. By using this KnB plugin you will be able to create and assign item categories that will be able to be displayed on columns. You can also use the shortcode generator that comes with KnB to easily create different shortcodes.
This is a fully responsive plugin so when someone is using its features your plugin will always work correctly no matter how big or small the device your user is using is. This plugin is browser compatible as well with most popular web browsers such as: Chrome, Firefox, Safari, and others.
More features of the KnB WordPress Plugin Are:
Custom post type and category slug
Search form shortcode
Post format icon support
Subcategory support
RDP Wiki Embed-Free Wiki WP Plugin
The RDP Wiki Embed WordPress plugin is the first free plugin of our WordPress Wiki plugins list. How it works is that this plugin will take content from any MediaWiki website and then embed it into your pages and posts. The RDP Wiki Embed plugin can also look for all the link to various wiki sites listed in the security section.
This will then force the "content on the current page to be replaced with the content that was found at the wiki website when the link is clicked". You site visitors will also be able to read wiki content without leaving your WP site. In order to embed the wiki code on your site you will have to use the simple shortcode this plugin comes with.
Yada Wiki-Wiki Plugin
Next up we have the Yada Wiki plugin. Yada Wiki will provide you with things like: a wiki post type, custom tags and categories, a table of contents option and an index. This plugin comes with two easy to use shortcode buttons that are on the editor toolbar this will allow you to easily generate the shortcodes by clicking the button instead of having to remember it and its values.
The two different button of the Yada Wiki plugin are the Add Wiki Link button and the Add Wiki Listing Button. When you click the first button a popup opens where you will be able to type the title of the wiki page you are linking to or you can enter the link instead. With the other button, it will give you three different options for adding some collected output. There is a sidebar widget as well that has the Yada Wiki widget that shows the TOC page and a list of different article titles for a specific category in the sidebar.
You can also check out this video for more info.
KnB Lite-Wiki Plugin
We now have the KnB Lite wiki plugin. This is the free version of the KnB plugin that was mentioned earlier on our list. This is a knowledge base and FAQ plugin that will give you control of your knowledge base items. You will be able to show categories and display it on up to four columns on any part of your WordPress site.
Just like the paid version, this one is responsive as well so your content will look great no matter what kind of device your user is using to access your site. And it is cross browser compatible as well so it will work on most popular web browsers such as: Chrome, Safari and Firefox. With the KnB Lite plugin you will have the ability to create shortcode by using the powerful shortcode generator that comes with this plugin.
Other Features of KnB Lite Include:
Post Format icon support
You can customize the display to match your current theme
Search form
WelcomeWiki Lite-Embed a MediaWiki Page
We have come to the tenth of our WordPress Wiki plugins with another free option, the WelcomeWiki Lite plugin. With this plugin you will have the ability to embed a complete MediaWiki page or a part of a MediaWiki page into your WordPress, and even non-WordPress, site. This plugin can embed various content from any pages that follow MediaWiki protocols including both Wikipedia and Wikivoyage.
The WelcomeWiki Lite plugin is implemented by using one of two different shorcodes. The WelcomeWiki Lite Form shorcode can also be used in either a post or a page "to build a web form based manifestation of internal operations". The web form can generate a generic js script which can embed into any web page regardless of its framework.
WP KnowledgeBase-Build a Knolwedgebase on Your Site
The WP KnowledgeBase plugin is an easy to use plugin that can help you build a knowledgebase on your website. It is also super easy to customize and can work with any WP theme. This plugin has a fully responsive design so this plugin will be able to format itself to fit any size screen no matter how big or small it may be.
There is a super handy drag and drop element which will make ordering your articles and categories much easier than you could have ever imagined. The WP Knowledgebase plugin is available in a wide variety of languages such as: Dutch, German, Brazilian Portuguese, Polish, different varieties of Spanish, and much more. It can also work with most major web browsers like: Safari, Firefox and Chrome.
Other Features of the WP KnowledgeBase Plugin Are:
Editable slug
Integrated breadcrumb
Various sidebar widgets
Customize your catalog presentation
UserPress-Wiki WordPress Plugin
By using the UserPress plugin you will be able to transform your WP site into a wiki platform like Wikipedia. Your site users will also be able to edit pages on your site from the front end interface that integrates into the theme you are already using. You will also be able put on user restrictions to deice who is allowed to create pages and edit them on your site and who is not.
There is also a very useful click and drag page tree that will allow you to easily organize different pages. Th UserPress plugin can also work with different versions of BuddyPress so you can include a social network into your WordPres site. This plugin is cross browser compatible as well with various popular web browsers.
More Features of the WordPress UserPress Plugin Are:
IFrame Preview
Track changes
Live search
Tag Wiki-Wiki WP Plugin
The Tag Wiki WordPress plugin will allow you to add a different wiki page for each tag that you have on your website. The Tag Wiki plugin has its own URL, content and it even has its own customizable template which is great for those of you who like to customize every element and detail on your website.  The wiki page for each tag can be very helpful to your visitors because you can use it to write overviews of the topic, or give links to related tags or write summaries about the tag.
For example, if you have a travel blog and have a section for Best Beaches and then you might have tags for different beaches around the world and you can share articles for each beach under this general category of Best Beaches. There is also a shortcode to make it easier 'to insert wiki links to your tags from anywhere on your site'.
Encyclopedia-Encyclopedia/Glossary/Wiki Plugin
The WordPress Wiki Encyclopedia plugin is a fantastic plugin that is not just for creating an encyclopedia but it is also a glossary, wiki, and dictionary plugin so you can create and manage a knowledge base to combine with your WordPress site. This plugin is completely translatable and comes with a .pot file so you can translate your content.
There is also support for the WPML plugin to make your site multilingual. A cool perk of this wiki plugin is that each glossary gives search engines more content which will give better rankings for you. This could help draw more people to your site and increase your traffic.
Other Features of the Encyclopedia WordPress Plugin Are:
Intuitive interface
Automatic association of related items
SEO conform URL structure for all kinds of pages
Supports item comments
Final Thoughts
So now that you have seen all of these WordPress Wiki plugins have you decided which one can help you achieve your goal? Just figure out what kind of features you would want to have when turning your site into a knowledge base and decide which plugin can meet all of those needs.
Save 4 Later
Email these links to yourself
Offers & Promos