14 WordPress Timeline Plugins Compared - 2020
Last modified: January 13, 2020
Seeing things in an organized fashion makes things very clear and easily readable. We are used to things like flow charts from school and since the invention of Facebook almost everyone is familiar with what a timeline is and how it works. Timelines can be incredibly versatile and useful, more so than you might think and maybe by reading through this post you will want to create a timeline even though it was something you never thought you would want or need on your WordPress website. Now you are probably thinking things like "how different can time lines be" or " how creative and unique can you make them that it really matters which plugin I decide to get to use on my site. Timelines are actually very helpful to showcase pretty much anything in some sort of chronological fashion. It can be for events or photos or post or articles you've written, pictures you have taken. You can let your imagination run free with what you choose to put in your timeline by using on of the WordPress timeline plugins.
WordPress Timeline Plugins to Organize Your Site's Content
Now you are probably thinking that all a timeline does is show items that you decide on in some organized fashion on your WordPress website. Well, this is the main point of using one of the following WordPress timeline plugins but there is actually much more to these plugins than just ordering things. Each of these plugins have various features that can help you build a timeline just the way you want and you can even customize some elements. Depending on your wants and needs will decide which plugin you should choose to create a timeline on your site. So let's check out these great timeline plugins and all of their useful features.
Filter between free and paid
Cool Timeline-Free Timeline Plugin
We kick off our WordPress timeline plugins list with the Cool Timeline plugin. This is a free plugin that has a resposnive design so it can be viewed on any device and any screen size, even tiny mobile ones. This plugin works by you creating posts and set images and dates and then this plugin will automatically put the posts in chronological order.
This theme comes with a few new features, such as: road map style so you can show a road map of your success stories, compact timeline, a clean layout, advanced design as well as optimized code. This theme is also translation ready and is translated into 4 languages (German, Indonesian, French and Italian).
Other Features of the Cool Timeline Plugin Are:
Specify story background custom colors
Fonts and icons
TINYMCE button
You can show stories in DESC or ASC order
Choose icons to go along with stories
Social Timeline-Create a Timeline from Social Media Content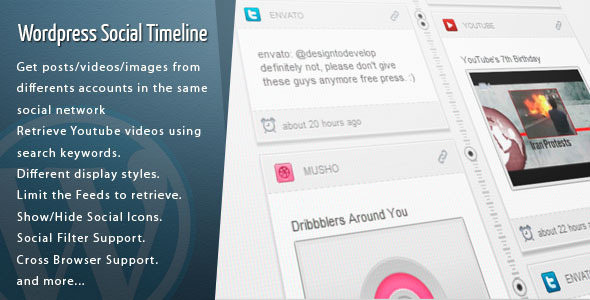 With the DP social Timeline plugin you will be able to get various things like images, posts, statuses and videos from social networks in a timeline. There is cross browser support for this plugin which means that it should work no matter which browser your user decides to use to access your website and the features of this plugin.
The Social Timeline theme is also very simple to customize. So even if you do not have too much computer knowledge or coding skills you should still have an easy time using this plugin with your website. You can also use this plugin as a widget which is a cool option to have.
Other Features of The Social Timeline Plugin Are:
Social filter support
Retrieve YouTube videos using search keywords
Add multiple custom feeds
Different display styles
Choose to show or hide social icons
Retrieve tweets using a hashtag
Timetable-WordPress Timetable Plugin
The WordPress Timetable plugin can be used for things like music events, business events, seminars, sporting events and more. When you want to update data you will be able to easily do so with this plugin by going to the easy admin panel to make your updates and corrections.
The Timetable WordPress plugin also has php which helps make sure that everything with this plugin will be search engine optimized which means that the site you use this plugin with will show up higher in relevant online search results. Your site visitors also have the ability to print out your timetable. There are also three relatively new features of this plugin: multi-day events and timetables, import and export to .csv, and a revamped admin panel.
More Features of The Timetable Plugin Are:
Built on Jquery and CSS3
Colorbox for printing, images and YouTube
HTML valid
Timeliner-Create an Interactive Timeline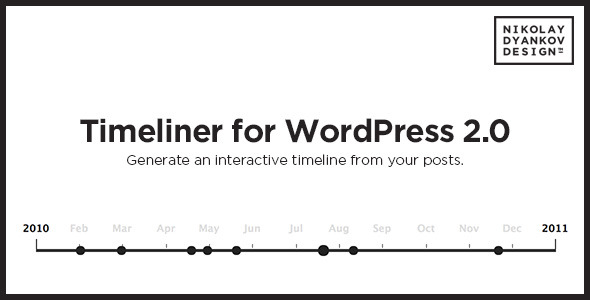 Next up on our WordPress timeline plugins list is the Timeliner plugin. This is a very flexible and smart plugin to be used with your WordPress site. This plugin can do things like take blogs from your WordPress site and arrange them on a timeline. But the Timeliner WordPress plugin can not only do blog posts in order but it can also do: news articles, a portfolio item, or anything else that has a date on it.
If you only want to show a certain number of items on your timeline, you can go to the options page to specify how many posts you want from a database and also choose one or more categories of where you get the posts from. The Timeliner plugin is also easy to install and it is very customizable it even comes with four different unique skin you can choose from.
Timeline Express-Create a Vertical Timeline

And we have reached number five of our WordPress timeline plugins with the Timeline Express plugin. This plugin is very cool because it will allow you to create an animated vertical timeline on your WordPress site. You can fill your site with things like announcements or set the dates and the Timeline Express WordPress plugin will be able to load everything in chronological order for you.
This plugin comes with a shortcode that allows you to insert it anywhere on your website. What is nice about Timeline Express is that it is also a responsive plugin which means it will have no problem formatting on any device or screen size. It is browser tested as well meaning it should work with any browser your users may be using.
Other Features of Timeline Express Include:
Localized date formatting for you international users
CSS3 animations
Tons of Font Awesome icons
Both free and paid powerful extensions
Cool Timeline Pro-Advancd WordPress Timeline Plugin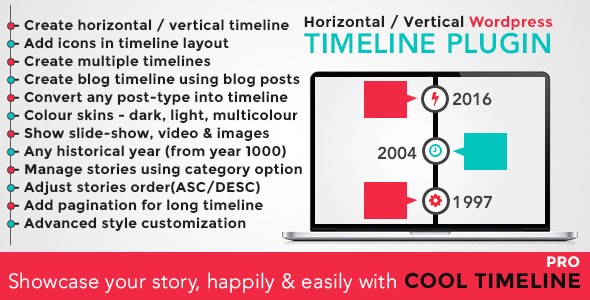 Now I know what you are thinking, didn't we already talk about this one? The Cool Timeline Pro is the paid version of the Cool Timeline plugin we mentioned at the beginning of this post. This advanced plugin can do things like, showcase your life history or show you company's story timeline in a horizontal or vertical format in a chronological order. This is the plugin of choice if you want to create a timeline theme.
With Cool Timeline Pro you can also turn any blog posts you have into a blog timeline. A nice perk of this plugin is that it can use the Visual Composer add on so you can create a timeline using the Visual Composer. This plugin will create a responsive timeline so you don't have to worry about it not showing correctly on certain devices.
More Features of Cool Timeline Pro Are:
Font Awesome/Custom Image Icon
Add a video, image or slide into a story
Custom color options
Animations
Multiple timelines
WP Jquery Timelinr-With JQuery Timelinr Library

We move on to the next of our WordPress timeline plugins with WP Jquery Timelinr. This is another free plugin choice to add to your site. This plugin is a little more simple than most of the others we have seen so far and will probably be one of the more basic choices in this post but if you are looking for something easy and simple then this WP Jquery Timelinr plugin is a good option for you to use.
This is one of the first WordPress timeline plugins to have the JQuery timelinr library. This plugin is cool because it is button friendly which means that you can easily put Timelinr shortcode on pages and posts. You can also have  more than one timeline should you want to have several throughout your site.
Other Features of the WP Jquery Timelinr Plugin Include:
Ability to add Timelinr categories
Default settings page
Shortcode with multiple parameters
Date range
WP Facebook Timeline-Facebook Profile Style Timeline

As opposed to what you might think, this next plugin does not order your Facebook posts on your WordPress site, but it does put your WordPress posts and other media sources into a linear timeline in the same style as a Facebook profile timeline. The timeline events you choose to include can be filtered by taxonomy terms and post types.
What is interesting about the WP Facebook Timeline is that it can, in addition to your WordPress content, also let you add content to the Timeline from Twitter and filter the content by hashtags. You will also be able to set timeline events to be featured so this way more prominent and important events and posts can be indicated as milestones on you timeline.
WP Similie Timeline-WordPress Timeline Plugin
The WP SIMILE Timeline plugin actually integrates the SIMILE Timeline into WordPress which will allow you to have an option interface for different timeline settings. This plugin is a "web widget for visualizing temporal data". This plugin is cool for those of you who want to make a timeline of your life because it allows you to build a lifestream timeline with RSS feeds that will come from you WordPress link archive.
What is nice about the WP SIMILE Timeline plugin is that it comes with several language files including English, German, Italian and Spanish. You will also be able to have individual categories displayed in your timeline.
Other Features of the WP SIMILE Timeline Plugin Include:
Customize colors for timeline bands and categories
Supports multiple instances on different pages by using a template tag
Show individual icons or images with custom fields
Display image attachments from posts in the timeline
Everest Timeline-Responsive Timeline Plugin
We are now up to the tenth of our WordPress timeline plugins with the Everest Timeline. This is a very easy to use plugin and it is responsive as well so no matter what kind of device your user is using to access your site or how big the screen of it may be your timeline will still show up great. This is an ultimate WP plugin to use to showcase your story timeline in a stunning way.
What is cool about the Everest Timeline plugin is that it has four different layouts to choose from to display your timeline: vertical, horizontal, one side and Facebook layout. This plugin has various media support for: YouTube, Vimeo, HTML video and Soundcloud audio as well. The Everest Timeline plugin also has support for many mobile devices so your users can view your timeline on anything from a desktop to a mobile phone.
More Features of Everest Timeline Plugin Are:
Viavi- WordPress Timeline Plugin
We continue on with the Viavi WordPress timeline plugin. This is a really great plugin choice to use if a WordPress user wants to show things like their work progress or various events in different ways on a timeline. The design of this plugin is very modern looking and simple. It is a resposnive plugin as well so your timeline will always look great from large desktop screens to teeny tiny mobile ones.
The Viavi plugin comes with various different styles and features which will allow the users of this plugin to create different timeline options and styles. This plugin has a vertical layout for the timeline you create and it is super easy to customize as well. The Viavi plugin also comes with five style themes to choose from.
Content Timeline-Premium Timeline Plugin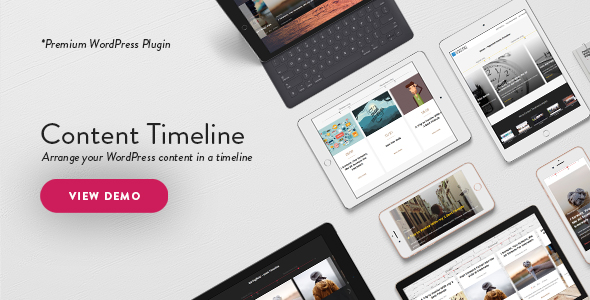 And next we have Content Timeline, a strong and light weight plugin to use with your WordPress site. This plugin, like most of our others, is resposnive so your users should have no issues viewing your timeline no matter what size screen their device has. This plugin actually has a very cool feature with it, and that is a swipe functionality that can be used with touch screen devices.
With this plugin every card in the timeline you create will have the option to either expand or open a new link (to direct to your post). This feature allows you to decide if you want the timeline to go directly to a blog post or just display your data in a separate card. This plugin has tons of elements to you will be able to easily make a timeline plugin to fit your needs.
Other Features of the Content Timeline plugin Are:
5 class events
11 settings for customizing
Fully interactive timeline
Ability to hide the timeline as well as the controls
Works with several different browsers
WordPress Ultimate Timeline -Visually Build Timelines
The WordPress Ultimate Timeline  is a relatively new timeline plugin. You can use it to visually build different attractive timelines for your WordPress site. It has a resposnive design so no matter what device your user is using or how big its screen size may be, the work you do with your plugin will always look great.
With the WordPress Ultimate Timeline  plugin your timelines will be able to stream various information from tons of different feeds such as: WordPress blog posts, Instagram, Dribbble, Facebook, Twitter, and status updates. There is also an advanced admin panel that has tons of different options for things like styling, custom icons and many many more. Font Awesome is integrated with WordPress Ultimate Timeline so you can just enter whichever icon code you want into the plugin's settings. Of course this plugin also has dedicated support should you have any issues.
Post Timeline-#1 WordPress Timeline Plugin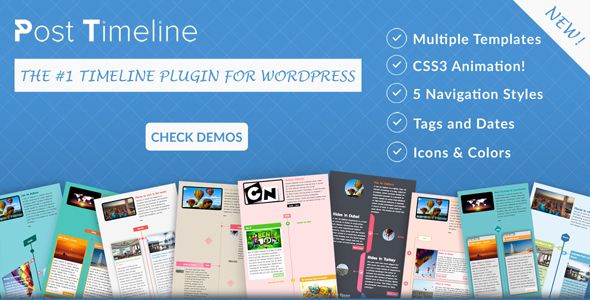 And last but not least the Post Timeline WordPress plugin is the last of our WordPress timeline plugins. With this plugin you can create both horizontal and vertical timelines on your site as well as single and two sides timelines. Post Timeline comes with many features so you will be able to customize your timeline to your needs and wants.
You can also create as many timelines on your website as you want, the options are limitless. There is a back end template manager with this plugin as well. this will allow you to see how your timeline will show up on the page with fake content, it also generates shortcode with animation, background code and navigation color.
More Features of Post Timeline Are:
23 different timeline templates
CSS3 animations and JS animation
Responsive UI
5 navigation styles
Final Thoughts
So if you need a way to order some of your site's content we hope you have found a great plugin option from these WordPress timeline plugins. Organizing content on your site can be very helpful for you and your site's users. So choose one of these timeline plugins to help you get started on creating a timeline for your WordPress site.
Save 4 Later
Email these links to yourself