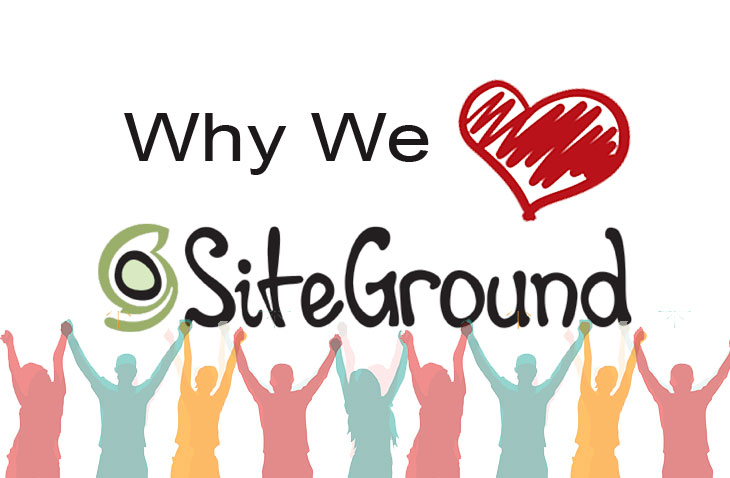 SiteGround WordPress Hosting Review – Why SiteGround is the Best Option for Your Business
Last modified: January 13, 2020
If you have been using WordPress for a while, you've most definitely heard of SiteGround and you have most definitely have heard nothing but good things. Being a member of the WordPress community for almost the past decade, has gotten me into more conversations than I can possibly remember about WordPress hosting and ever since Facebook groups have been around, I've probably seen thousands of Facebook group posts about terrible/good/great WordPress hosting companies. There are several hosting company names that you keep on hearing about. Some of them are names you keep on hearing about because their customer service isn't up to par, some of them you keep on hearing about when talking about companies that have slow servers or not up to date PHP versions. However, besides all the negativity, there are a handful of WP hosts that their names come up only when recommending a great WordPress hosting company.
SiteGround – #1 Recommended Hosting Service
SiteGround is undoubtedly the #1 host that everyone seems to recommend. Just go to any WordPress hosting group like this one for example, search for the name "SiteGround" and see what comes up. Here are some results from my search.
And here are some real Facebook polls that show consistency is choosing the best hosting option:
Show More
* This button will show the rest of the post and open up an offer from a vendor
Reasons to Use SiteGround to Host your Website
Transparency – Many host are not that transparent regarding the technology they use and even more often – about the technology they don't use. SiteGround has a Speed technology page where they state exactly what helps them be such a fast loading hosting company.
Up to Date – You can be sure that SiteGround is up to date on every relevant technology. Whether it's speed factors or security features – they're are right up there implementing the best option for your WordPress site.
Outrageous speed – page-load speed off the charts. We've seen several websites hosted on SG loading anywhere from 0.5s – 1.8s depending on the elements on the site.
Free SSL – you get a free SSL certificate from Let's Encrypt which actually costs additional money on several other hosts.
Customer Support – many other hosting companies have under par support with reps that lack the understanding of how support needs to look like and the technological abilities. Any time I had to contact Siteground resulted in a really fast response time and a highly professional answer which shows me not only how important my business is to them but they know their business; WordPress specifically.
Dedicated hosting for the mass – SiteGround's take on dedicated hosting for a fraction of the price. It's much faster than shared hosting and much cheaper than dedicated.
Cloudflare integration – SiteGround and Cloudflre work together seamlessly.
WordPress – the best option for WordPress specific websites!
Uptime – 99.99% uptime guaranteed.
Backups – 30 daily backups. No matter what happens, whether you made a mistake, you were hacked or just don't like the changes you made on your site – you could always choose any of the past 30 backups and restore your website. This feature can cost a lot of money on other hosts.
Free Migration – If you are moving from a different host, SG will migrate your site for free.
WP-CLI – Enabled on any WordPress website
WordPress Staging – You can build your entire site and do all your changes on a staging environment before deploying to your live site. (A few years ago I asked a different hosing company if they have a WP staging environment. They basically ignored me. Either because they didn't know what it was or because they didn't want to go into it…)
Satisfaction – 98% Client Satisfaction rate!
Security – with SiteGround's top-notch security, the risk of your site being hacked reduces immensely.
This is What Real People are Saying about SiteGround on Reddit
You can write as many online reviews and praising posts as you want, but what counts is the hard facts. What real customers with real websites are saying. There is no better place than Reddit to see what people have to say about SiteGround.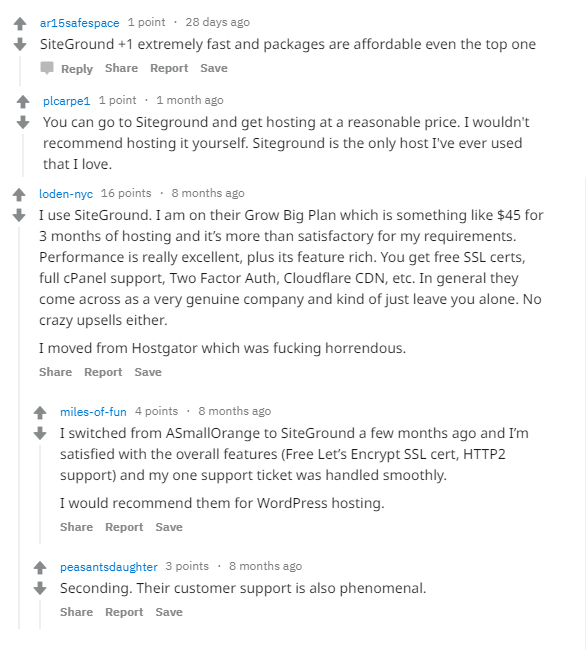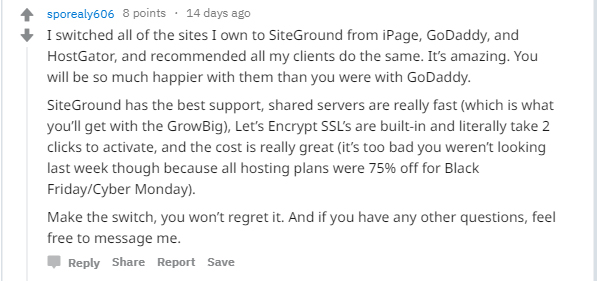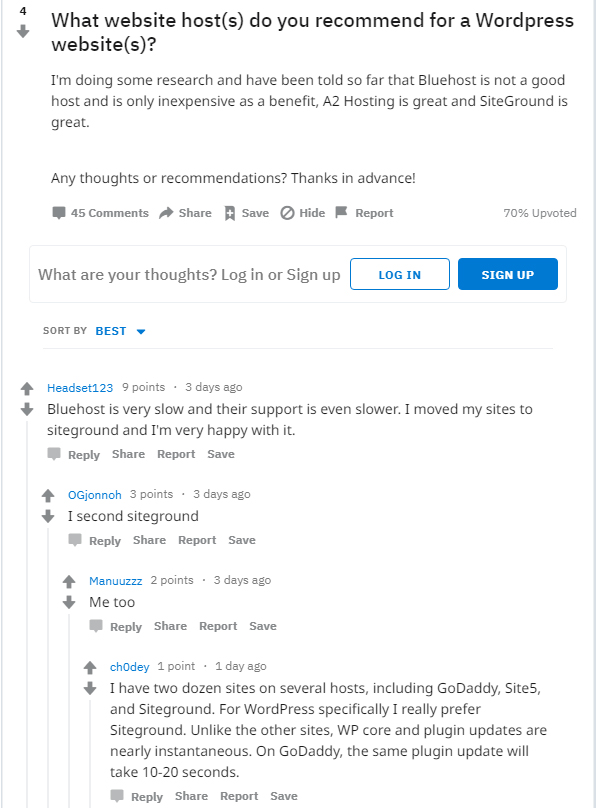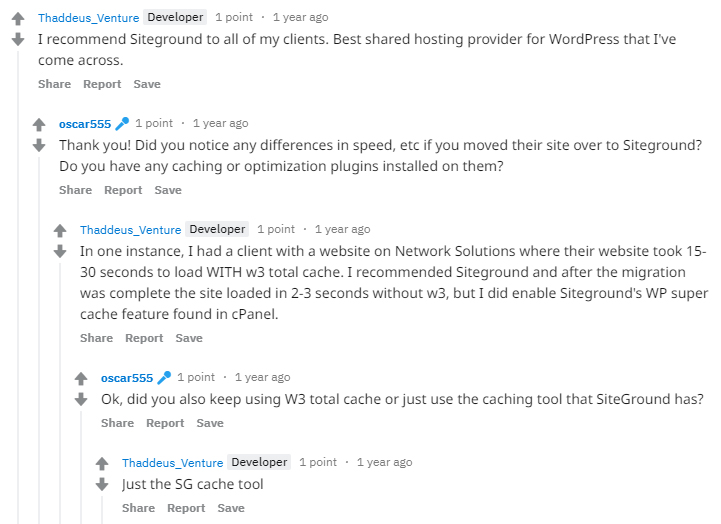 SiteGround Programs Comparison
Below is the official SiteGround comparison chart between their 3 available programs. There are several differences between the 3 as you can see. The "Startup" option has fewer perks than "Go Geek". Seeing as the prices are really affordable no matter what you choose, we would go with "Go Geek" and get as many options as possible, such as backups, caching tools, web space etc.

Keep in mind – the better the program you choose, the faster your website will be which will intimately affect your SEO and user experience.
YOU Choose the Most Relevant Data Center
Did I mention that SiteGround has speed in mind (wink)? When you set up your server when signing up, you choose to serve your website from a data center closest to your users. This basically ensures your users get your website's files served to them from the closest place, which actually speeds things up. The fact that SiteGround can serve your data from a few data centers basically makes sure that if one data center crashes, the second one comes into play. And THIS is what helps them fulfill their 99.999% uptime promise.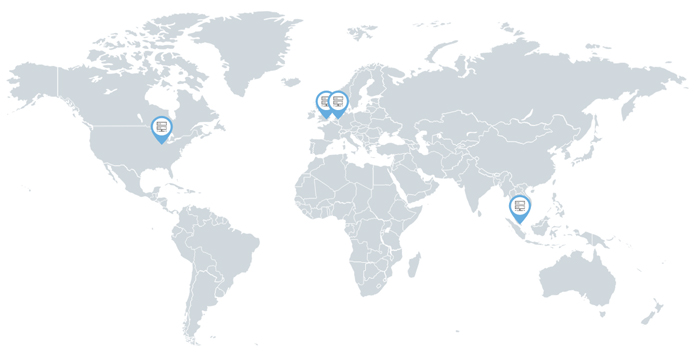 "

... and Scan WP's recommended WordPress theme is... Astra (Click to try)

"
SiteGround Security report
In 2018, SiteGround was extremely successful in keeping clients sites well secured. They responded to 3 times more threats compared to last year. Statistically, they:
Wrote 250 new custom firewall rules
Added 125 livepatch kernel modules
Mitigated 186 DDOS attacks
Stopped 7 million brute-force attacks
Stopped 160M bad bot requests towards client's sites each day with their anti-bot AI solution
SiteGround WordPress Starter
Building a new WordPress site on SiteGround's platform is really easy with their unique WordPress Starter plugin. With it, you can quickly choose a professional-looking theme and add important functionality plugins to the site, all of which get automatically installed in a click. You will no longer lose time wondering how to power up your site and get the look and feel you need.
SiteGround Migration Service
SiteGround offers a unique tool, the WordPress Migrator, that lets you transfer as many WP installations to SiteGround as you wish in just a few clicks and with no technical skills required! The migration is seamless and runs in the background of your WordPress, transferring your content for you, without any hassle.
SiteGround & Gutenberg
The WordPress 5.0 version brought new key features and generated a lot of buzz and some fears around the new Gutenberg editor. As always, SiteGround went the extra mile as a web host to make the transition to Gutenberg smooth and risk-free for their users. They closely monitored the results of the update and installed the previous Classic Editor plugin as an option, so users can have the flexibility to choose which one to use at any moment.
Client Satisfaction Rate
In 2018, SiteGround achieved the incredible 98% Client Satisfaction rate! This is the fourth year in a row that their rate is growing. The company keeps its dedication to customer happiness its number one priority. Their team worked on multiple projects during 2018 to extend the tools they offer to customers, make the client onboarding experience better, enhance the performance of their sites, and stop millions of security threats.
Ongoing SiteGround Review
Unlike most of the posts and pages on this site, this is planned to be an ongoing review. We plan to take a MUCH CLOSER look at SiteGround and let you know much more about what's going on there. With so many positive reviews about this site and raving speed results, we will have to take a much deeper look into this hosting option and give you all the information you need to know.
Stay tuned!
Conclusion
There are so many reasons why people love SiteGround so much. Try it out and let us know what you think of it!
Recap:
Save 4 Later
Email liked links to yourself