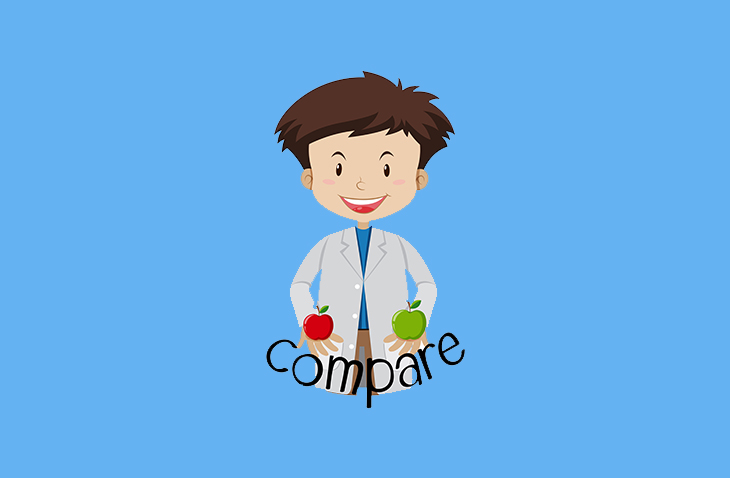 11 WordPress Comparison Plugins Compared - 2021
Last modified: January 3, 2021
WordPress plugins were created so people will be able to add more features onto their WordPress sites specific to what they need. People could look for a specific plugin type and choose which one they want and incorporate into their WP theme in order to give their sites more capabilities. Plugins are a very important part of the tools WordPress has to offer. Overall, WordPress is very simple and easy to use so anyone who wants to build their own site will be able to do so, and usually they can do it without needing to know any code.
WordPress has different kinds of plugins for almost anything you could think of to have on your site. The plugins you choose will allow you to have more elements, tools and features on your website instead of just using the elements of the theme you chose. For example, if you have a blog but want to translate it into another language, you should use the WPML plugin, or maybe you want more security, or you want to create a timeline, the list is endless. Since there are so many different kinds of plugins you need to talk about them one category at a time so today we will discuss WordPress Comparison Plugins.
WordPress Comparison Plugins Can Help You Show the Similarities and Differences Between Things on Your Site
So if you are looking to compare different things on your WordPress blog or site you have come to the right place. Depending on which of the WordPress comparison plugins you choose will give you the ability to compare things like products or baseball players or prices, really almost anything you can think of. You can use most of these plugins even if you do not know any code so they are really meant to be used by anyone.
Filter between free and paid
WP Table Builder – WordPress Table Plugin
WP Table Builder is the ultimate table builder plugin for WordPress. This drag and drop table builder can help you build beautiful comparison tables quickly.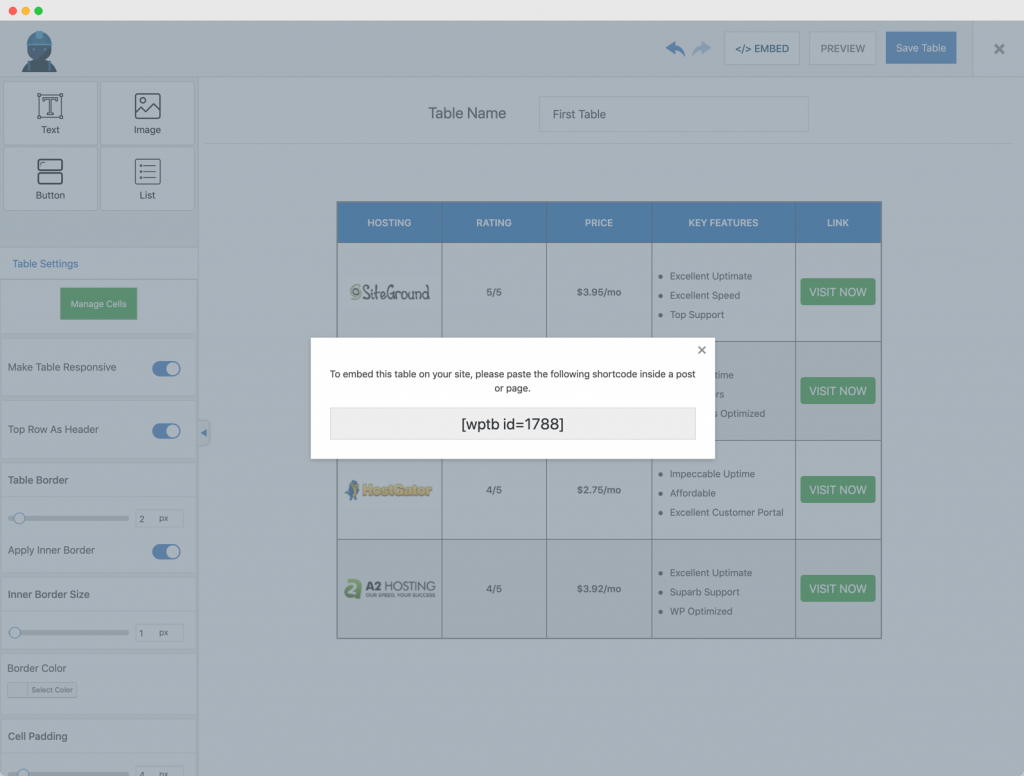 The plugin is perfect bloggers, affiliate marketers, startups, and small businesses. Basically, if you want to build a comparison table or any other kind of table, this plugin is really helpful. 
WP Table Builder has a drag-and-drop interface that allows you to drop elements on your table and arrange them efficiently. The tables created using this plugin are responsive so that users on a mobile device also have a great experience. 
The plugin currently features the following five elements: 
Text
Image
Button
List
Star Rating
With these five elements, you can create comparison tables, pricing tables, list tables, and so on. 
Just like any table builder plugin, WP Table Builder features important table options such as cell splitting, cell merging, and more. 
You can embed the tables created using this plugin by a shortcode that can be inserted anywhere. 
The plugin also has many customization features allowing you to change the look and feel of the table. You can customize the table header background color, cell background color, font color, image size, alignment, list icons, button color, and so on. 
The best part about WP Table Builder is that it's completely free and very lightweight. So, you don't have to spend big bucks to create beautiful tables.
Diffen-Compare Anything on Your Blog

We continue our WordPress Comparison Plugins list with the Diffen plugin. This is a comparison plugin that will allow WP bloggers to search for as well as embed a comparison on their blog. Diffen will give you the ability to compare anything you want on your website. You can compare: baseball players, countries, companies, if you want to compare it then this plugin can handle it. What this plugin will do once it is installed, is add a new button to the editing dashboard.
This button called "add a comparison" will be next to the "Add media button". Once you click on the add a comparison button an overlay will show up that will then allow you to search for the comparison you are looking for, all you have to do is type in the two things you want to compare and hit enter. If this plugin has the info you are looking for you will see a formatted chart for your search terms.
Compare for WooCommerce Products-Let Your Customers Compare Products
We move on to a plugin geared towards people with an eCommerce site that used WooCommerce to create it. With the Compare for WooCommerce Products plugin your customers will be able to create a comparison between two or more products on a common popup window. This plugin is actually pretty flexible and will allow your customers to do comparison's based off of the products': images, titles, price, weight, availability, description, dimension and on WooCommerce attributes.
And once your customer has decided which product they want from the comparison, they can easily add the item to their shopping cart right from the comparison table. This plugin was also recently updated so it will now work with the newest version of WooCommerce.
Other Features of the Compare for WooCommerce Products Plugin Are:
Can set a button or link
Enable or disable the compare button on a single product page
Enable or disable the compare button on a shop page
CSS3 Responsive WordPress Compare Pricing Tables-Compare Pricing Tables
Next up we have the CSS3 Responsive WordPress Compare Pricing Tables plugin that will allow you to create, you guessed it, pricing tables and grids. This plugin has tons of features to help you make one of a kind pricing tables for you website. This plugin is cross browser compatible so it can work on almost any popular web browser such as Internet Explorer or Firefox. There is an intuitive admin panel with live configuration so your tables can be extra customized and get set up very quickly.
You will be have the ability to create an unlimited amount of tables on your WordPress site and have unlimited number of rows and columns on those tables and you can even change the font of the text of the columns and their width.
Other Features of the CSS3 Responsive WordPress Compare Pricing Tables Are:
20 predefined color versions
Shortcodes
2 different table styles
Rows and columns sorting
Komper-Create Side by Side Product Comparison
The Komper WP plugin is designed to allow you to create a side by side product comparison. You will be able to do things such as: create product specifications, add product info, and also display the comparison form widget to the front page. Then, on the front page, the user can search the product to compare using the comparison form widget with autocomplete feature.
The results will then be displayed in the table chart. A great feature of this plugin is that there are drag and drop fields in order to change the order of the fields. This means that all you have to do is literally drag the fields wherever you want them to go and just drop them, it is super simple.
More Features of the Komper Plugin Include:
Widget supported
Create product specifications fields dynamically
Search product with autocomplete features
Show side by side product comparison in table chart
SocialCompare-Comparison WP Plugin
And we have come to the fifth of our WordPress Comparison Plugins with the SocialCompare plugin. This comparison plugin will allow you to embed interactive and collaborative tables. Anyone that wants to use this plugin can, it does not require any coding knowledge or experience to use it correctly. The tables you create will be able to have various content such as: images, ratings, videos, numbers, text, and more. You can import tables from csv data, html and other sources.
And you can also reuse data from one table to another. The tables you build can be multilingual as well if you want to expand your audience or maybe your table is about something i another country and you want text in that language. The shortcode that comes with this plugin will allow you to embed a user-generated comparison table on your WP site. Lastly, SocialCompare also has a drag and drop tool so you can easily sort data.
Datafeedr

We move on to the Datafeedr plugin which is a comparison set plugin. It will give you the ability to create price comparison sets for any of the products in your WooCommerce store or by using the shortcode. An important thing to mention and note is that you need to have already installed and activated the Datafeedr API plugin before using this comparison plugin.
Once you have this plugin up and running you can not only compare your products but you can also compare your products to Amazon's as well. In order to do this you have to go to Amazon settings in the WP admin area, then add your Amazon access key ID, secret access key, tracking ID and locale. Then click the Save Changes button and then change the Cache Lifetime field to 86400 and save the changes. You can also show comparison sets for the products in your WooCommerce store by going to the WP admin area and checking the WooCommerce option.
WP Compare Tables

We move on to the next plugin of our WordPress Comparison Plugins with the WP Compare table plugin. This super simple WP plugin will allow you to create, you guessed it, different comparison tables. This plugin is so easy to use and the best part is that you will not need to have any coding knowledge to use it correctly.
There is support for various things to use in the tables such as: images, plain text and buttons. At its core the WP Compare Tables plugin is a comparison table manager plugin. but it can also be used for other things as well. There is also a lot of different CSS classes. This is good because it will allow the customization process of your tables to be an incredibly smooth and easy experience.
Football Odds-Comparison Plugin
I think you ca probably already figure out what our next plugin is for just by reading its name. The WP Football Odds plugin is a free plugin that will allow you to have a complete football odds comparison system on your blog pages. This plugin is super easy to use so football fans of all tech skill levels can incorporate this plugin on their WordPress website. Football Odds "enables high customization of pages for specific games, leagues, countries, odds or bookmarkers.
This plugin can also work with most themes so if you already have a website up and running you can probably use this plugin with it if you like. A really great feature of Football Odds is that it is responsive. This means that the content you have with this plugin can work on all different devices and screen sizes, from large desktops to tiny mobile phones.
Other Features of the Football Odds plugin Are:
Real time clicked link reports
Extreme customization potential for the tables
Shortcode to easily install and integrate on your blog
ArPrice Lite-Pricing Table Plugin

The ArPrice Pricing Table WordPress plugin will give you the ability to make pricing tables. In addition, you can also create plan comparison tables very easily as well. The content you create will all be responsive so you tables will format to fit on any device and screen size. ArPrice has a very powerful and flexible real time editor with a variety of pricing table templates so you can design different pricing tables for different WordPress themes.
The real time editor is great because you can see your edits as you make them. This plugin has the drag and drop feature as well so all you have to do is literally drag items around and drop them where you want them to go. It is also translation ready should you want or need to translate your content into other languages.
Other Features of ArPrice Pricing Table Are:
Multi site compatible
Lightweight
Supports Google Fonts
Widget supported
Endless color choices
YITH WooCommerce Compare-Compare Your Products

And last but not least we have come to the last of our WordPress Comparison Plugins with the YITH WooCommerce Compare plugin. This is an extension of WooCommerce so your users can compare products on your shop. How this plugin works is that all of your products are saved in one table where the user is able to see the difference between the products on your website. "Each product's features can be set with WooCommerce attributes in the product's configuration."
The compare table is also fully customizable so you can design it to best fit the look of your website. In addition, you also have the option to add a widget with the list of products your users have added so you can manage them. YITH WooCommerce Compare can work with the WPML plugin as well so you can have the ability to translate your site if you ever need or want to.
Final Thoughts
Now that you have seen a back to back comparison of our WordPress Comparison Plugins, did you see what that meets your needs? Some of the plugins are general but some are more specific to be used for certain purposes such as comparing prices or different products. No matter what you want to compare there is a comparison plugin out there for you.
Save 4 Later
Email liked links to yourself