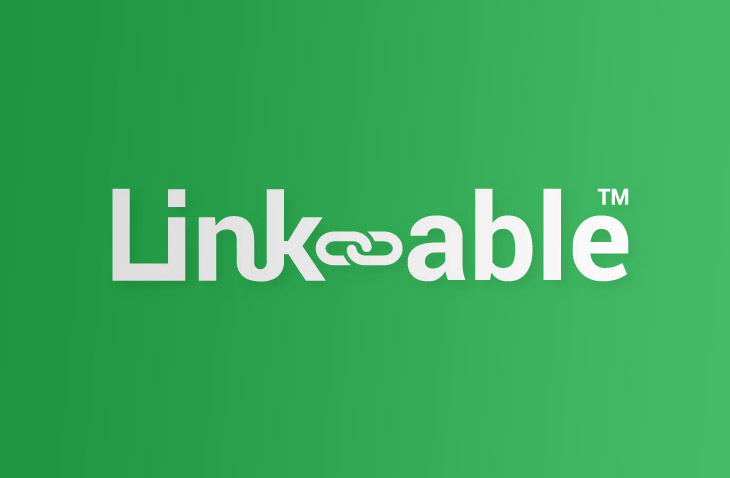 Link-able Review – A Powerful tool for your Content Marketing
Last modified: January 13, 2020
Can Link-able really help boost your content marketing strategy? Read our full review of Link-able and see how Link-able helps Content Marketers build great backlinks.
Intro
If you've ever done content marketing before, you know how difficult it can be. Getting your content out there and growing traffic is no easy feat. Especially in today's highly competitive market. For most Content Marketers, getting backlinks to their content is one of their biggest struggles.
Backlinks are important for growing your organic traffic and search engines, like Google, use backlinks to as one of their largest ranking factors. Having a strong backlink profile is a powerful indicator to search engines of your website's importance and credibility.
If you are struggling with acquiring high quality backlinks and getting your content promoted, Link-able might be your solution.
Show More
* This button will show the rest of the post and open up an offer from a vendor
What is Link-able?
Link-able is a unique, new content marketing platform that enables Content Marketers with quality content to acquire relevant and diverse backlinks. Founded by Jay Douglas and launched in late 2018, Link-able aims to connect amazing authors with equally amazing content to create the highest quality backlinks possible. It's a very powerful tool for Content Marketers – allowing you to focus on your own content while letting others do the link building on your behalf. Its also a beneficial platform for Content Authors as well.
Link-able Pros & Cons at a Glance
In this review, we'll dive straight in and cover everything you need to know about Link-able. Here's the highlights:
Pros:
Easy to use for Content Markets while helping them save time in searching for relevant backlinks.
Less work for Content Marketers as you will no longer need to outreach and do guest posting yourself.
Link-able helps Content Marketers get discovered obtaining white hat links from other established bloggers and SEOs
Works great for Content Marketers with high-quality websites and content
Helps talented Content Authors earn more from their writing
Helps both Content Marketers and Content Authors to produce better quality content
Cons:
Authors charge premium prices (although you do get premium work)
Link-able works best in the long run, so don't expect to obtain backlinks overnight
Bottom line: The Link-able platform provides an effective and efficient way to connect Content Marketers with Content Authors, creating a mutually beneficial community for both users.
How does Link-able help Content Marketers?
For Content Marketers, it's a great way to acquire high-quality backlinks and mentions from various authors and sites over time. Link-able is amazing at helping Content Marketers acquire a variety of relevant backlinks, which in turn help contribute to a strong backlink profile. While this feature alone is nice, there are a couple of other great features as well. For instance, Content Marketers can post a specific link-building job (Link-able calls it a project) on the platform with specific details about the link you may want. Overall, this is an extremely powerful platform that can help Content Marketers save hours of outreach or trying to build the backlinks themselves.
How it works for Content Marketers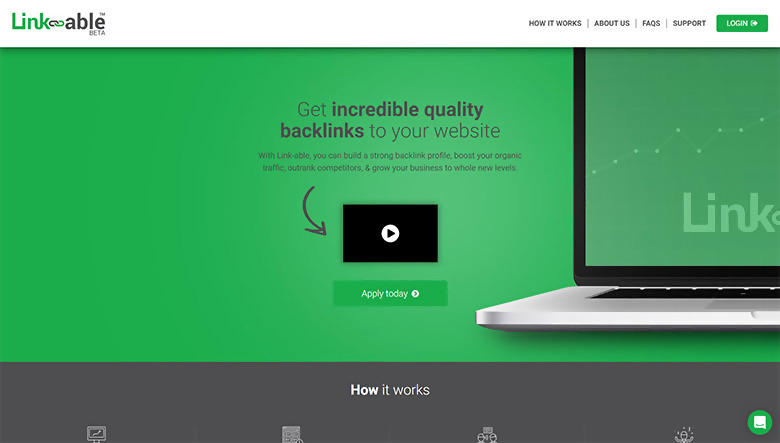 Content Marketers start by applying to join the Link-able platform. Joining is easy but keep in mind the guidelines for the platform are very strict and not everyone can join. This is because Link-able will only accept individuals who have a website or blog with high-quality content all readily available. Every Content Marketer account is thoroughly examined by the Link-able staff who manually review each site. Getting accepted means, you have good quality content as well as an amazing website appearance, an outstanding online reputation and other factors that make your website stand out from the rest. Content Marketers will also need to verify ownership of the website they add to their account or permission from the site owner.
If you are accepted, you'll get an email notification of acceptance and you can then login to the platform.
To get started, you'll need to post your first project. On the Link-able platform, you need to post a project that represents each page you want to build links to. Think of these projects as mini job descriptions for Content Authors. Link-able will then show your project with authors looking to link to something similar. You'll need to post a new project for each page you want to build links to, which can get a bit tedious.
PRO Tip: Think of projects as mini job postings that represent a specific page you want to promote. Content Authors can then view and apply to these posting, submitting their proposals.
Tips for Posting Projects
When posting a project on Link-able, it is essential to be as detailed as possible. This is the key to receiving the highest number of quality applications. Providing clear and detailed instructions about your page and what type of backlinks you want will help give authors a clear idea of what you're looking for. Otherwise, authors most likely won't apply to your project if it appears to vague.
Here's an example of what a project posting looks like on Link-able:

Each project contains:
Content Marketer's Description: This is the detailed description you'll need to provide about your page. Link-able uses this information to index the content and show your project to relevant authors experienced in writing about relevant topics.
Additional Info: This is where you can add any additional info you would like to share, such instructions on how you'd like your page to be referenced or things of that nature. Note that authors don't always follow these directions and it's meant to be more of a guideline than actual rules.
Content Marketer's Desired Link Attribute: This is where you can tell Content Authors what type of link attributes you prefer. Again, this is more of a guideline and authors will submit proposals to you with what they can actually get you.
Content Marketer's URL: This is the URL of your page that you want to build links to. Note that Link-able also provides an option to keep your project anonymous. If you choose this option, then your URL won't be disclosed, and authors will need to rely heavily on your description.
Wants a Backlink on: This is where you can list any particular website(s) you would want a backlink on. This is a particularly handy feature that you might want to take advantage of.
Once you've carefully filled out your project, you can post it to the Link-able platform. If authors like the project, they can then click the green "Apply Now" button and submit a proposal to you.
How does Link-able help Content Authors?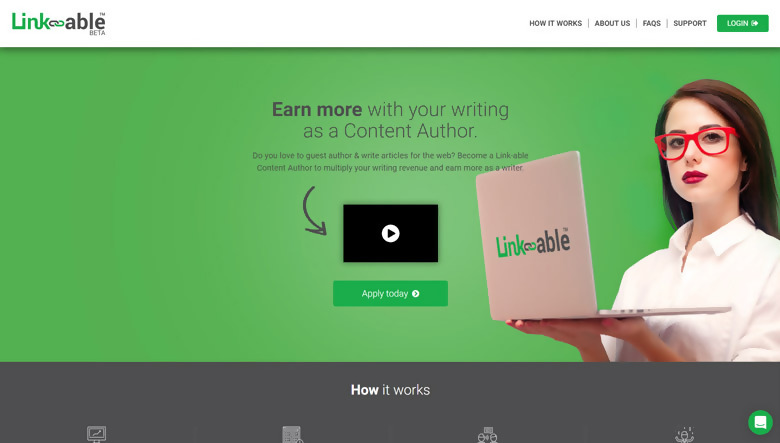 When it comes to Content Authors, Link-able is a great place that they can find potential link building jobs and amazing content to link their writing too. For Content Authors who are great at guest posting and outreaching, this platform is a great way to find work. Authors search the platform; review projects posted by Content Marketers and apply to the projects they like best. Link-able has made it very easy to submit applications to Content Marketers and authors can get paid well if their application is accepted.
How it works for Content Authors
Link-able works similarly to Content Authors as it does with Content Marketers. Authors apply to join Link-able and the review process is just as strict as it is with Content Marketers. Outstanding writing skills and fluent English composition is essential. Authors must be in the United States. Link-able requires authors to only write about topics they have experience with writing and specialize in. For authors who get accepted, this is a great place to earn a decent revenue for content writing and link building.
Is Link-able Free?
Yes, Link-able is free for both Content Marketers and Content Authors. All you need to do is apply and if you're accepted, you're in. There's no fees or monthly charges for using the service as Link-able takes a cut from whatever amount the authors earn. So for example, if you hire a Content Author for one of your projects, Link-able then gets a percentage of that amount. This makes sense though as Link-able thoroughly works with its users to ensure quality content and that the authors are doing the work they promised they would do in their application.
Conclusion
Overall, Link-able is a great tool for Content Marketers to use. It's an extremely effective and efficient way to help Content Marketers get relevant and diverse backlinks. Even though this isn't an instant growth tool, it will still help tremendously over time. All backlinks are relevant and Link-able will carefully monitor the work of Content Authors to ensure outstanding quality. Spam is taken very seriously and makes sure both users only publish high-quality content. When it comes to Content Authors, Link-able is a great way to find link building jobs and write amazing content for a nice return. It's a unique platform and a powerful tool that is worth checking out.
Recap:
Save 4 Later
Email liked links to yourself