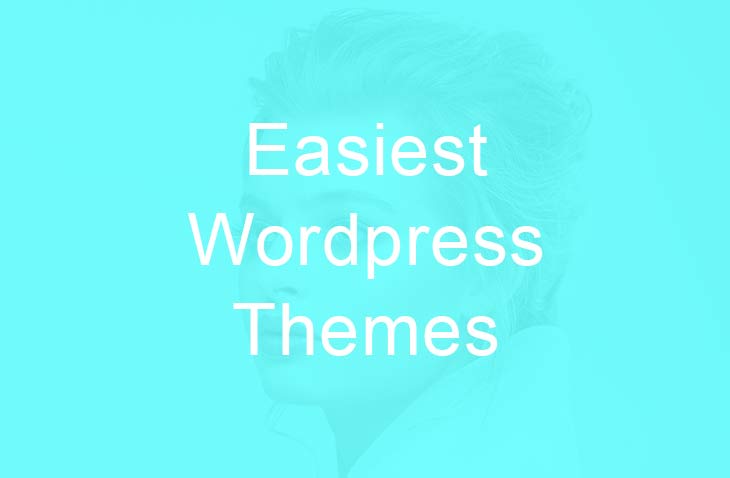 5 Easiest WordPress Themes Compared - 2023
Last modified: May 28, 2023
WordPress is a popular platform that offers a variety of themes for self-run websites. Aspiring bloggers and business owners may take on the responsibility of a new site with no prior knowledge, however, they can walk through the steps with the easiest WordPress themes.
Easiest WordPress Themes: Functionality with Minimal Effort
There is no need to become overly stressed about the formation of a new website. The WordPress platform has made sure to include several themes that promise ease of use. These themes not only make the site easier for you, but they also offer ease-of-use for those who visit the site. Take a look at the easiest WordPress themes when you start to design your site. Attractiveness is never sacrificed for functionality on a WordPress site. The two go hand in hand with these WordPress themes.
| # | Name | Image | |
| --- | --- | --- | --- |
| 1 | Camelia | Floral Studio WordPress Theme | | More Info |
| 2 | Shape - Photography Wordpress Theme | | More Info |
| 3 | Wilson – Multipurpose WordPress Theme | | More Info |
| 4 | STELLA - Clean Blog/News/Magazine Responsive Theme | | More Info |
| 5 | Igloo | | More Info |
Show More
* This button will show the rest of the post and open up an offer from a vendor
Filter between free and paid
Camelia | Floral Studio WordPress Theme
You will forget that you chose this theme for its ease of use when you see how beautifully it stands out. This theme may not fit with all types of sites. However, the floral theme is sure to have you thinking about Spring at any time of year. There are no sacrifices in functionality nor attractiveness when it comes to this theme. The color options are one of the best features. They have put no limit on the colors, so your theme is extremely customizable. Several layouts and widgets are available to help you decide exactly how you want your site to appear to visitors.
Shape - Photography Wordpress Theme
For all of those aspiring photographers out there, there is a simple way to get started showcasing your work. The Shape theme is one of the easiest WordPress themes for picture displays. You can also use the blocks of various shapes and sizes for your own artwork. Various gallery and layout options leave you with no shortage of options for creative displays. The photo collage layout is a great way to show samples of all of your photos and art, as well as depict certain picture themes.
Wilson – Multipurpose WordPress Theme
The Wilson theme is a special organization of many different presentations. The most interesting one is the slid slow option. This option allows you to display many pictures of a certain theme or of your own creation for visitors to sift through at their leisure. With WooCommerce ready to go, you can easily place your own merchandise on the site with very little effort. This site offers a large amount of variety, which can be unusual for a site meant for simplicity. This site really does have it all, including custom widgets, various layouts, and logo placement choices.
STELLA - Clean Blog/News/Magazine Responsive Theme
The Stella theme is geared towards bloggers who crave basic feature that stand out. You can change the layout to fit your personal preferences, as well as access a multitude of templates for each individual page. Variety is key, however, it is easy to manage. This is another theme that has the sliding feature for whatever form of content you apply to it. The name Stella implies a bold impression, and this theme does not disappoint.
Igloo
Restaurants have special needs when it comes to their websites. Their main goal is to convince people to get out of the house and visit their physical location. This is a different goal than simply generating website traffic. The basic color schemes and layout options are available, however, there is so much more. This theme has a place for menu generation and reviews. This interactive feature helps to get the community involved. Increased business revenue is sure to follow.
Final Thoughts
The easiest WordPress themes are often the best. Complex theme arrangements can often take more time an effort and the traffic results are the same. What makes your website special is you, not the theme. Easy themes can be used to bring out your personal style and brand. There are also many specialty themes available that cater to artwork, photos, and restaurants. Bloggers may also prefer the layouts of a few of these more than others. The best way to find out is to read about each one and compare what you learn with your list of requirements.
Recap:
Save 4 Later
Email liked links to yourself