The Top 14 Addons For Elementor Pro
Last modified: May 19, 2021
Elementor Pro is already one of the best page builders you can have for your WordPress website. It has lots of great features that can make your website one of the best in your industry. Its easy-to-use interface and functionality allows you to have a website that has many functions that would otherwise need to have several plugins.
As a result, you can expect to have lower costs of managing your website and better performance. However, while the page builder is an excellent solution, there are still addons for Elementor Pro.
Why Have Addons For Elementor Pro?
There are numerous reasons why it is necessary to have addons for Elementor Pro. For one, while it has lots of functions, the main plugin doesn't have everything. There might be some functions you're missing. Some of these might be functions not traditionally associated with a page builder. However, by having the addon supplied by the team behind Elementor, you can reduce the chances of conflict.
Another thing is that not all functions are considered necessary for building a business. For instance, not every business should have live chat. By not including these functions within the main software, those who don't need it aren't burdened with unnecessary code. And this helps keep stores keep loading times low.
So, what are the top 14 addons for Elementor Pro? Here is our selection.
Filter between free and paid
Flexible Elementor Panel – Organize All Those New Widgets!
If you're going to be adding things to Elementor, you're going to need a way to organize all the new widgets, elements and templates you have. That's why the Flexible Elementor Panel is one of the most important, and must-have, addons for Elementor Pro. The good news is that the plugin is free and there are no premium options.
This addon doesn't actually change anything for Elementor, so don't expect any new functions to be added. However, it gives you the ability to manipulate the Elementor panel, this is the area of the screen that contains all the widgets, elements, settings and templates.
With this plugin you can resize the pannel, collapse it, drag it to a more convenient location, change the skin color and sort the categories of the widgets. This allows you to make that busy Elementor panel, with loads of options, much easier to manage.
Flexible Elementor Panel Highlights:
A free plugin to help you organize the elements of Elementor.
Manipulate the Elementor window to make website building easier.
Hide design options that aren't suitable for your build.
Lightweight plugin, so doesn't slowdown your website.
Anywhere Elementor – Use Elementor…Anywhere
This plugin is a free addon for Elementor and allows you to do many of the things that Pro lets you to do, for a much cheaper price. However, if does also allow you to do some things that Elementor Pro doesn't allow.
For one it supports Pods and ACF relationship fields. This allows you to display post collections. This can be important if you are heavy into your blogging and use that as a way to draw in audiences and get them to continue to read content on your site.
It can also allow you to dynamically set the background of a section. This is based on ACF custom fields.
There are two concerns here. Number one, if you are running Elementor Pro, there might be conflict issues. Secondly, because it isn't developed by the Elementor team, the coding could be a little more bulky as the plugin has to integrate with the Elementor base code. Therefore, if you're only looking for Elementor Pro features, it might be more worthwhile to get that.
However, if those two additional benefits interest you, you might want to consider this addon for Elementor.
Anywhere Elementor Highlights:
A free addon that gives you many of the benefits of the Elementor Pro option.
Adds two new functions that Elementor Pro does not.
Lets you take your website to the next level.
High ratings from users on WordPress.org.
Envato Elements Plugin
Envato Elements allows subscribers to Envato to import photos directly into their website that are royalty free. These can be used for commercial purposes and can really add a shine to your website. The plugin itself is free, but you will need to have a subscription to use the images. There are new images added every week.
In addition to the images, there are also new premium templates available for Elementor. Allowing you to create the best website for your brand faster than ever.
Envato Elements Plugin Highlights:
Free plugin, but you need a subscription.
Royalty free images are added every week that can be used with commercial projects.
Loads of quality created templates for Elementor.
Easy to install and use.
The Pack - Elementor Page Builder Addon
A highly recommended addon for Elementor Pro, this plugin will add more than 180 elements to Elementor Pro allowing you to build a high-functioning, fast and aesthetically pleasing website. There are additions in this plugin for everyone, from those who need to display a portfolio, to those who want an archive of their blog posts.
The plugin comes with a free demo installation and so many different functions that it would be a headache to know them all. Some of these are the same function, but different displays, like there are five different ways you can showcase testimonials.
You can also build better footer and headers with this plugin, making it a great option for branding your website.
The Pack – Elementor Page Builder Addon Highlights:
Add more than 180 elements to your Elementor Pro plugin.
Create excellent pages within minutes.
Free demo installation available.
Lots of customization options.
Droit Addons for Elementor
Droit Addons for Elementor is an Elementor ready addon that will take website customization to a whole new level. If you are already using Elementor to tweak and edit your website, you will just love Droit Addons for Elementor. This compact tool comes with bells and whistles to give you an impeccable page building experience. Among many other Elementor Addons, this one stands out due to its exquisite design and easy-to-use interface.
Droit Addons for Elementor is free, yet filled with awesome features. With the beautifully crafted presets, you can pick from the different available styles. Plus, the blocks and widgets are fully responsive and can provide seamless experience from any device. With the powerful and dynamic control, you can get creative with the customization and functional variation of your website. And the best part is Droit Addons for Elementor has turbo fast speed to ensure your website loads in the blink of an eye.
Droit Addons for Elementor – Widgets, Blocks, Templates Library for Elementor Builder Highlights
23+ Creatively Crafted Addons
73+ Total Style Variations to Pick From
9+ Ready/Complete Pages
Light weight and ensures speedy loading
Unlimited section nesting
Advanced animation, parallax effect and lottie animation included
Fully responsive across all devices
Easy Elementor Addons
If you are looking to supercharge the functionality of the Elementor page builder and take your web designing to the next level, Easy Elementor Addons can be just the extension you need. It comes with standout widgets to enhance visual representation of your website and make it more engaging and appealing. These elements are highly customizable and provide you limitless options to personalize them as per your needs.
Easy Elementor Addons is powered by an intuitive user interface. So, once you merge it with Elementor, you can experience the power of seamless page creation. Also, the extension is fully responsive and can adapt very well on all types of viewing devices.
Easy Elementor Addons Highlights:
40+ Essential Elementor Widgets
Multiple Pre Designed Styles for Elements
Lightweight and Speed Optimized
Highly Customizable Advanced Settings
Optimized for All Type of Viewing Devices
"

... and Scan WP's recommended WordPress theme is... Astra (Click to try)

"
Three-D Accordion for Elementor
Would you like to create FAQ blocks within Elementor? Then you should look at this addon. It is a great, cost-effective way to add FAQ functionality to your website. There is a drag and drop ordering process with this lightweight plugin.
The final result will be a unique design for your FAQ section, with 3-D animation, that can really make your website standout. The FAQ section is also fully responsive to mobile and tablet.
This plugin is fast and powerful and it is 100% translation ready.
Three-D Accordion for Elementor Highlights:
100% translation ready, have your FAQ section in whatever language you need it.
Lightweight and powerful so your website's speed isn't impacted.
A cost-effective solution.
End-result will showcase FAQ section with 3-D animations.
SVG Divider for Elementor
This addon for Elementor allows you to create a more stunning website. You can develop a stylish typography from simple lines to amazing curly artworks all that can enhance your website's branding.
With more than 90 handmade SVG artworks, there's plenty for you to choose from that will make your website standout. There are also some of the most unique reveal animations and looping animations that can be added to your website with live editing, so you can build a fully immersive experience for your website visitors.
And if you're looking for more icons to add to your website, then this addon has more than 300 icons to choose from.
SVG Divider for Elementor Highlights:
Create stunning websites with more than 90 handmade SVG artworks.
More than 300 icons can be inserted into your website.
Unique reveal animations.
Looping animations.
HT Slider Pro
HT Slider Pro allows you to add a vast array of slides to your website using the Elementor page builder. The plugin includes more than 80 prebuilt slides and templates, to help you get started. You can see these on the product page, so you can get a feel for what is available.
With the plugin you can develop a wide range of sliders from WooCommerce product sliders to video sliders. These can be fullscreen, full width and box layout.
There are a lot of options when you create your slides. This includes the slider navigation, pagination, autoplay and more. You can also tell the plugin how it can display the slider on mobile devices.
HT Slider Pro Highlights:
There is a free version of this plugin available, but the paid version is much better.
Create a wide variety of sliders from product sliders to video sliders.
Set numerous options to showcase how your sliders work.
Set display options such as the size of the slider.
Image Hover Effects For Elementor
The Image Hover Effects Pro For Elementor addon is a great addition to your website. It will add impressive hover effects to your site with more than 130 options to choose from. Even with the options, there are chances to customize them and therefore there are an unlimited number of possibilities for your website.
All hover over effects can be added to your images, titles, descriptions and any link connected with the image.
This plugin supports an unlimited number of colors, more than 950 Google fonts and is responsive to all mobile technology. It can also support multiple languages and works with any theme and WP Multisite.
You can also get all the support you need from a helpful development team.
Image Hover Effects For Elementor Highlights:
More than 130 hover over effects to choose from.
Supports more than 950 Google Fonts.
Responsive to all mobile technology.
Compatible with any WordPress theme.
Blog Layouts Bundle For Elementor
This is a fairly new addon for Elementor Pro and it is a collection of five other plugins (Post Blocks, Post Slider, Post Carousel, Recent Posts and Author Bio). It has an easy-to-use design that allows you to use more than 100 unique layouts to help you take your blogging to the next level.
You can build a beautiful reading experience for your audience on your blog with a stunning image effect. You can also set custom fonts for the title, categories, description and meta. You can also have a title effect to include more of an immersive experience for audiences to your site.
If you're looking to make blogging a major part of your marketing campaigns, then this is certainly a plugin that you'll want to consider.
Blog Layouts Bundle For Elementor Highlights:
Change the way your blog looks on your website and make it a more immersive experience for your audience.
Five addons in one neat, cost-effective package.
Add a vertical or horizontal carousel mode for past blog posts.
Set effects to make your website look more appealing to visitors.
Social Share for Elementor WordPress Plugin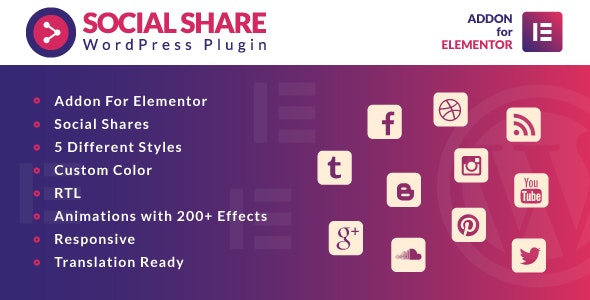 Every business owner, and individual, knows how important social media is to their business' fortunes. The impact social media has on your business potential is even more important if you're running an eCommerce store.
All it takes is a few clicks for you to add your social share options to your WordPress website. There are five different styles of buttons you can use and you can customize the color scheme on your website.
You can animate buttons with more than 200 effects. Therefore, you can create an excellent experience for your audience with little effort.
The plugin is also RTL compatible and translation ready.
Social Share for Elementor WordPress Plugin Highlights:
Add social share elements to your website with just a few clicks.
Customize social share buttons with your own color schemes.
More than 200 effects to make your website more immersive.
Optimized for mobile devices.
SEFE - Sina Extension for Elementor
Extend the number of functions for your website when using Elementor by using this plugin. It will add options that will improve your design and help you to create a more unique, better converting website that stays true to your branding.
This plugin comes with more than 46 custom widgets, 250 ready blocks, seven landing page templates and five extenders. Some of the additions included with the pack are: adding more than seven types of graphs to display information, additional contact form options (including MailChimp signup) and popup box options.
The designs that can be achieved with this addon will take your website to the next level and will help you convert more customers. The additional elements are just as easy to use as they are on the Elementor Pro page builder.
SEFE – Sina Extension for Elementor Highlights:
Add more design options to your website.
Easy to install and use.
Can easily add elements to help you convert more customers that visit your site.
Landing page templates included with the pack.
Breadcrumbs for Elementor
Help your sites SEO and user navigation with this little addon that will insert breadcrumbs onto your website. There are more than eight layouts to choose from and you can customize these with different colors and font-size.
You can also choose between using dynamic breadcrumbs or static breadcrumbs. It all depends on your preference and how you would like to organize the navigation of your website.
The plugin also makes your website Google Schema ready. This is easy to enable and can really help you rank highly on Google.
Breadcrumbs for Elementor Highlights:
Add better navigational tools on your website.
Customize breadcrumbs with different colors and font-size.
More than eight layouts to pick from.
Choose between dynamic breadcrumbs and static breadcrumbs.
Final Word: The Top 14 Addons For Elementor Pro
If you're using Elementor Pro on your website, then you are already in good hands. However, you can extend the functionality of your page builder with these 14 addons for Elementor Pro. Each one can help you create a site that is fully immersive and will help you convert customers and rank higher on Google. So which addons will you use? Let us know in the comments.
Save 4 Later
Email liked links to yourself